A woman who previously went viral for being a public nuisance onboard a bus and making fun of a commuter of called her out for her antics by calling him "poor", is back to no good once again.
This time she was seen resting her feet on the handlebar under a bus window onboard a bus service 991, and lounging around as though she's in her own living room.
The netizen who took the photo said that the bus driver had politely told the woman to put her feet down, but she refused.
She even challenged the driver to call the police if it was an issue, and the bus driver then accepted her challenge and called the police after stopping along Bukit Batok Road.
The commuters waited for about 15 minutes and the netizen had no choice but to alight from the bus because he had to go to work.
The netizen added that "I felt bad for the bus driver," and said that "i found it funny because the woman didn't even look comfortable with her feet propped so high."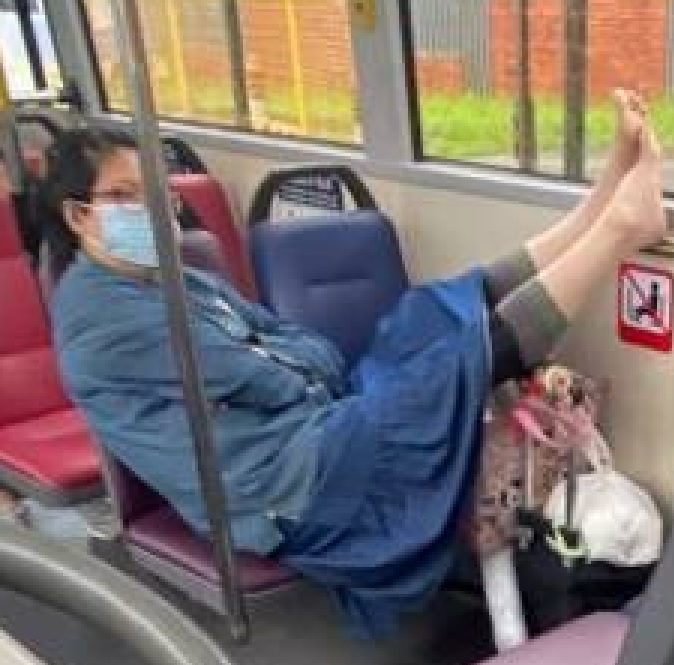 Previously went viral for doing the same thing and calling a man poor
A video emerged online showing a middle-aged woman resting her feet on the window of a bus as though she was lounging in her own living room.
She was then called out for her lack of civic-mindedness by another passenger, an uncle who was sitting opposite her.
Unhappy at being called out, she then got into a Hokkien argument with the uncle.
The uncle was heard in the video telling the auntie that the bus wasn't her home, and asking her how old was she to be behaving like this.
The auntie then told him to "go and find his wife", to which the uncle then responded by saying she had no manners.
The auntie then told the uncle that it was none of his business, and the uncle then said that he has to speak up because what she was doing is not right.
He also called the auntie out for raising her voice despite being in the wrong, and the auntie then retorted by accusing the uncle of being "poor" for taking the bus.
Like water off a duck's back, the insult didn't affect the uncle, who said that there was nothing wrong with being poor, but behaving the way she's behaving is wrong.