Facebook user Jean Xiu Lin shared how her Bedok washing machine spoiled after a year of usage, but it was still under warranty.
She said that it took her 3 days to get through to the customer service, who arranged for a technician to her home to check it out.
the technician called her over the phone without going down, and told her that "perhaps got coins inside" and told her to open and drain it "can already".
She then insisted on the technician to come down and diagnose the problem, and he then went down and left within 5 minutes, before giving her an invoice to sign.
The customer service officer then called her and said that their repair parts will take 3 months minimum to arrive, and they have no loan set for the woman to use.
The woman then had to get a replacement set for herself in the meantime.
Here is what she said
Bought a Beko washer for $1200+, loud spinning noise after 1 year of usage but still under warranty. Their customer service took me 3 days to get through.
Finally, they arranged for the technician to come to my house, but the technician called me this morning, giving excuses that 'perhaps got coins inside the drainage tube, just open and drain can already'.
I insisted that he should come to diagnose the issue. But after he came, within 5 mins he said it was drum bearing issue, made me sign an invoice and left.
2 hrs later, the office lady called and told me one long story that their parts will take at least 3 mths to come and they have no loan set available for me now.
So I'm left with the solution that I have to get a replacement set myself for these 3 mths while they remove my machine and chuck it in their warehouse.
Afterwhich the office lady kept giving excuses that she will check and call me back again. Now that I read the google reviews, regretted for not scrutinising the aftersales service before I made the purchase.
Is as good as telling customers to buy a new washing machine as their replacement parts will never come!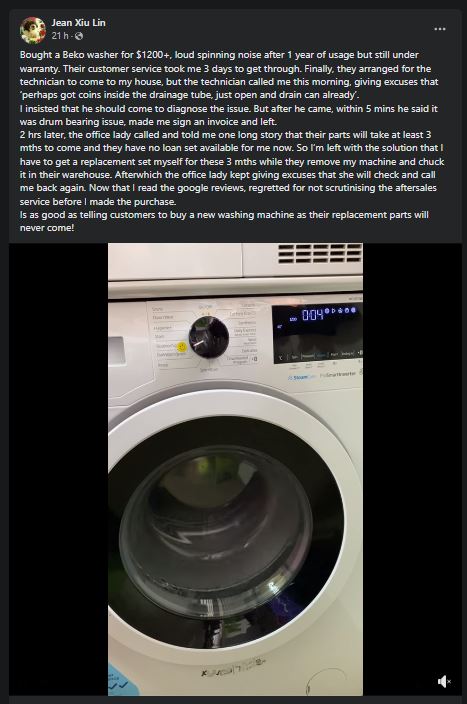 FULL VIDEO LOADING…