A woman recently posted a Facebook status claiming that her DBS/POSB account was wiped after unauthorized transactions were made on her account.
In her Facebook post she stated that the money was deducted by 'APPLE.COM' she said that she did not receive any notifications on the transactions.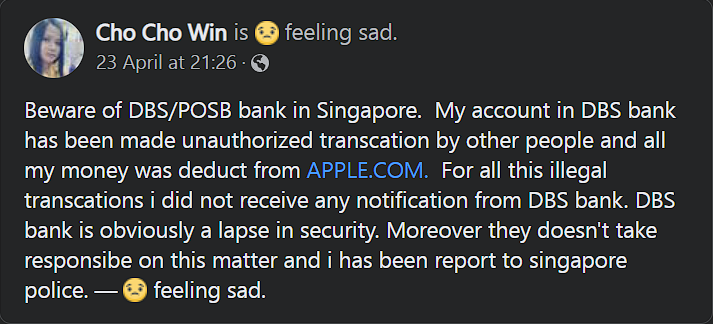 Netizens shared similar stories with various banks
"Not sure about POSB. But had a fraudulent transaction by Foodpanda on OCBC. Disputed within 3 days. Got refunded and a new card sent"
"Yea disputed a few times before. Got once even $2000+ got it back in a week or two???"
"Got a few unauthorized transaction for posb before. During Feb I found out there is unauthorized transaction, I immediately called the bank, they cancelled my debit card and send a new one. But I realised even in Dec there is also unauthorized transaction. I called the bank again. Got back all the amount in about 2 weeks.Even Citibank also got refunded in a week or 2."
How to dispute a bank charge
The conditions for a dispute are based on
A. Unauthorised transactions;
B. Transactions signed under duress or threat;
C. Instalment Payment Plan (IPP) transactions with merchants that subsequently cease business;
and
D. Non-delivery of goods/services or delivery of unfit goods/services
According to dbs.com.sg:
We advise cardholders to contact their card-issuing bank as soon as possible. Most banks will
require cardholders to submit a dispute resolution form within 14 days from the card statement
date.
Please contact your card-issuing bank's 24-hour Customer Service Hotline to lodge your dispute.
Your card-issuing bank will advise you on the process which could require you to submit a dispute
resolution form