Social etiquette is often lost when some one becomes old in Singapore. Alot of elderly people think they can do whatever they want when they get old.
But at the same time, some people like to make a big fuss and complain online.
The incident sparked outrage among many people who viewed the post, with some calling for the elderly man to be banned from the store. Others were more sympathetic, saying that the man was just an angry and lonely man.
Here is what the netizen said:
The photo was taken at Sheng Siong at Blk 845 Yishun. I told the uncle nicely this is a grocery basket, and is used mainly to put groceries, food, fruits and vegetables. He asked me back, if I am 'Siao'? So far, no one has said anything about his behaviour.
By the way, he was actually putting his leg on the basket, shaking his leg while waiting in the queue.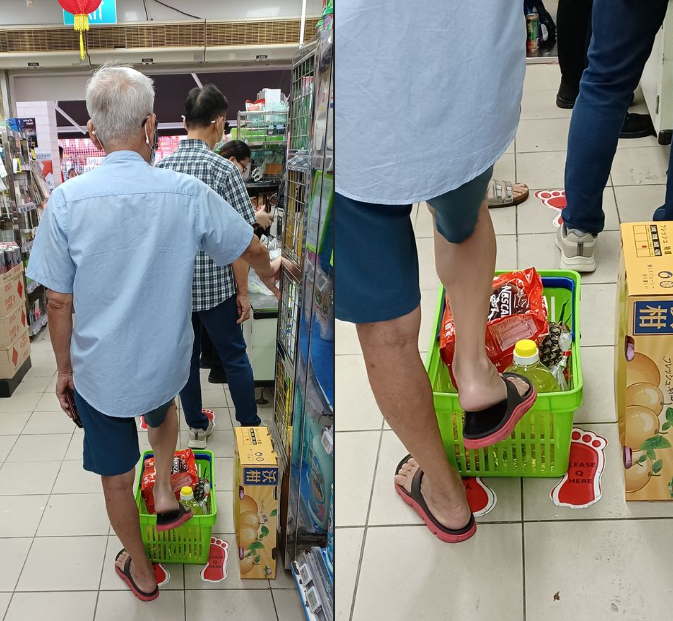 Here are what people think:
Ask him buy the basket then make it his own personal basket.. He can even sleep in it if he wants to…
Very common, I see it everywhere from NTUC to SS to other supermarkets. Young and old, many also use leg to push the baskets along when queueing.
This period nearing CNY there are many siao people. Just this morning a gangster looking yellow cab driver spurting vulgarities over a car park lot at Chinatown FC…so forgive them
Quite sad to see this kind of old uncle doing not the right thing right in the general public places, Hope all old uncle can be more and more Gracefully, kind, helpful and understanding to one another…so we can live a more Happy and Gracefully life…than give younger people no chance to write not so nice thing about us.
This kind of uncle very stubborn one. Cannot talk sense
Shldnt put basket on flr in the 1st place. V unhygienic too. The bottom of basket will dirty the inside of the basket which it is stacking on. Hahahah!!!!