Like the popular hokkien dialect song "If I have a million" that my older folks sings more often than rather, these two lucky Toto punters have instantly joined the millionaire club, something which many can only dream and be envious of.
So what exactly is Toto?
Origins of Toto
Toto is the first legalised lottery in Singapore, started by the only legal bookmaker in the country, Singapore Pools.
Toto was started as the government of Singapore wanted to clamp down on illegal gambling activities which was widespread in the 1960s.
It was first introduced in 1968 and got its name "TOTO" from the words "Totalisator" and "Lotto" according to information found in the Singapore Pools website.
How to play
To play Toto, a punter will have to choose at least six numbers between 1 to 49, and place a minimum bet of S$1 which is inclusive of GST.
Every Monday and Thursday at 6:30pm, the draw will take place.
The draw sometimes takes place at 9:30pm, when the Toto draw is a special draw or a cascade draw.
6 winning numbers plus an additional 1 will be drawn, and will form the winning set of numbers.
If the numbers that you have chosen matches three of the drawn Toto numbers, you win a prize.
Bets can be placed either at any of the Singapore Pools outlets, via its phone betting service or even via its online platform.
Toto bet types & amounts
There are many ways where you can play around and select the numbers for your Toto entries.
Currently, these are the few bet types.
Ordinary

– You select 6 numbers bewteen 1 to 49, and every 6 numbers that you have chosen will form an Ordinary entry, and each entry costs S$1.


System Entry

– You may select up to 12 numbers in this bet type, and the more numbers you choose, the more ordinary entries you will buy and therefore the total bet amount becomes higher.

– For every additional Toto number that you choose above 6, the name of the bet type will change for example if you choose 7 numbers, it will be called 'System 7' and if you choose 10 numbers it will be called 'System 10'.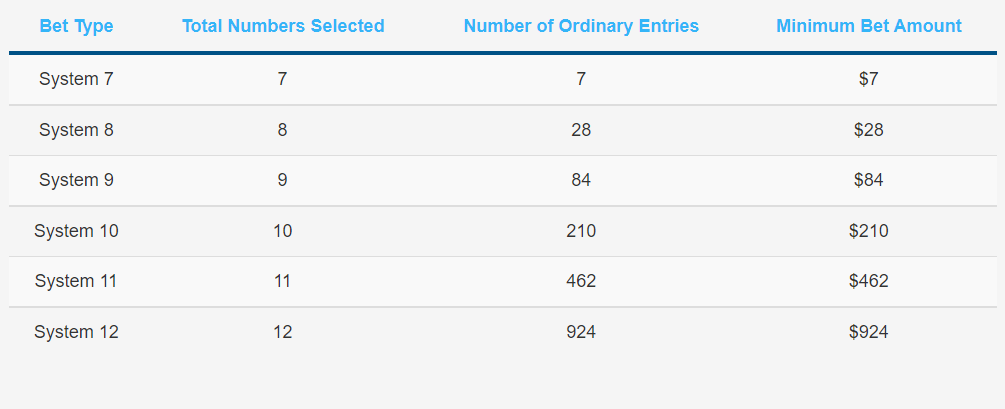 3. System Roll

– You have to choose five numbers of your choice and one rolling number.
– The rolling number would be represented by the character 'R' and it will represent the remaining 44 numbers which you did not choose.
– This would give you 44 different entries, and your bet amount will be $44.
4. Quick Pick

– You can choose this option if you do not have a set of Toto numbers in mind.
– The system will automatically generate a set of Toto numbers for you.
– You can choose to Quick Pick any amount of ordinary entries up to System 12.
Lucky Toto punters usually wins the jackpot from buying quick pick.
5. iToto

– Under iToto, you are allowed to buy more than one unit of a Quick Pick system 12 entry.
– It is basically a Quick Pick system 12 entry divided into 28 units.
– Each unit costs $33, (Normal system 12 bet amount / 28).
– All 28 units of an existing iToto bet must be sold before a new iToto bet is generated upon demand.
– By buying more than one unit, you will be purchasing multiple units of the same set of numbers.
– The prize money will be rounded up to the nearest 10 cents.
Here is the difference between a normal Toto System 12 entry and an iToto system 12 entry as illustrated by Singapore Pools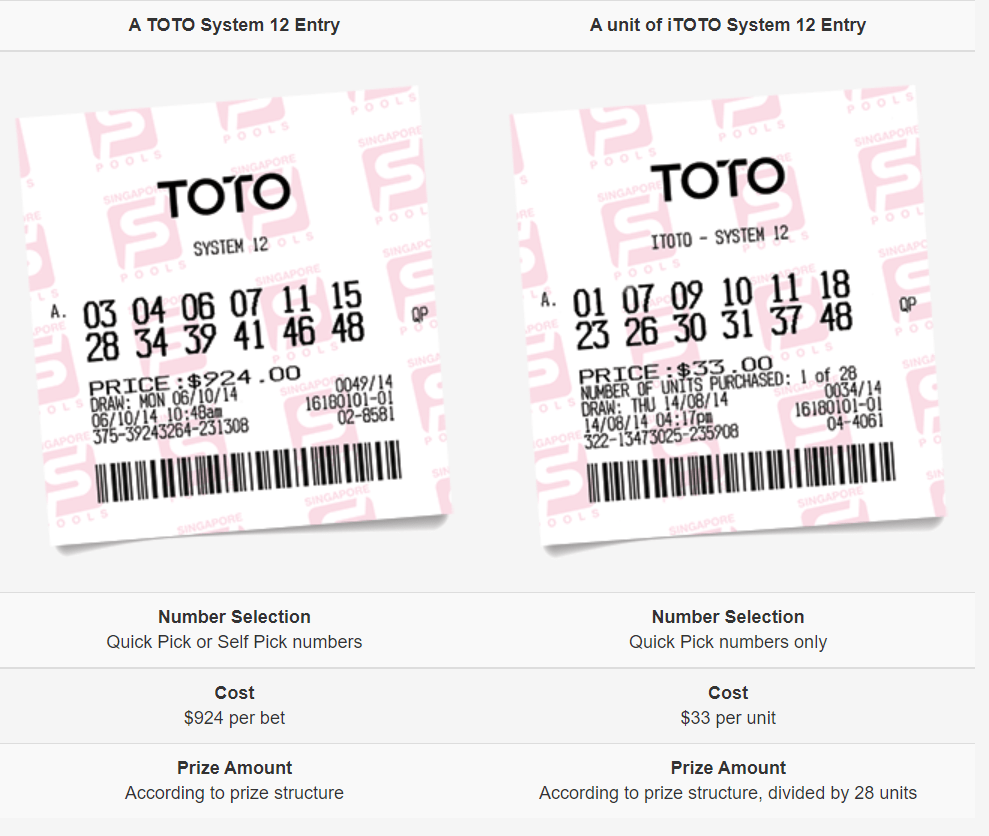 6. Group Toto

– This allows you to share your Toto bet with a group of people yet have the same bet printed on multiple tickets up to 10.
– The cost and price of the ticket will be divided by the number of tickets printed.
– A minimum of $7 is required for each ticket.
– The prize amount will also be rounded up to the nearest 10 cents.

– Group Toto can only be placed at the outlets itself, and the punter will have to use a bet slip to mark the numbers, check the Group Toto box on the slip and let the counter staff know how many tickets to print.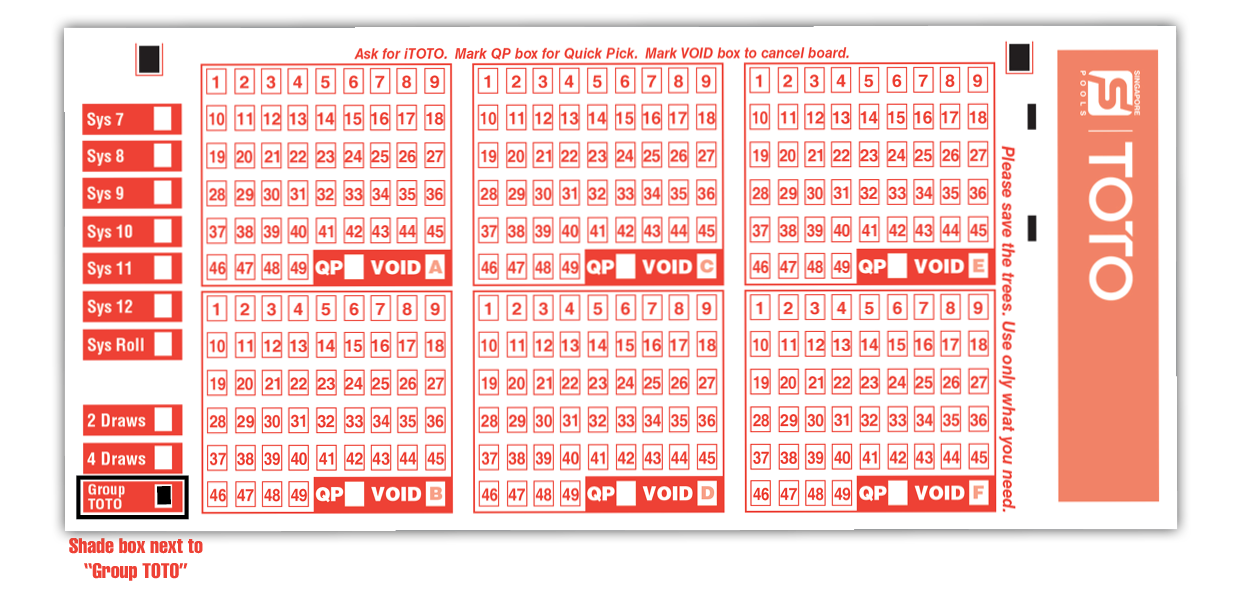 Here is the difference between a normal Toto bet and a Group Toto bet.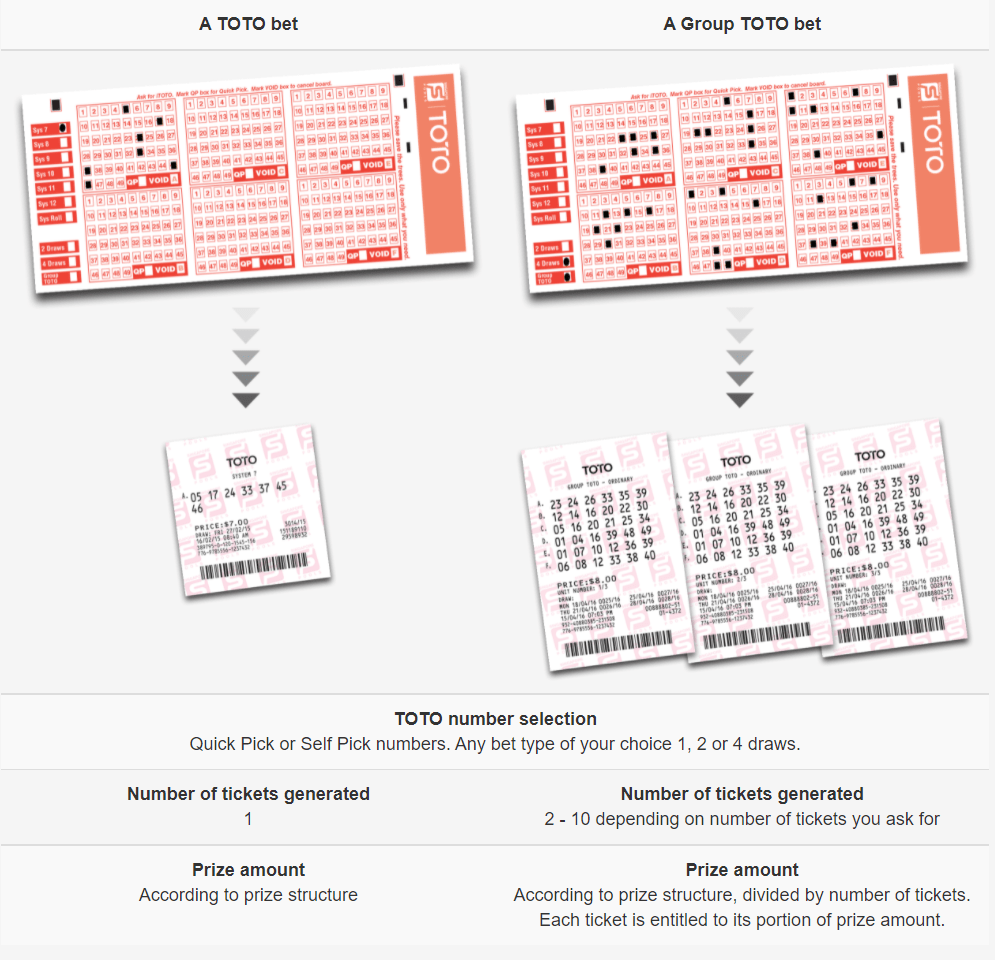 Physical Toto Ticket
Whenever bets for Toto are placed over the counter, a betting slip will be printed out showing the selected Toto numbers as well as the wager amounts.
An example of a ticket would be: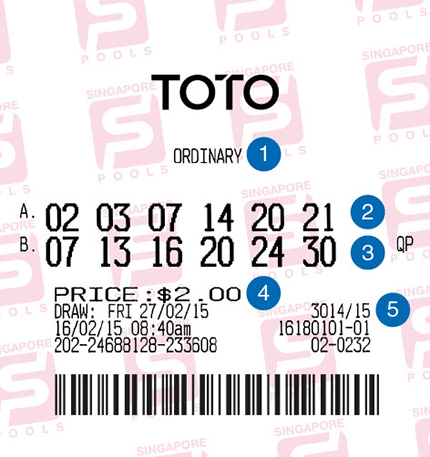 The ticket seen above is labelled into 5 numbers by Singapore Pools, and they each constitute a different part of a typical toto wager.
They are:
Bet Type
Self Pick Selection
Quick Pick Selection
Total bet amount
Draw date and number
The ticket represents your proof of purchase of Toto, and it is advisable to check it before leaving the counter that your bet entries are correct.
Once you leave the counter, you will not be able to make any changes and will have to spend more money to buy another Toto ticket to fix the errors if any.
Payouts for winning Toto
You must be wondering what constitutes a Toto win and what is the amount that you will win if you manage to match your set of numbers to the set of Toto numbers that is drawn.
Well, if you manage to match at least three of your chosen numbers to the drawn Toto numbers, you will win a prize.
The prize amount that you win varies, depending on the amount of numbers that you are able to match.
54% of the sales proceeds are added to the prize pool in every Toto draw and the prize pool is for distributing prizes which may be won for each draw.
Here is the breakdown of the amount that you will win if you match at least three numbers. The prize category is divided into 'Groups'.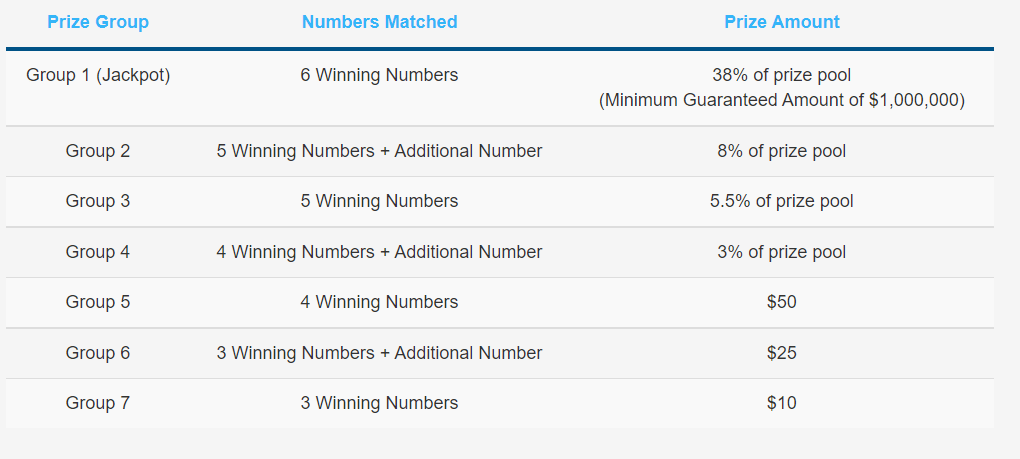 Different bet types also have different prize amounts. This is a little bit more complicated and Singapore Pools have came up with a table to explain the Toto winning payouts for the different Toto bet types.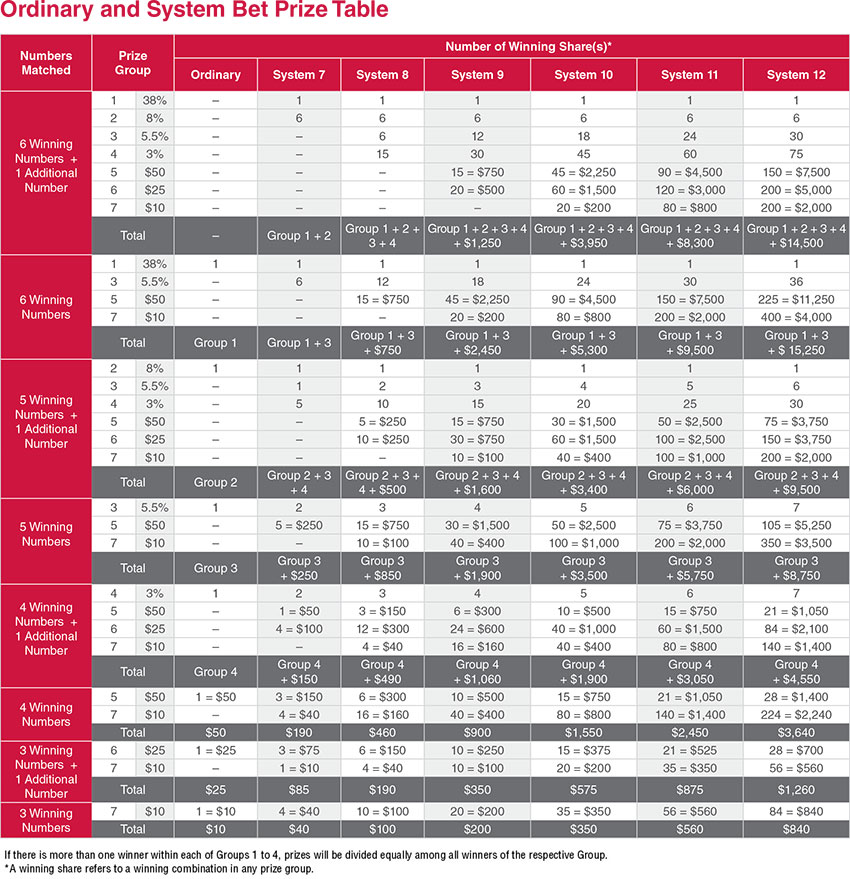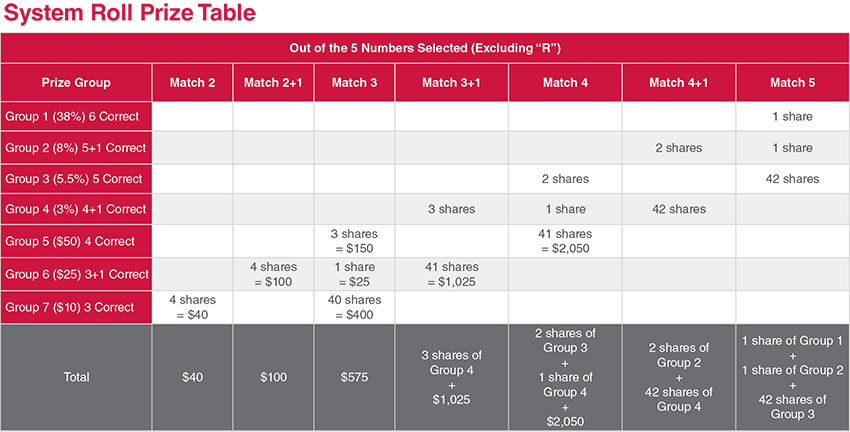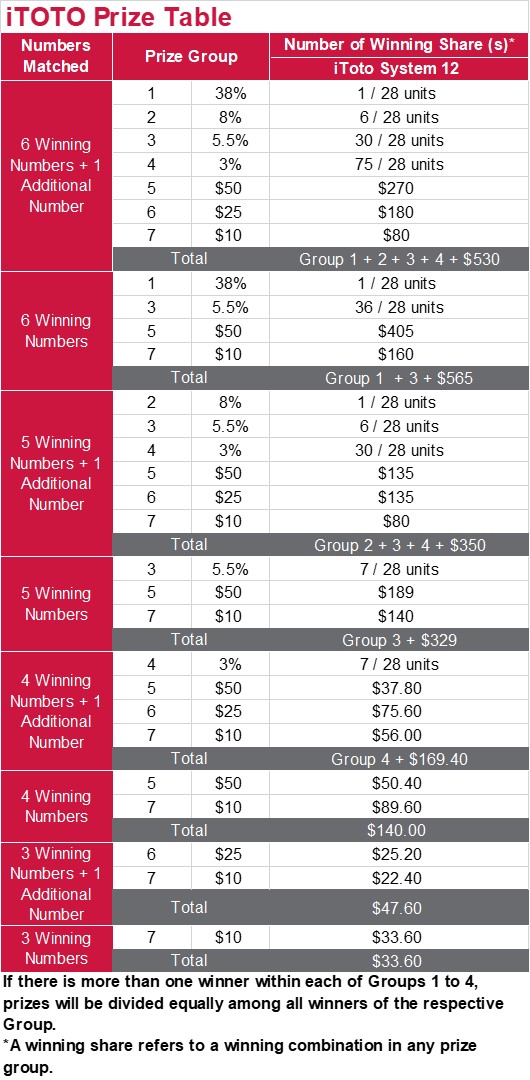 If there are more than one lucky winner between Group 1 and Group 4, the prize money for the Toto group would be divided by the number of Toto winners in that individual group.
For Group 5 to Group 7, the prize money is fixed.
If there are no winners on that particular Toto draw between Group 1 to 4, the prize money would be snowballed and accumulated into the next draw within the Group itself.
The prize amount for Group 1 will only snowball till the fourth draw, while the prize amount for Groups 2 to 4 will be snowballed till there is a winner.
There is a cascading draw after every three consecutive draws without a winner in Group 1.
The Toto jackpot prize money will not snowball beyond the fourth consecutive draw and if there is no Group 1 winner after the fourth consecutive draw, the prize money which is a total of 38% of the fourth draw plus the amounts snowballed from the previous three draws will be paid to the next prize group with a winner and shared equally amongst the winning Toto entries.
To help better understand the concept of cascading, Singapore Pools have came up with an illustration here.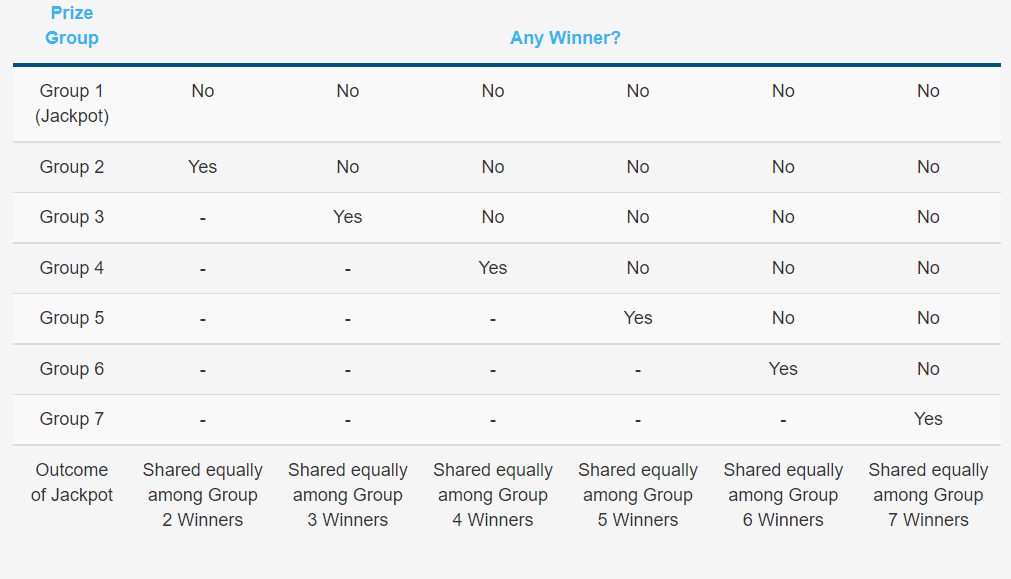 Odds of winning the Toto Jackpot
The chances of winning the Toto Jackpot (Group 1) is as low as almost 1 in 14 million, which means that it is actually easier to get struck by lightning (1 in 500,000) and easier to get shot by a gun in Singapore (1 in 1,000,000), even if it seems almost impossible to be shot by a gun here.
Singapore Pools have created this table to show the odds of winning the different Toto prize groups.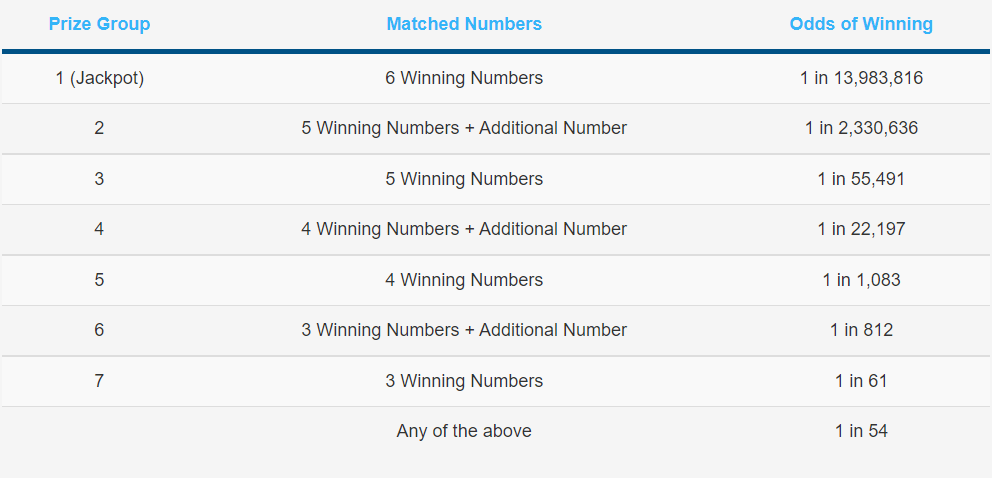 Toto statistics and draw history
On the Singapore Pools website, there are many tools that are provided to help Toto punters make an informed decision before placing their bets.
To start off, there is a Toto winning prize calculator for punters to calculate how much are their winnings in the even where the numbers that they bought matches 3 or more for the draw itself.
You can also check the hit rate history of the Toto numbers to see which numbers are drawn most frequently to increase your chances of winning the jackpot.
For the more superstitious punters, there is also information provided on which outlets generates the highest amount of Group 1 and Group 2 winning tickets.
There is also a page where the top 20 jackpot prizes and their winning shares are shown, to allow to people to see and dream that maybe one day their statistics will be there.
Disclaimer from Singapore Pools: Every number has an equal chance to be drawn, regardless of where the ticket was bought. Statistics are provided only for informative purposes.
Special draws and cascade draws
Every year, there will be a few special Toto draws and cascading draws.
Special Toto draws happen usually when there is a festive season or a commemorative event, such as the yearly Hong Bao draw to celebrate the Chinese Lunar New Year.
The Toto jackpot prize money are usually higher during such draws. In the latest Toto Hong Bao draw which took place on 26 February 2021, the Group 1 prize was a whopping S$9.6 million, and the Toto jackpot was shared by a total of 5 lucky winners.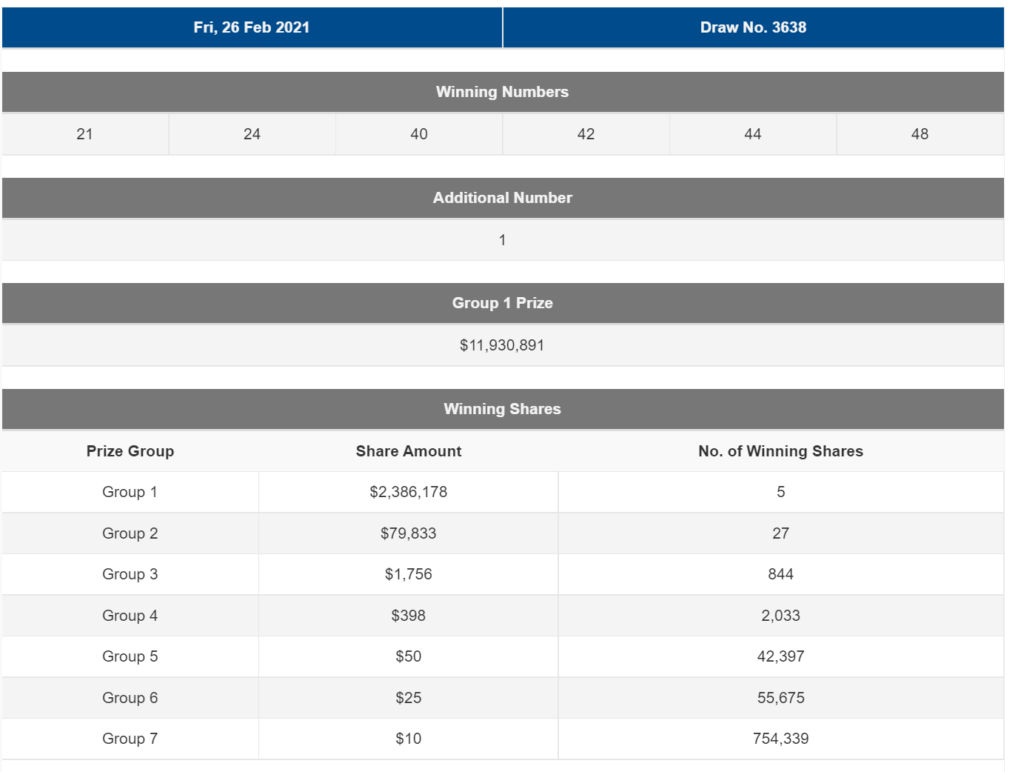 The most recent Toto cascade draw during the time of writing saw the Group 1 jackpot prize reach almost S$10 million, and the prize money was shared by two lucky winners.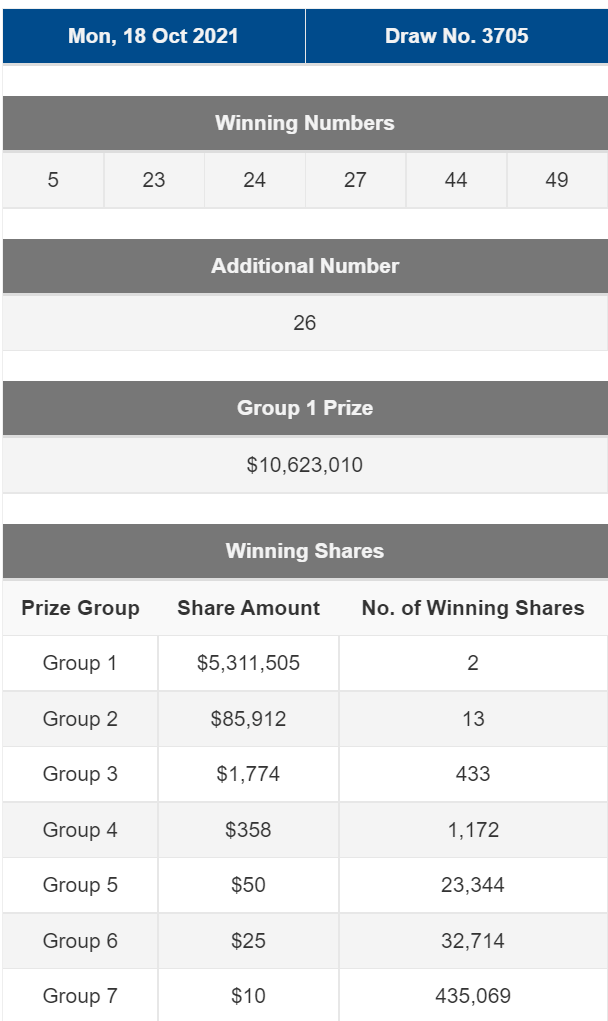 Top three luckiest Toto outlets
While the drawn numbers are randomly selected and generated, there seems to be outlets that have generated more winning tickets as compared to other Singapore Pools outlets.
This has led to flocks of people specially heading down to place their bets at these outlets, in the hopes of creating a 'higher' chances to strike the top jackpot prize.
The outlets that are named here have consistently been providing winning Toto tickets, and they are named not in any order as the draws are still happening twice weekly, which will result in the outlets taking over each other's position in the number of times where Group 1 winning tickets are generated.
The information provided here about outlets who have the most number of jackpot prize winners is accurate as of 14 Oct 2014.
NTUC Fairprice Serangoon Central Hypermarket
12 Group 1 winners, 46 Group 2 winners and 58 Group 3 winners.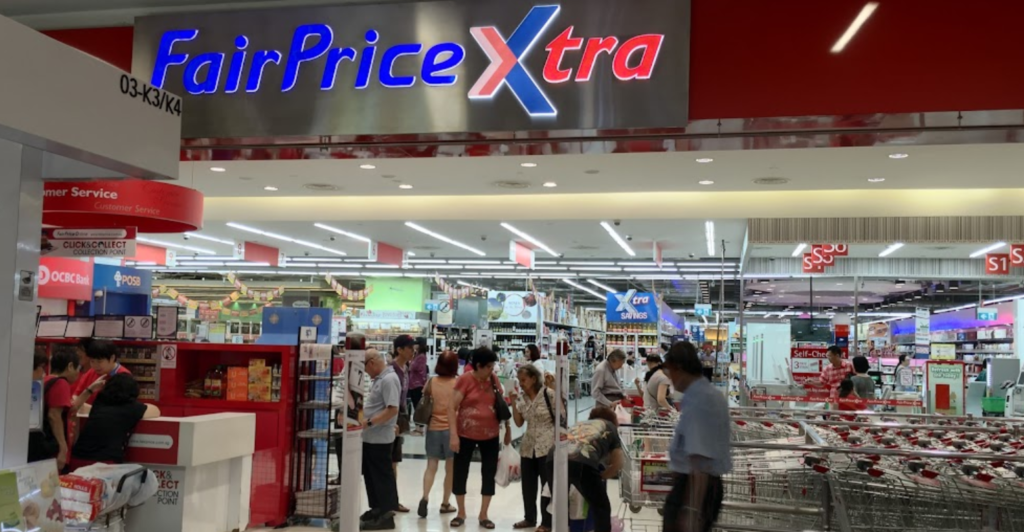 2. Delisia Agency Pte Ltd
12 Group 1 winners, 60 Group 2 winners and 72 Group 3 winners.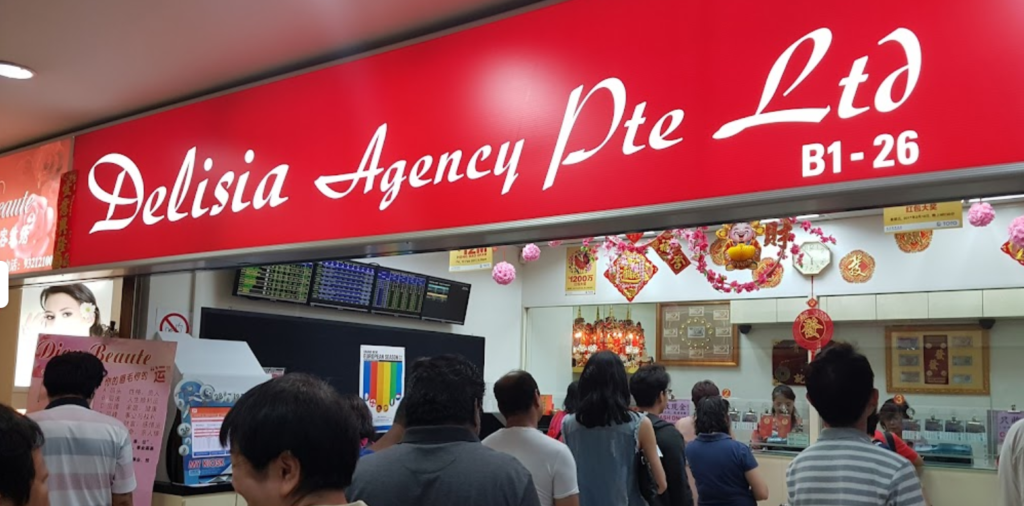 3. Tong Aik Huat
11 Group 1 winners, 76 Group 2 winners and 87 Group 3 winners.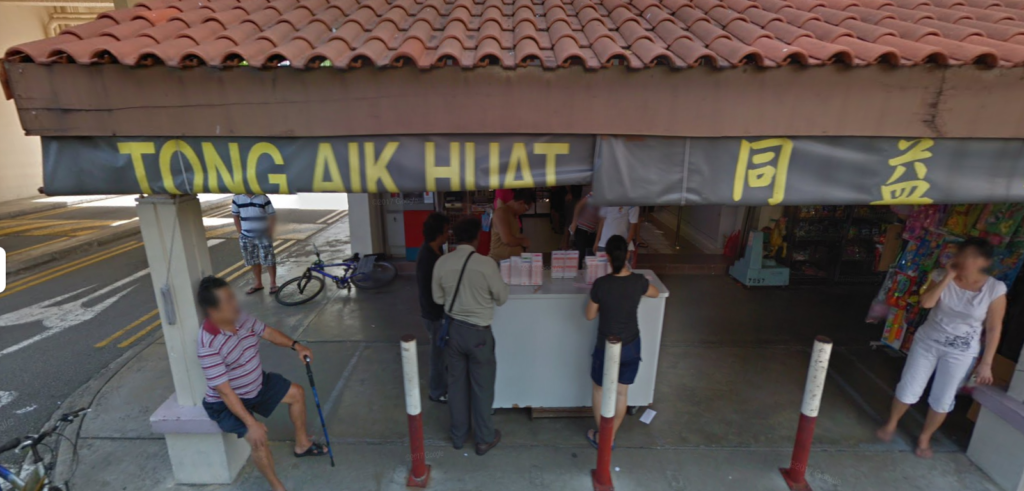 Changes throughout the years
Toto first started in a '5 out of 49 format' in 1968, where five numbers out of 49 will make up the winning set of numbers.
It subsequently changed to '6 out of 42' in 1988, and the top prize then had a minimum sum of S$300,000 guaranteed.
However in year 1997, Toto rules were changed again. This time, the Toto numbers changed to '6 out of 45' with the top prize raised to a sum of S$500,000 guaranteed.
The latest change to what the format is today came in October 2014, when it was decided that six winning numbers and one additional number out of 49 will be drawn twice a week on Mondays and Thursdays.
The jackpot sum was also increased to begin at at least S$1,000,000.
Responsible Gaming
As much as Toto may be a great way to realise your dreams of being a millionaire without working for it, it is also important that we gamble responsibly.
It is okay to indulge in a little bit of gaming, provided that you do not use your money for daily necessities to gamble instead of getting what you need to get and it is spare money that you can afford to lose.
Many punters including those that gamble on Toto tend to have the mindset that they are investing small money to get bigger returns.
Afterall, the saying "not everyday is a sunday" goes.
One must remember that the odds for gambling are always stack against the punter, and the bookmaker always wins.
There is a Chinese saying which loosely translates to "Gamble 10 times, lose 9 times."
People who are addicted to gambling can always reach out to the National Council or Problem Gambling (NCPG), for help on gambling issues.
Image source: Singaporepools.com.sg, Google Maps