This photo released by the Selangor State Fire and Rescue Department in Malaysia on December 16 shows rescuers conducting a search and rescue at the scene of a landslide near Genting Highlands.
According to a report by the Malaysian National News Agency on the 16th, a landslide occurred in the vicinity of Genting Highlands 50 kilometres north of the Malaysian capital Kuala Lumpur in the early morning of the same day, killing at least 19 people.
Landslide near Genting Highlands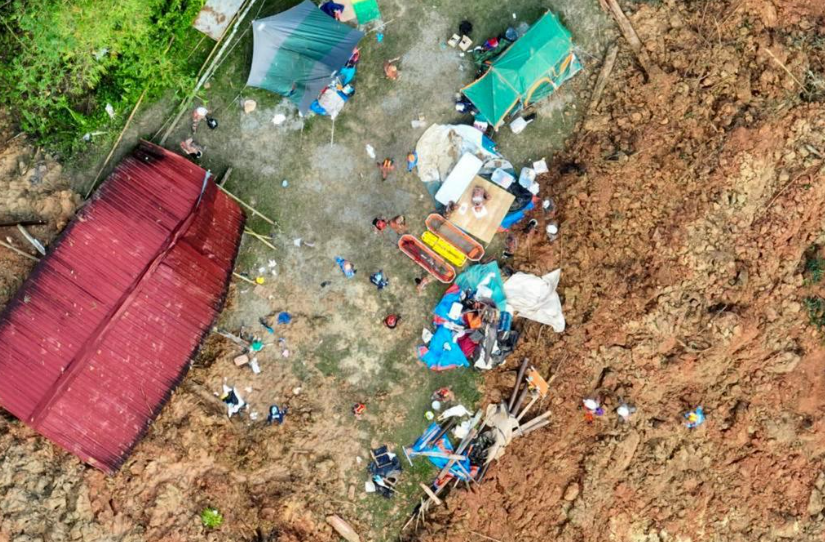 In Malaysia, the disaster management agency known as STORM (Special Tactical Operation and Rescue Team) and the civil defense force are assisting in the search efforts for the victims of the landslide.
The landslide, which occurred at an estimated height of 30 meters above the campsite and covered an area of approximately 0.4 hectares, was described by Malaysia's Prime Minister Anwar Ibrahim as a shocking incident.
Survivors: Hearing the loud noise of falling trees in the middle of the night, they escaped in the dark
"Malaysian Utusan" reported that a total of 12 members of 3 families from Klang escaped in the dark this morning. A 40-year-old survivor said they heard a tree fall in the middle of the night and were taken out of danger with the assistance of the authorities. He revealed that a total of 3 families with two friends came to the organic farm campsite from Klang yesterday for vacation.
At present, 61 people have been rescued, and many people are still trapped.
Selangor State Minister Amiruddin issued a statement that the Selangor State Fire and Rescue Bureau sent a total of 446 personnel to participate in the search and rescue.
He also expressed his condolences to the families of the victims.
"I will visit the site with the Prime Minister tonight. I call on Malaysians to pray together, and hope that the search and rescue work will go smoothly and the missing will return safely."
Published by Xinhua News Agency (Photo provided by Selangor State Fire and Rescue Department)