In an announcement that might have a significant impact on the daily lives of many Singaporeans, the Public Transport Council (PTC) recently confirmed that public transport fares for adults who pay by card will see an increase from December 23rd.
This increase is part of the yearly fare review exercise conducted by the PTC and will result in a 7 percent overall cost hike for bus and train rides.
A Closer Look at the Fare Changes
To delve deeper into these fare adjustments, it's essential to understand the specifics. Adult card fares will rise by 10 cents for journeys covering distances of up to 4.2 kilometers and by 11 cents for rides beyond this distance threshold.
For example, the current adult card fare for an MRT ride from Simei to Tanjong Pagar, which stands at $1.85, will soon increase to $1.96.
Concessionary fares for seniors, students, individuals with disabilities, and low-wage workers who pay by card will also experience an increase.
Their fares will go up by four cents for journeys of up to 4.2 kilometers and five cents for longer rides. This group comprises approximately two million commuters, which accounts for half of Singapore's population.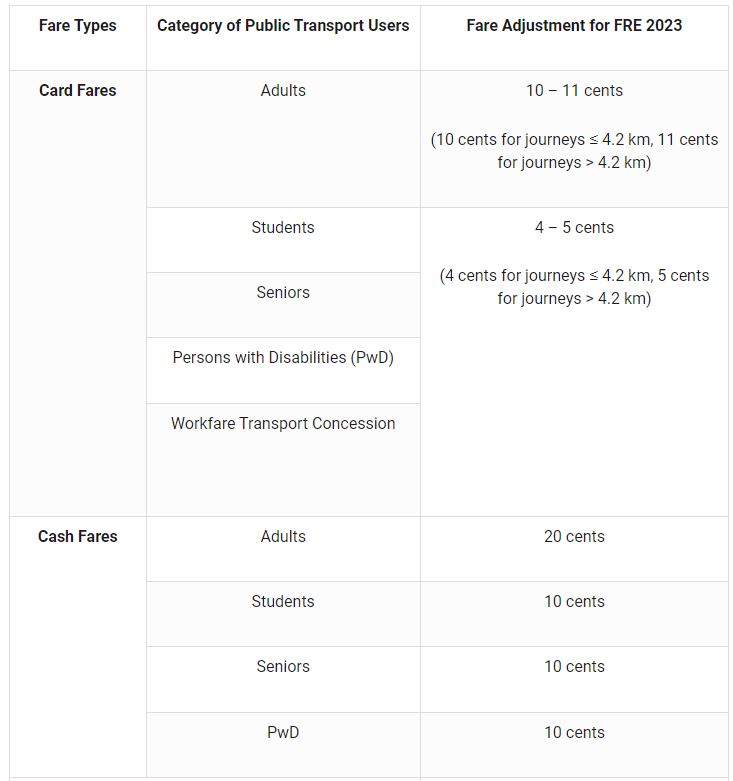 Factors Behind Them
This year's fare increase is the steepest since the 2019 hike when fares also rose by 7 percent. Notably, the 11-cent increase marks the highest recorded fare hike to date.
The PTC revealed that fares could have risen by a staggering 22.6 percent in 2023, which would have been the highest allowable increase since 1998 when formulas were introduced to cap fare changes.
This substantial increase is attributed to a combination of factors, including a 62.3 percent surge in energy prices in 2022, as well as growth in core inflation and wages.
Transport operators, namely SBS Transit and SMRT Trains, had applied for the full 22.6 percent hike for 2023. Their justifications included higher energy prices, a competitive labor market, and the slow and uncertain recovery in ridership.
Despite these requests, the PTC decided against granting the full increase, prioritizing affordable fares in the present higher-cost environment.
Deferment and Government Support
To alleviate the impact of the fare increase on commuters, the PTC has decided to postpone the remaining 15.6 percent increase to future fare review exercises.
This deferment has become possible due to the Government's commitment to providing an additional $300 million in public transport subsidies in 2024, supplementing the already significant $2 billion in annual subsidies to maintain services.
The Ministry of Transport emphasizes that transport operators will need to manage their costs efficiently, enhance productivity, and maintain fair wages for their workers.
The hope is that the deferred fare increase will gradually decrease over time if economic conditions improve, wages continue to rise, and energy prices and core inflation ease.
Recent Fare Trends and Upcoming Initiatives
Before this announcement, fares had risen by 2.9 percent in 2022 and 2.2 percent in 2021. In 2020, fares were frozen to help commuters cope with the economic impact of Covid-19.
In addition to fare changes, the Government will introduce a monthly hybrid concession travel pass for low-wage workers, priced at $96 starting from December 23rd.
This pass is $32 cheaper than the adult monthly travel passes, which will remain at $128. Other concessionary groups, such as seniors, national servicemen, and students, will also see reductions of up to 10 percent in the cost of their monthly hybrid travel passes.
Support for Affected Households
To support Singaporeans in coping with the fare increase, the Government will provide public transport vouchers worth $50 each to resident households with a monthly income of up to $1,600 per person.
These vouchers can be used to top up fare cards or purchase monthly passes. In 2022, 600,000 public transport vouchers worth $30 each were made available.
Ensuring Affordability
The PTC maintains that fare increases have been carefully managed to ensure affordability for the majority of Singaporeans.
On average, households in the 21st to 40th percentile, representing the typical public transport users, spent 1.7 percent of their monthly income on public transport in 2022, compared to 1.8 percent in 2021.
Lower-income households in the 11th to 20th percentile spent about 2.4 percent of their income on public transport in 2022, down from 2.5 percent in 2021.
With fare and wage increases in 2023 taken into account, households are expected to spend roughly the same proportion of their income on public transport as they did in 2022.