On Sep. 18, 2023, the Toto jackpot, which had been steadily growing, finally reached an impressive sum of S$12,979,820.
What made this particular draw even more exciting was that the massive jackpot was split among four fortunate punters.
Each of them walked away with an astonishing S$3,244,955, a life-changing windfall.
The Winning Numbers
The heart of any Toto draw is, of course, the winning numbers. On that fateful day, Sep. 18, 2023, these were the magical numbers that changed the lives of four individuals forever. The winning numbers were:
4, 7, 27, 32, 37, 49, 44 (additional number).
The excitement of matching these numbers must have been an unforgettable experience for the winners. But what's even more intriguing is where these tickets were bought.
The Fortunate Locations
When it comes to lottery wins, the location where a ticket is purchased can add an extra layer of fascination to the story.
In this case, one of the winning tickets was a QuickPick Ordinary Entry, and its cost was just S$1.
This winning ticket was purchased at the Singapore Pools branch located at Block 88 Whampoa Drive #01-857. Imagine the joy of realizing that a mere S$1 investment had turned into a multi-million-dollar prize.
But that's not all; let's take a closer look at the other winning tickets and their locations:
1. QuickPick System 8 Entry
This winning ticket was acquired at NTUC FairPrice The Woodleigh Mall, specifically at 11 Bidadari Park Drive #B1-32/33. It's fascinating how fate led someone to this particular store on that specific day.
2. QuickPick System 7 Entry
Another winner chose a QuickPick System 7 Entry, and their lucky ticket was purchased at NTUC FairPrice Jurong East Gateway Road, Block 135 Jurong Gateway Road #01-337. Luck truly knows no boundaries, and it can strike anywhere.
3. QuickPick System 7 Entry (Singapore Pools Account Betting Service)
The fourth winner opted for a QuickPick System 7 Entry through the Singapore Pools Account Betting Service. The location where this ticket was secured remains undisclosed, adding an element of mystery to this already thrilling tale.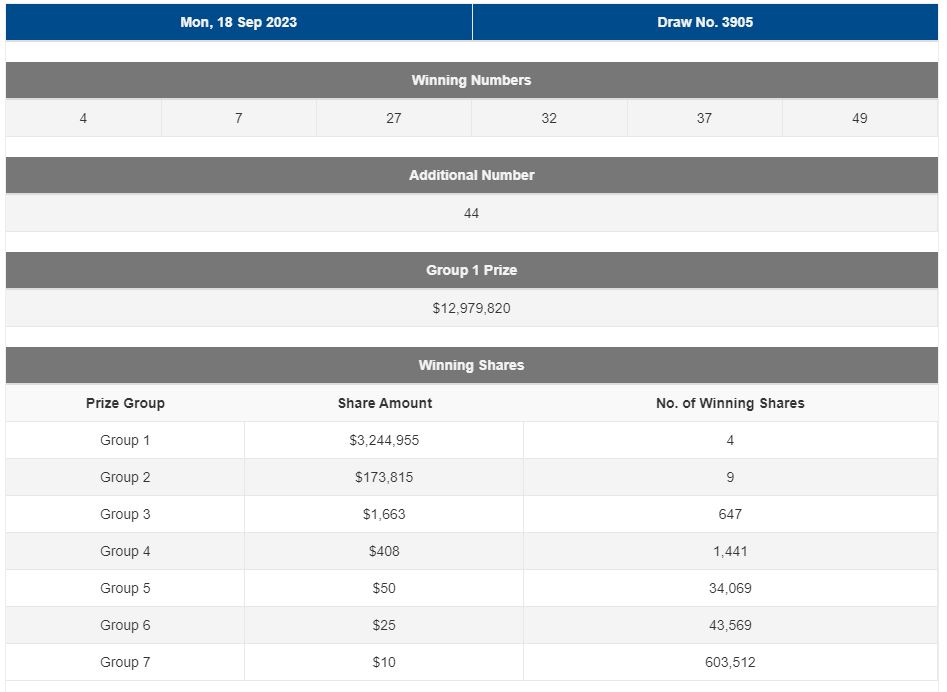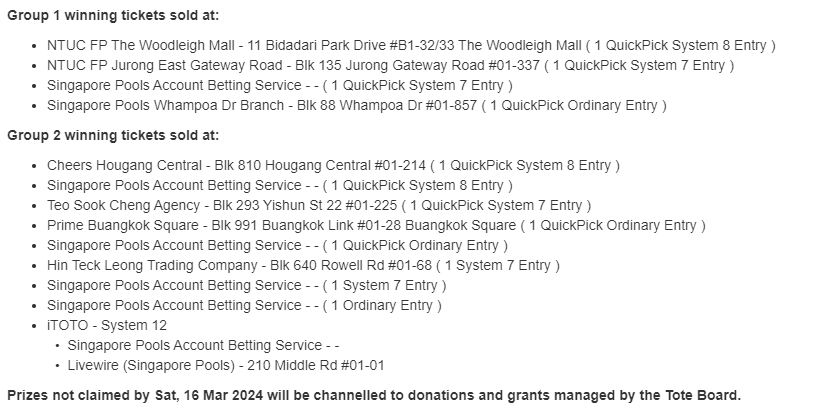 Source: Singapore Pools