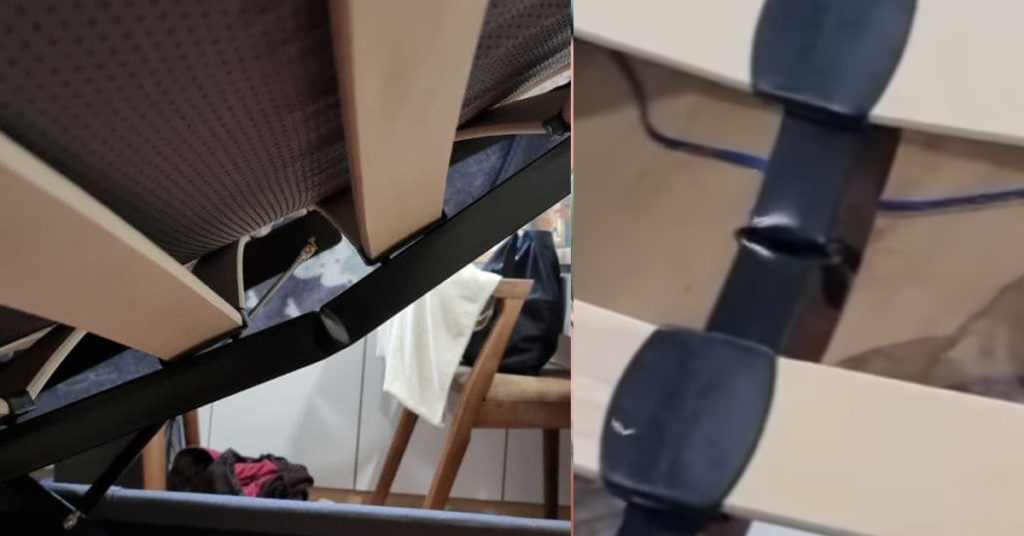 TERRIBLE EXPERIENCE, PRODUCT AND SHADY TERMS AND CONDITION. AWAITING WARRENTY CLAIM RESPONSE.
Bought 'Brie Storage Bed Frame' from BedandBasics.sg, cost $499 (round up to $500). Broke in 4 days. Company trying to hand wave everything and use T&C to get away with it. Please #help me create awareness, let them know that this is NOT RIGHT AT ALL.
First things first, from pictures and website description, they led you to believe that 'Brie Storage Bed Frame' came with a base. When it arrived, there was no base/ floor board to the bed frame (refer to the video attached to this post). This meant that all the items within the "storage" area are just simply placed on the floor. Essentially you're only paying for the rectangular bed frame, the metal bars that support your mattress and that "hydraulic lift mechanism". This was already the first red flag – it was so shady that "NO FLOOR BOARDS" was NOT mentioned on the product site. Instead, portrayed the bed frame to be similar to other bed frames that have a floor board.
How long do you think a bed frame would typically last? If your answer is 'at least 1 year or 6 months (if it's really cheap)'. Then, boy, you're going to be in for hell of an experience when you find out how this bed frame – that costs $499 – from BedandBasics.sg only lasted for 4 days. 4 DAYS. So you pay $124.75 a day for sleeping on a bed frame? lol.
During the on-site installation, THEY DID NOT install everything that was part of the bed frame.
I only found out about this CRUCIAL MISSING COMPONENT while trying to know why the bed frame was not holding up and sinking in the middle. The middle bar is required to support the bed frame. No middle bar, the bed frame will of course be unable to hold up. But now, as a customer, I'm denied compensation from this incident rooted from their mistake? Is this even fair? You guys be the judge.
Now you might think, "just ask for refund or at least exchange la". This company – BedandBasics.sg – absolutely refuses to do any of the mentioned. Quoting their absurd terms and conditions as some sort of excuse to prevent their customers from returning/exchanging any products. "The products must be in resaleable condition, unused and undamaged with their original packing fully intact" or like "Products that require on-site assembly".
I have so many questions. What's stopping them from selling us faulty products that breaks or spoils in 4 days? What happens to us, as customers, that face such a situation? What can we do about them denying us? Currently, they are refusing any sorts of help / solutions while quoting those terms as their shield. Look, I'm not trying to get my money back or get freebies, I just want a bed frame to support my back when I'm sleeping at night after a long day of work.
To me, this is absolutely disgusting and absurd. To pay $499 for a metal bed frame that breaks in 4 days. 4 days means I slept on it only 4 times. 4 uses. It's not even a $100 bed frame. Have submitted a claim under warranty to repair the broken part. They have not replied.
So, THINK AGAIN IF YOU WANT TO BUY FROM THEM. PSA to any future customers who wishes to buy from BedandBasics.sg. You're not going to get your money back, if your bed breaks after you lie on it ONCE, you are not going to get any refund or exchange. Don't do it.