A netizen by the name of Matthew Lee recently uploaded a post on a Facebook group showing pictures of two men in Malaysia doing the 'Superman' post on their bikes while travelling on the highway.
Thinks not dangerous enough, upped the challenge by doing the pose and recording his friend doing it at the same time
One of the man was seen holding his phone on one hand to try and record his buddy at the back doing the 'Superman' pose, while he himself was also doing the pose.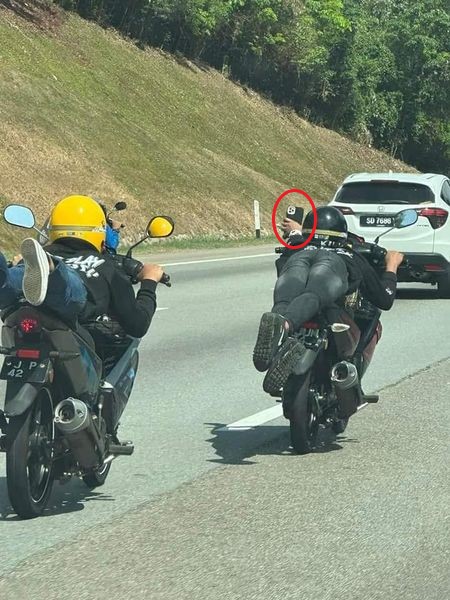 Rammed into a car eventually and lost his life
In another photo, a car which was stationary at the road shoulder was seen to have its rear crushed and badly damaged, probably from the impact of the crash.
Beside the car, there are cones placed around a black sheet and an umbrella believed to be covering a body.
A Police officer was also seen at the scene of the incident.
It is unknown if the body belongs to one of the bikers, but we believe that it is due to the dangerous stunts and reckless riding behaviour which the biker did in the first photo above.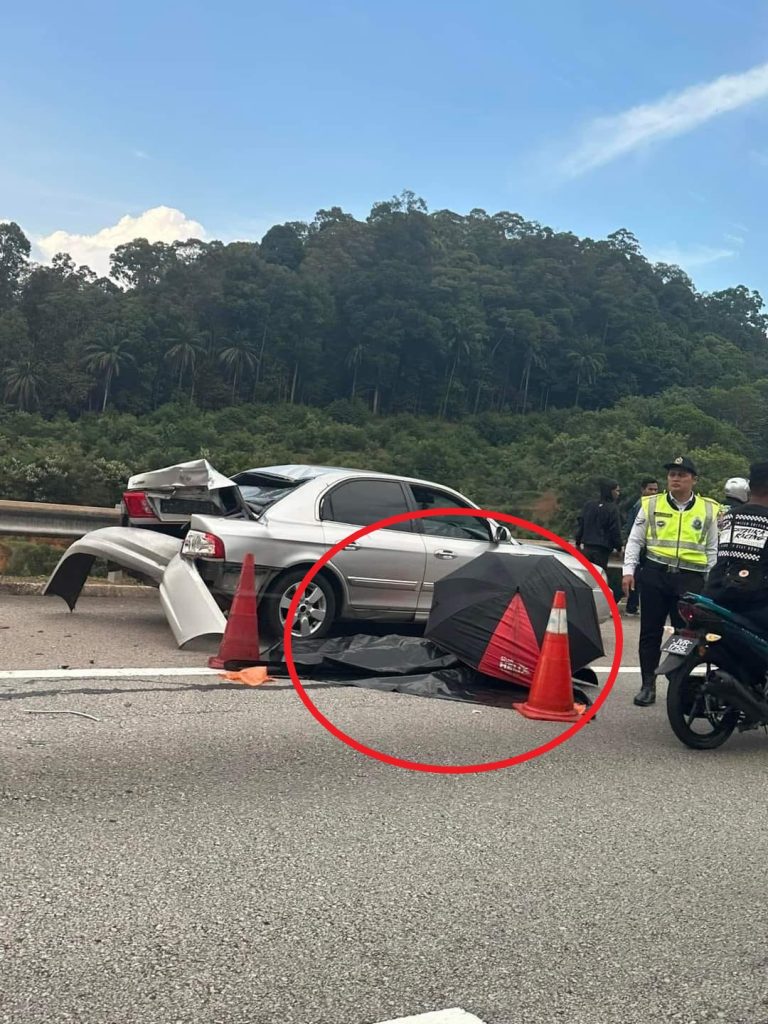 Dangerous riding causes damage to property and lives
Riding on roads dangerously is an ever-increasing problem in many parts of the world. Despite the fact that various measures have been taken to curb this menace, the problem still persists in many places.
This is not just an issue of health and safety, but also an economic one as it causes damages to lives and property.
Riding on roads dangerously has several consequences. One of the main consequences is that it poses a threat to the lives of those involved.
This is because the motorist is not only putting his life but also other people's lives at risk by riding in an irresponsible and reckless manner.
For example, if the motorist is speeding, they may not be able to react to sudden changes in the road conditions and may cause an accident.
In addition to this, riding on roads dangerously can also lead to serious injuries and even death in some cases.
Another consequence of riding on roads dangerously is the damage it causes to property. This can include damage to vehicles, buildings, and even the road itself.
If a motorist is riding recklessly, they may not be able to control their speed or the direction of their vehicle, resulting in them hitting other vehicles or objects.
This can lead to costly repairs and even replacements of the damaged items.
In some cases, the damage caused may be so severe that it can result in the loss of life.
Image source: Matthew Lee/Facebook