Facebook user WatsIn Sal shared a Facebook post claiming that the cat that was killed by the now-infamous Boon Lay cat-killer, was moved and found elsewhere from the site that it landed.
The cat was found at another spot and not at the landing site, where it was later found by Umi, a feeder who cares for the community cats.
She asked if the boy had returned to admire his "handiwork" after throwing the cat down, and she pointed how there was a CCTV that could've captured the boy in the act.
Here is what she said
𝗦𝗵𝗼𝗰𝗸𝗶𝗻𝗴 𝗡𝗲𝘄 𝗜𝗻𝗳𝗼
𝗥𝗲 𝗣𝗔𝗡𝗧𝗛𝗘𝗥❟ 𝟭𝟴𝟲 𝗕𝗼𝗼𝗻 𝗟𝗮𝘆
Read this sequence of events:
1. PANTHER'S BODY WAS MOVED! (Watch Vid 1)
Feeder Umi found dead Panther at ANOTHER spot, NOT at Land site.
Witness told caregivers later that they saw killer boy carry a black cat to the bicycle bay area (now memorial site)
2. 15 mins after the loud bang, someone informed Umi in her home whether Panther had died. So feeder Umi ran out to check & found Panther dead, next to the red structure. NOT AT LAND SITE. (Watch vid 2).
3. Feeder Umi took dead Panther to her groundfloor unit nearby to bury. Abt 15 mins later, Umi saw killer boy RETURN to bicycle area. He seemed to be searching for something: looked between bicycles, a few rounds. He passed by her unit and she asked him what he was looking for. He said 'nothing'. Then he did another round before walking towards blk 187.
QUESTIONS:
A) He knew where to return to and look for dead Panther because he moved her body right??
B) Did he return to take Panther's body? To do WHAT??? (Feeders also told me they have found living cats with CUT SLASHES)
C) Or did he return to 'admire' his handiwork?? What does it make him?
There's a police CCTV at the shelter that could show how Panther was moved. (Watch vid 3). Will this be ignored?
THIS IS DISTURBING!!
Stephen King shit!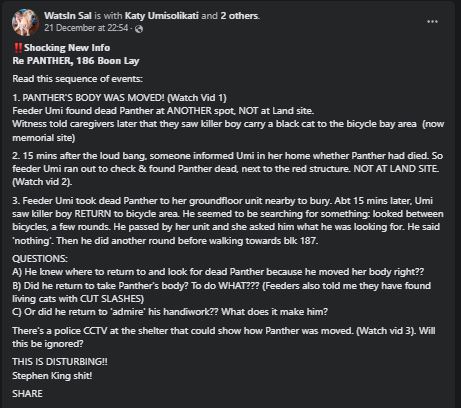 FULL VIDEO LOADING…