An employee took a photo at his workplace which contains a note saying that the Christmas bonus has been stolen.
But no one seems to believe the boss. The photo has since gone viral.
Christmas Bonus Stolen?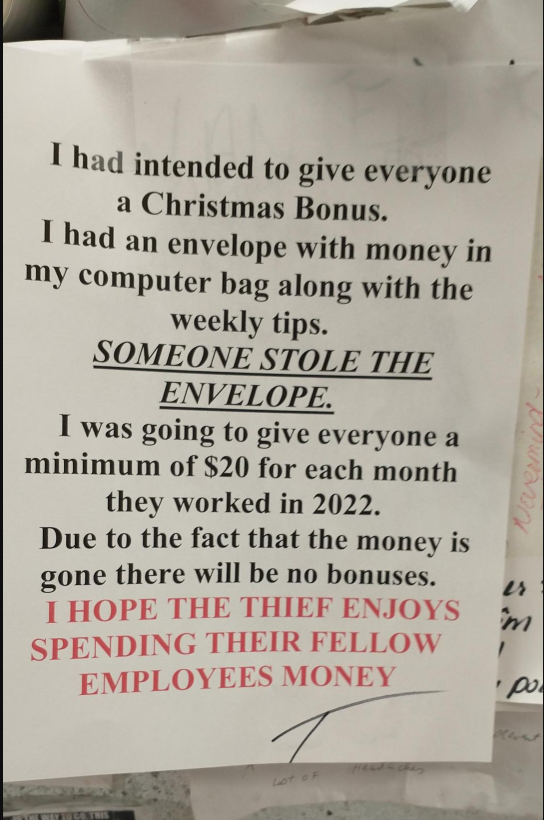 This is a difficult situation to handle since it is impossible to know if the boss is telling the truth or not. The best approach would be to approach the boss and ask them to explain the situation in more detail.
If the boss is unwilling to provide any more information or if their story does not add up, then it would be best to pursue other options such as speaking to a human resources representative.
But most of the time HR is for show as the boss is the one paying the HR department.
Here are what netizens think:
I feel like the thief left a note.
We didn't get a xmas bonus one year, because inventory went missing and we all got a lecture. After xmas, found out it was an inventory error (owner's wife did the inventory). No apology, and still no bonus.
I've managed inventory for a big company and Stock take was once a month top to bottom and once a year an indepentant company would be hired to cross check the stock. I got dragged in one year infront of my managers manager when they weren't quite making as much money as they wanted and asked if I could "justify spending 50K a year more on stock management?" I said "yes; the year before I joined 200K of stock was misallocated, lost, damaged or stolen and it was now down to 10k a year and the stock was now on the shelf when and where it was meant to be." The managers weren't happy at not being able to find an scapegoat in my department and we didn't get a bonus or a thankyou for anything. I left and joined the indepentant company we used to hire to do cross checking shortly after.