I have recently came in contact with Seah Zi Xiang aka zxcivicx.sg on carousell and instagram for civic si bodykit installation as well as tyres and rims changes and it was a terrible experience. I am now detailing my encounter with this Mr Seah right here in hope that no one has to deal with this like me again.
1.Pm-ed zxcivicx.sg via instagram on Jan 6 asking for quote for SI bodykit with Si spoiler and timeline
2.Before depositing he say can come down on Jan 11 to install the new bodykit, after depositing he say can only make it on 14 Jan due to spraypaint workshop peak period during CNY. (Gave him the benefit of doubt since I really wanted this deal to go smoothly) End up the actual day I send the car in was 15 Jan (Sun)
3.He requested payment before installing the parts which I disagreed and requested to pay after confirmation of all parts are installed properly. He told me he cant do that as he has customers not pay him after installation. Though reluctant, I still chose to give him the benefit of doubt and pay upfront once I send my car down on 15 Jan.
4.I went to collect my car on 16 Jan at the agreed timing(10am) to see that my spoiler was not installed on the car as agreed. I took a screenshot to ask him to reactify the car and he said he will do it and I can collect the car in the afternoon at 5.30pm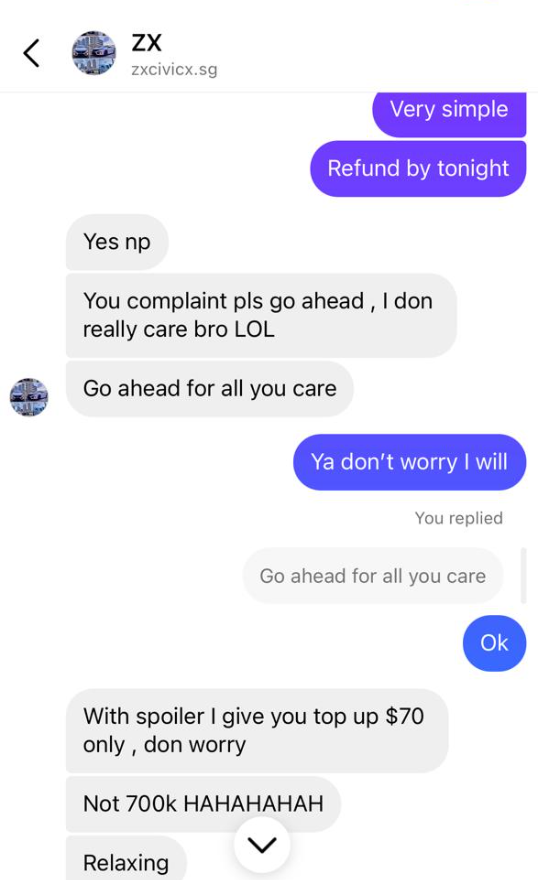 I agreed to collecting the car at 5.30pm and said since I was leaving the car slightly longer, could he help me see if he can rectify some scraps and paintwork on my car which I thought wouldnt take more than 2hours.
5.He proceeded to drive my car down to a paint shop in Kaki Bukit and say that my paint scraps are not little and woud require a huge overhaul painting 4 doors. I said I do not want to do it then and he proceeded to play then sympathy card by saying how he drove from Bedok to Kaki Bukit in a rush just to do this for me.
At that point I thought he was sincere in making friends and doing long term business so I let him do the paint job there and I told him I want car ready for collection at 7pm since i expected him to get the paint done and also install the spoiler as well
6.He dropped me a text at 730pm that the car was ready for collection but the spoiler was not installed. He promised to personally come down to my location to install the spoiler on Friday (20Jan) at 6.30pm to get it done for me
7.On 20 Jan, I waited at home despite having appointments just to pass him the car key. I told him to call him when he reached but I waited in vain as he never intended to make the trip down
8.Today I saw him posting on his IG page and I asked him for an explaination. He then replied me sarcastically that the spoiler is $70 not $700k and that he will refund by 2359 tonight.(which at the moment of writing 22 Jan 1215am. There is still no refund
I will attach the screenshots of our conversation and feel free to share if you want as I hope no one has to deal with such a dishonest dealer such as Seah "Ghost" Zi Xiang. Feel free to share to let more people know about this.
I guess the moral of the story is to really not pay fully upfront until the job is done. I have paid for this lesson and I hope more can learn from it and avoid dealing with unethical people like zxcivicx.sg