A netizen going by the alias of Melody Ang on Facebook recently posted on Facebook's Complaint Singapore page about a takeaway which she ordered from Superior Kitchen which is located at Block 461 Yishun Avenue 6.
Found cockroaches in the meal
According to the post which was posted by Ang, she had ordered a Curry Chicken Rice today (2 Feb) at around 5pm for takeaway and when she opened up her meal, she found cockroaches mixed inside her meal.
Disgusted by this fact, she is asking on how to take proper serious action against this.
Here is her post
"#hygiene Want to complaint.
Order a curry chicken rice from Superior Kitchen 御香园 today at around 5pm blk 461 yishun ave 6 and found out that have cockroaches in the food.
Any idea how to take serious action against this?"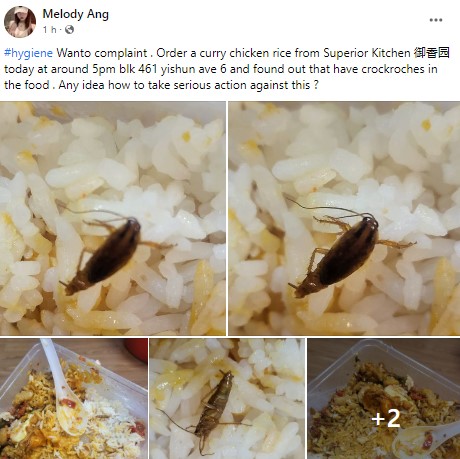 We hope that she is fine as she probably took a few mouth of the food before the discovery and we hope that the stall in question takes a look at their level of hygiene.
This should not be the standard for a food stall.
Netizens comments
Their food ex and very dirty, I use to buy around there then the price more and more ex. That time the lady dig the nose la go touch my food and still said is normal
Really unacceptable… hope u r ok after eating
can send to NEA via One Service app
Image source: Melody Ang/Facebook