Facebook user Jocelyn Chan, shared how she paid $220 to secure a "slot" with a plumbing company, but later cancelled because of the poor service and didn't receive a refund.
Here is what she said
A word of caution for anyone looking to engage Epi Handyman for their services. We had a very unpleasant encounter with them – contacted them on Tuesday as we urgently needed sink connection services, which they agreed to send a plumbing guy down on Tuesday to fix up for us. Plumbing guy came on Tuesday night and evaluated that there needs to be slight modification to the piping, and that he will go purchase the piping. Customer Service Officer Tom from Epi Handyman said that the plumbing guy will go purchase the part and come on the next day, Wednesday. We were told that they would show us a photo before purchasing, and he asked us to make upfront payment of $220 to secure our slot. We did as told. On the next day, Wednesday, we were told that they don't have available slots and can only come to settle the issue for us on Thursday evening. Having come so far with them, we agreed.
On Thursday 20 Oct 2022 morning, we were sent this photo by Epi Handyman and told that they had purchased this piping. We were taken aback as we had previously understood they would check with us before buying the pipes. We told CSO Tom that we didn't want to use an accordion pipe below our kitchen sink – it's common sense that accordion pipes are not meant to handle waste water with more debris because debris will get stuck in the folds. Also accordion piping will not be able to tolerate water of higher temperature (eg hot/warm water after boiling noodles). Tom told us that he would tell the plumber. I checked with Tom whether they would get the correct piping before installation that night, he said yes, it had been conveyed to the plumber. Lo and behold, when the plumbing guy came at 9pm (way past the agreed time of 6-7pm), he brought this accordion pipe. We told him we had told CSO we don't accept accordion piping and no we don't want to install this. He said the CSO did not inform him. We told the plumbing guy we would not want to engage their services anymore, and bade them goodbye (the plumbing guy was rather grumpy about it, but he left).
Since 9pm last night we have been contacting Epi Handyman on WhatsApp and via phone calls (3 times this morning) to return us our $220 since job is not done, but no one is replying our WhatsApp and picking up our calls. As we are at risk of losing our $220 paid for a job not done, we are raising this on Facebook for everyone's awareness. It is ridiculous that refund via Paynow, which is instantaneous, should take so long, and that our messages and calls should all go unanswered by this service provider.
Feel free to contact me for factual screenshots of the WhatsApp discussions to back up the above series of events.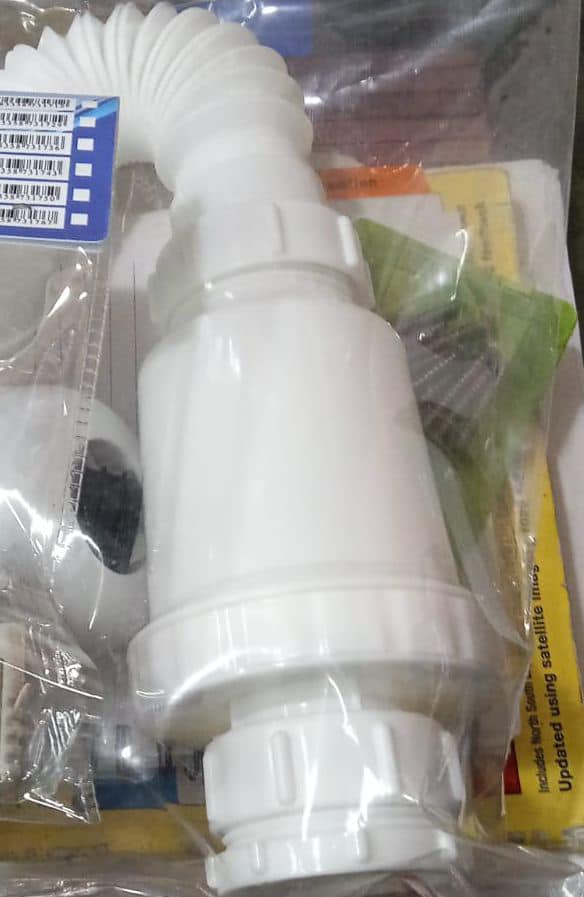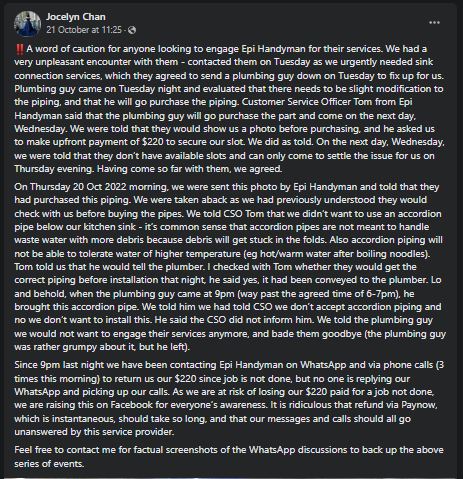 Source: Jocelyn Chan on Facebook