According to the head of consumer banking for DBS Bank, Jeremy Soo, DBS has raised interest rates for its Multiplier Deposit Account.
The move was done by DBS Bank to help customers of the bank cope with the rising costs in expenses due to inflation.
Since 2020, this marks the first time that interest rates are being raised after it was previously cut thrice in the same year.
Changes already in force since 1 August 2022
For the DBS Multiplier deposit account, as long as customers do their banking transactions with DBS or POSB in larger amounts and in more categories, higher interest rates will apply to them.
These also applies to categories like:
DBS or POSB credit card spending
Mortgage payments
Investments
Eligibility criteria for this includes:
Crediting their salaries or dividends to DBS or POSB
Connecting SGFinDex to DBS NAV Planner
Customers must also transact in one of the following categories:
Credit Card Spend
DBS PayLah! retail spend
Home loan instalment
Insurance or investments
Interest rates in all these categories across all the different transaction amounts have all increased up to 0.8 percent for spending in three or more than three categories mentioned above.
Here are the changes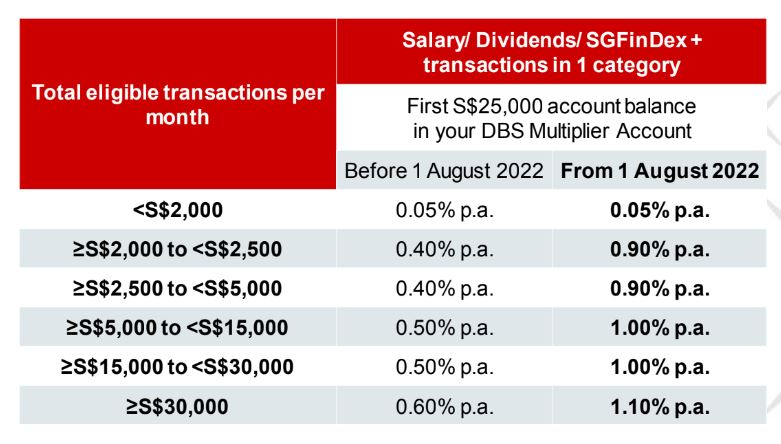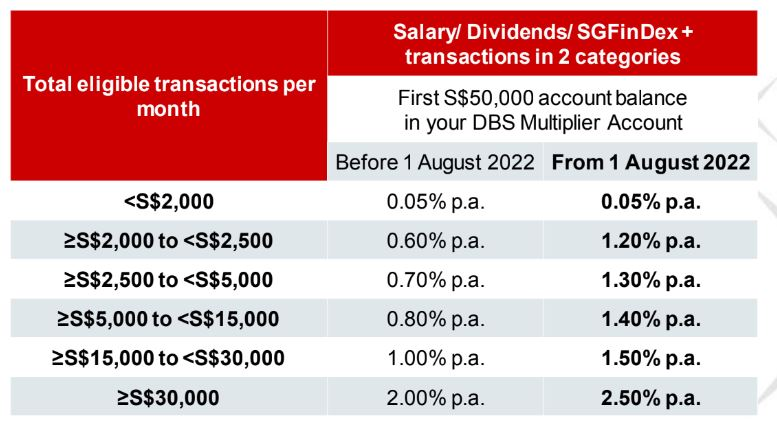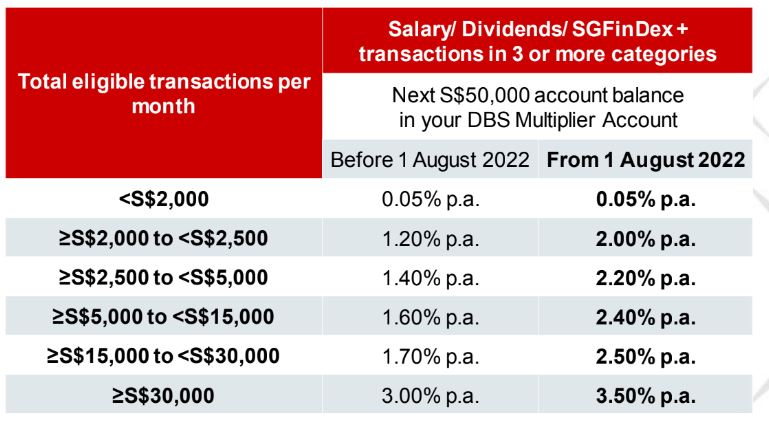 An example of how the increase works would be if a Multiplier deposit account holder credits his or her salary into the account and has transactions in 1 category with a total value of $5,000, he or she will have an increased interest rate of 1% per annum as compared to the previous 0.5% per annum on his or her first $25,000.
Mr Soo also shared that the income earned by almost 500,000 of DBS' customers were trailing behind inflation and their expenses went up to almost twice faster than their income in the previous year.
He added in a statement saying:
"While the effects of inflation cannot be easily avoided, it is now more critical than ever for us to do all we can to collectively lessen the pain for our customers, especially those in the most vulnerable groups, by protecting their savings and grow their wealth."
"The latest revisions to the DBS Multiplier program are among the initiatives DBS/POSB is reviewing to ensure our customers have access to relevant solutions and the know-how to save more, spend wisely and invest smartly to give them a stronger footing to navigate today's uncertainties but not compromise on their future financial wellbeing."
Image source: Google Maps/DBS