Facebook user Tomas Adam Laslo shared how his frozen and chilled items were allegedly left out in the open by his delivery driver, under temperatures of 33 degrees (he measured the temperature).
Here is what he said
Dear Everyone!
TLDR: Please be careful with Redmart delivery food safety-wise. They leave out frozen/ chilled products in outside heat carelessly.
My delivery slot was 17:00-19:00 so I arrived home around 16:45. At that point my items were waiting in front of the elevator (technically outside, 33C°) without insulated bag or icepacks on the ground floor of my building.
No 15 minutes warning text, no call if they can leave it there, nothing.
We decided to wait as items were on trolley, we didn't want to take it, as it was clearly not "delivered".
So we decided to wait for the return of the driver, in about 10 minutes, (when I started to take video bellow) he returned claiming he just went for 5 minutes to the toilet (we've been waiting 10+ minutes there already, and toilet is like good 5-10 minutes away).
How long my half melted food items where out in the dangerous heat?
I understand driver has to go to toilet, but can't like leave my frozen/ chilled stuff in the cold van?
Are redmart grossly overscheduling drivers, where they have to take risk with our food and health?
Are they going to pay for the treatment if my pregnant wife gets sick from dangerously handled food?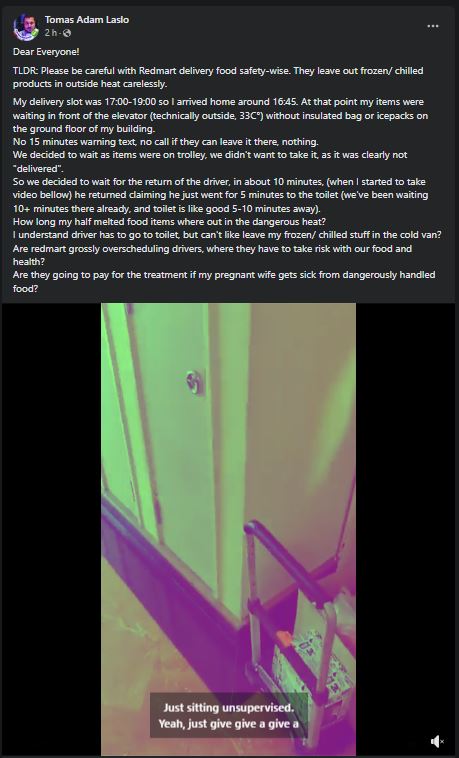 FULL VIDEO LOADING…