Finding a job in Singapore is not as hard one would think as long they do not have much preference.
A netizen posted a photo on Facebook of a Chinese restaurant located at JEM shopping mall.
The poster stated that a dishwasher is getting paid a salary of $3,100 and it is only $100 lesser than the Management Trainee and $300 lesser than the Assistant Restaurant Manager.
However, netizens are sceptical about the job advertisement and a discussion began on Facebook with over 220 comments.
A netizen said:
"Give high salary you say dodgy, give low salary you kpkb, what is it exactly you want? I mean it is obvious that at $3,100, the hours will be longer because responsibility in this case is minimal as a dishwasher. You expecting a dishwasher to work 8hrs and get paid $3,100? Thats not a reasonable ratio and lets face the reality please. A chef has quality to assure, food to prepare, ingredients to prepare, the hours compensated by the skillset, thus lower hours of work, nothing wrong about it."
Another netizen said:
"Actually not surprising, dishwashers are usually 12 hours/day work.15 yrs ago when my friend's restaurant was hiring dishwashers, even at $2500 did not suffice. They usually work for a few days and then disappear, even though there was a commercial dishwasher…not hand wash.Their main duties are usually scrap away the food leftovers, stack in the standard square baskets and push into the dishwasher. After wash, remove basket and put plates and bowls into place. The scrapped food in the dustbin need to be taken to the bins to be disposed. Basically this is the main duty of a dishwasher. But it's on their feet all the time. Actually not many old folks can take the job due to health reason. It's really hard work.As this job is also considered as unglam, hence hirers have to attract with high wages. Even then, not many actually applied."
Poster of Job Ad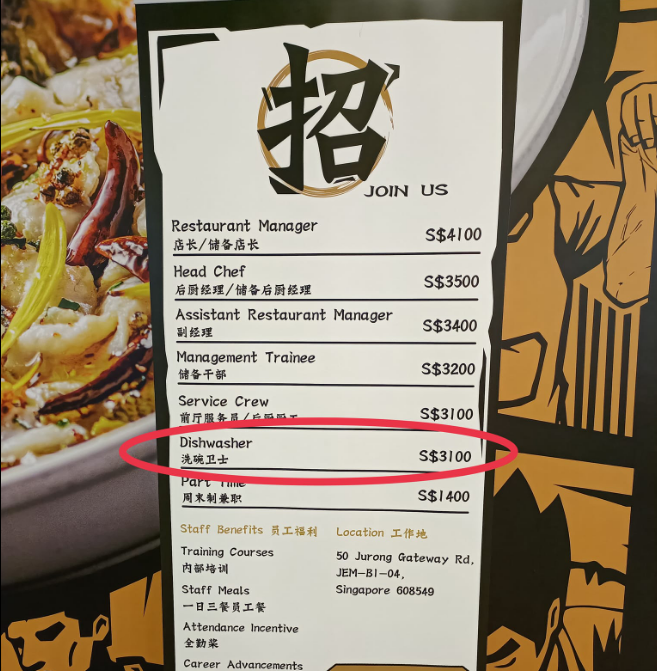 Here are what netizens think:
Want to attract locals? give them useless titles…They like useless titles…Maybe instead of the dishwasher (sounds so no face), can call it Sanitation Officer…
Aiya, if they really sincere paying such kind of salary, this advertisement doesn't even need to put up
They need the money lah. And it is a very manual job.
This is just to show that they trying to get local workers. Eventually it will be fulfilled by foriegn workers
Never put working hour. And it looks super dodgy. They do this to show govt they can't get locals. Need ft