TIME IS PRECIOUS FOR 13 YEAR OLD HARVEY NOW.
He is in need of a family that would be willing to care for him as his foster parents are leaving Singapore soon.
When we first met Harvey, he was lying dejectedly, covered in his own urine and feces while being chained to the spot with a very heavy chain. He could barely stand up by himself and upon further medical examination, it was discovered that both his hips were dislocated.
We aren't sure what experiences Harvey went through but he was terrified of human touch and looked at the world with suspicious eyes, rarely ever relaxing.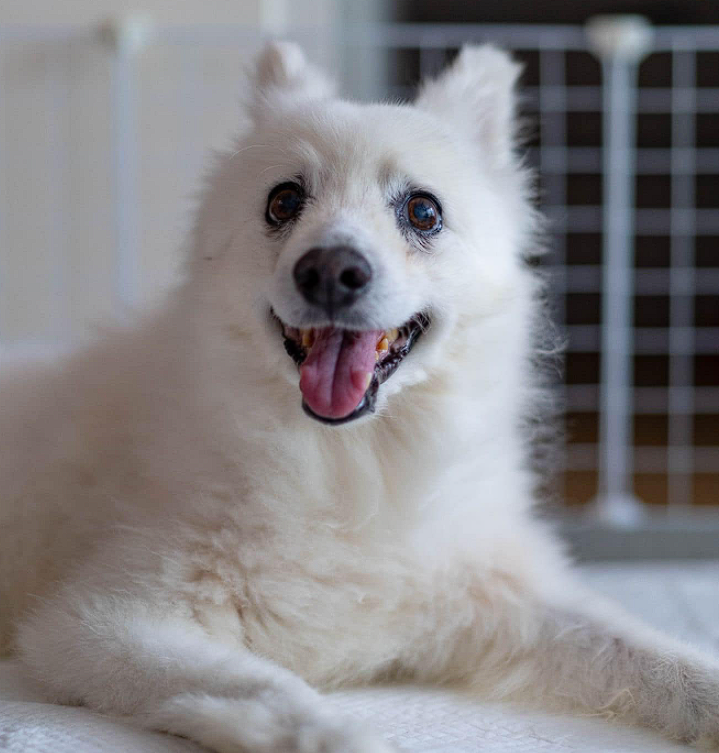 Fast forward to today, and he has light in his eyes and a jump in his step! He is the cutest little furball, and often wanders around the house to 'inspect' and spend time near his favourite humans. He has regular rehab and lots of nutritious, delicious food and is slowly becoming more mobile and excited about life. His favourite thing is a DIY towel snuffle mat that his fosterers fill with lots of his favourite treats. Many who meet him can't even tell that he is 13 years old!
We hope to find Harvey a patient, caring and understanding family, particularly as he is still learning to overcome the trauma he has experienced. He is not potty trained, and has some food aggression due to resource hoarding as he is still learning what being safe means. His forever family will also need to be able to understand his different moods and cues to be able to handle him best and respect his boundaries. A home that has no children or other pets would likely be the most conducive to not create undue stress for him.
It would be great if he can continue his rehab sessions and regular massages as they have done wonders for his mobility and comfort. Walks are short and he can't go very far, so a daily 15 minute exploration outdoors is all he needs. Mostly, he is a low maintenance dog, happy to just hang around the house as long as there is love, good food and the occasional snuffle mat.
If you have space in your heart for a loving, curious senior furry friend, please consider giving him a home in his golden years. If you can't adopt, please help us share his post. Thank you!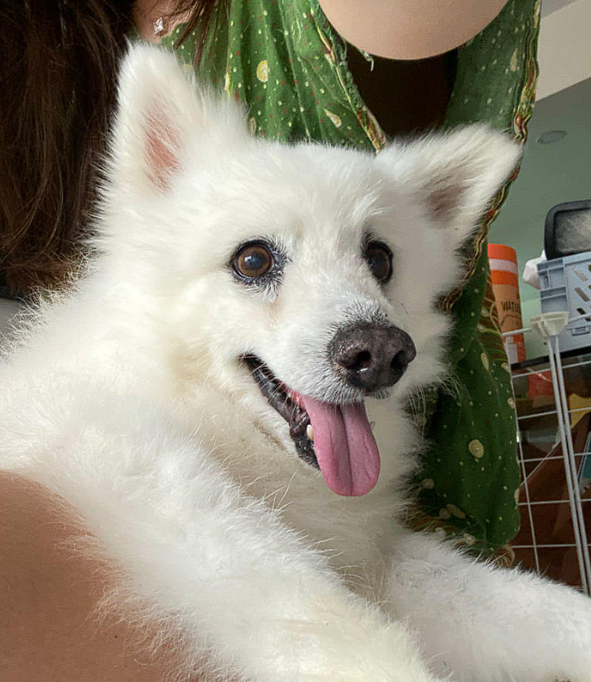 Background:
We posted about Harvey on January 28.
He is a lovely Japanese Spitz that spent four years cruelly chained up outside with little or no pleasure or enjoyment in his life as the days dragged into weeks, and then into months and then into years.
A week after we rescued him from his cruel fate he is starting to recover. He has had some urgent veterinary work done, and has been cleaned and groomed.
We are now urgently looking for a kind person to step forward either as a fosterer or adopter of this lovely boy.
He is 13 years old, though still quite lively. The hips on his hind legs are damaged and he struggles to stand up. We intend to sign him up for rehab therapy to help strengthen his legs.
At the moment he is quite nervous and does not like people approaching him suddenly. What he needs most of all is for someone to take him in, give him time and space, and make sure that his needs are catered for. He is a kind and cheerful dog and in time that side of his will undoubtably come to the fore.
Can you give this poor fellow a hand? If so, please get in touch with us as we urgently need someone to take him in – either temporarily or permanently – and let this dog have a second chance at leading the sort of life that he deserves.