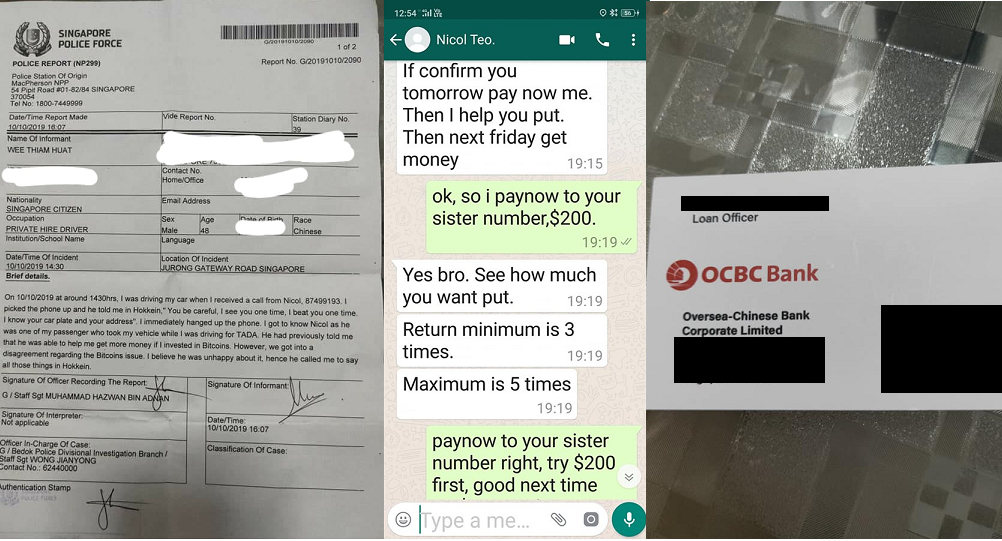 Man claims he got scammed by his passenger text from his facebook post below.
Take note of investment scams that relate to Bitcoin.
All my friends help me to share this out, i met this guy while i was driving Tada, same as Grab, he enter my car and start asking me how's my bussines, is it good, i reply him no good looking for part time job.
He give me his name card ask me whether i am interested to invest in bitcoin shares, he told me return can be 5X of the money I invest.
So i very keen, after a few words ,so i gave him $200 for invest and he wants me to transfer the money to his sister bank account but without giving me any black and white, so the same night he called me again.
told me that this week is the last week to invest in this bitcoin, so he ask me whether i want to add more money, so i added another $500, and is transfer to the same account again, the next day i feel so worry so i called him for a black and white, but he told me very difficult to do the paper work and he scolded me why last night don't ask,
so i told him if no paper then i want to withdraw the hold things, and he very angry, so we have a arguement and i told him i want all my money back, and he told me for withdrawal of plan,
bank needs 7 days to return my money, and i told him why is it when ask me to invest everything is not go by procedure, but return is by procedure, so i told him if by eight days i don't get the money i will go to the police, but the next day morning he quickly ask for my account and return my money immediately and warn me he got my car and phone number,
if he see me one time he will beat me up every time if he see me, so i went to make a police report,
and today i went down to OCBC Bank is this guy working here, but after they check, they told me no such person working here,
and they report this case to police also, thanks for reading and share out this.