Recall of EGO Swiss Roll (Strawberry flavour)
The Singapore Food Agency (SFA) has detected the presence of sorbic acid in EGO Swiss Roll (Strawberry flavour) at levels exceeding the maximum limit stated in the Singapore Food Regulations.
2 As a precautionary measure, SFA has directed the importer, Kee Wee Hup Kee Food Manufacture Pte Ltd, to recall the implicated product. The recall is ongoing.
3 Sorbic acid is a permitted food additive used for preservation purposes. Consumption of the affected product is unlikely to pose any adverse health effect due to its low toxicity.
4 Consumers who have purchased the implicated product and have concerns about their health should not consume it. Consumers may contact their point of purchase for enquiries.
Details of the product are as follows: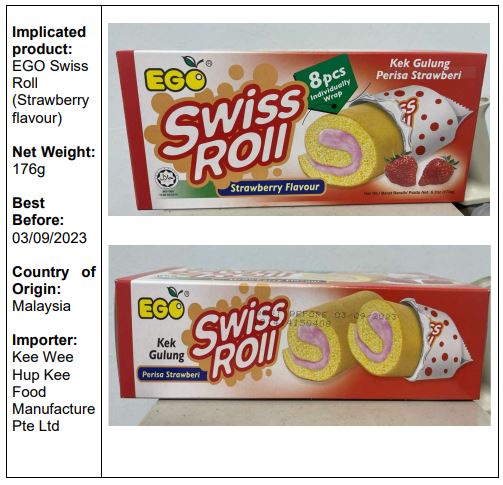 Issued by the Singapore Food Agency
20 January 2023