A netizen had written a post and uploaded it onto Facebook recently, showing a photograph of an elderly hunchbacked man pushing a trolley with a GrabFood Thermal bag on top of it.
The elderly man was wearing a Green Grab delivery personnel uniform at Choa Chu Kang North 5 and was seen crossing the road pushing the trolley along, hard at work.
The netizen added that he felt that the elderly man still having to work at such an age was pitiful but felt proud of him because of all the dedication the elderly man gives to be responsible for himself and his own living.
However, he added that seeing this should not be what we as children want or expect to see from our own old and vulnerable parents.
Thus, the netizen hopes that all dads and granddads can be cared for and loved by their own children.
He reflected on seeing this and sends a message out to all the parents out there to be strong as the world is always uncertain.
Here is the post by the netizen
"Saw this uncle today. Felt pity for him but at the same time felt proud of him. Cause he still have that energy and responsibilities towards himself. In order to survive in this cruel world of ours.

Is this what we, children wants to see in our old and vulnerable parents? Of course not. How I wish that the leaders of our country have the heart to help these kind of people in our country.

I pray that to all dads and grandfathers to be love and cared for by their own children.
To all parents out there, be strong to face this world of uncertainties."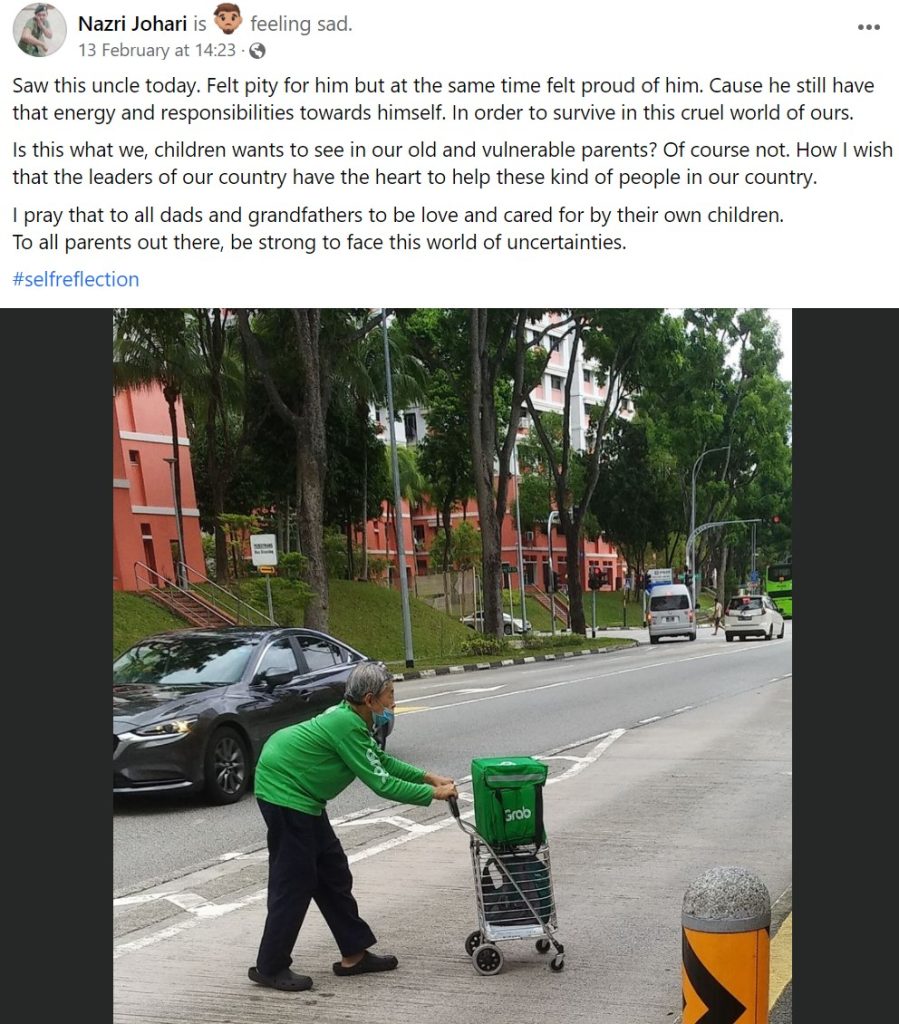 Netizens' comments
Netizens who commented on the picture wished the uncle well and some feels that young people who complain at the slightest issues should learn from this uncle.
Here is what was said:
At this age this uncle should be rest and enjoy the world now.. But he's strong and maybe he used to be independent..May god protect him..
Some young people only know how to enjoy life and live off their parents riches, this uncle puts them to shame.
Image source: Nazri Johari/Facebook