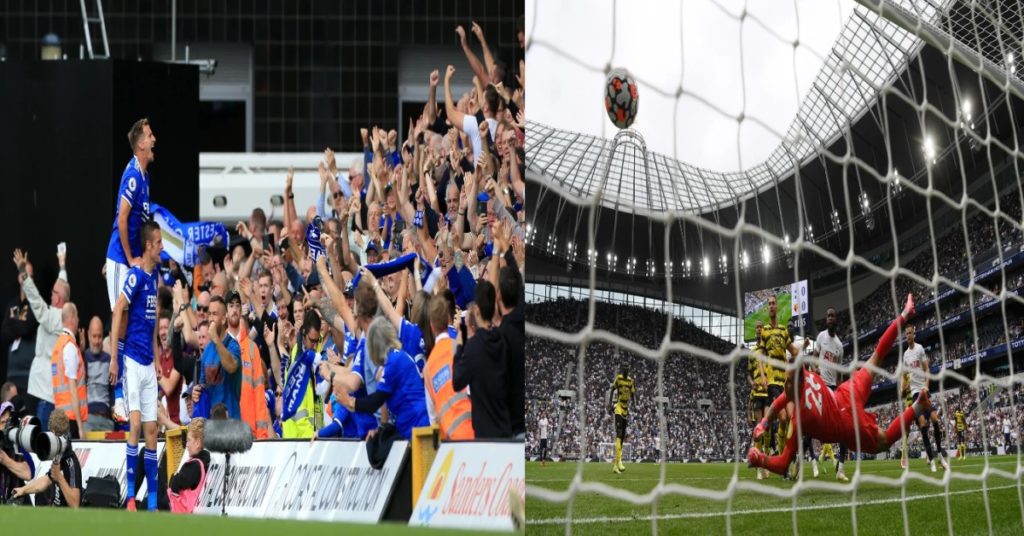 The English Premier League (EPL), is being watched by football fans from all over the world for ages and it is no surprise that football fans in Singapore are also part of the audience for EPL.
EPL fans are known to be very vocal and passionate, including us in Singapore.
Some of them go to many extents in showing their support with some even willing to do ridiculous things to show their support for their favourite EPL clubs like a boy here in Singapore who got himself into trouble for wrong reasons.
Some watch it from the comfort of their televisions at home, on their mobile phones and some even go the extra mile to travel to the United Kingdom to watch the EPL live.
In this article today, we will be talking more about the EPL such as the current teams playing in the EPL, the season format, the popular teams that Singaporeans love, teams to look out for, the bookmaker's favourite teams to win the competition and an exclusive trip experience shared by a fan who made a trip to Manchester to catch Manchester United and Liverpool in action back in 2019 before the pandemic hit our earth.
Teams in current EPL season (2021-2022)
The EPL season consists of 20 teams, and teams play against each other twice in the whole season, in a home and away format.
A champion will be decided by the end of the EPL season based on the highest number of points that the teams get accumulate throughout the whole season.
Here are the teams that are playing in the EPL this season (in alphabetical order)
Arsenal
Aston Villa
Brentford
Brighton & Hove Albion
Burnley
Chelsea
Crystal Palace
Everton
Leeds United
Leicester City
Liverpool
Manchester City
Manchester United
Newcastle United
Norwich City
Southampton
Tottenham Hotspur
Watford
West Ham United
Wolverhampton Wanderers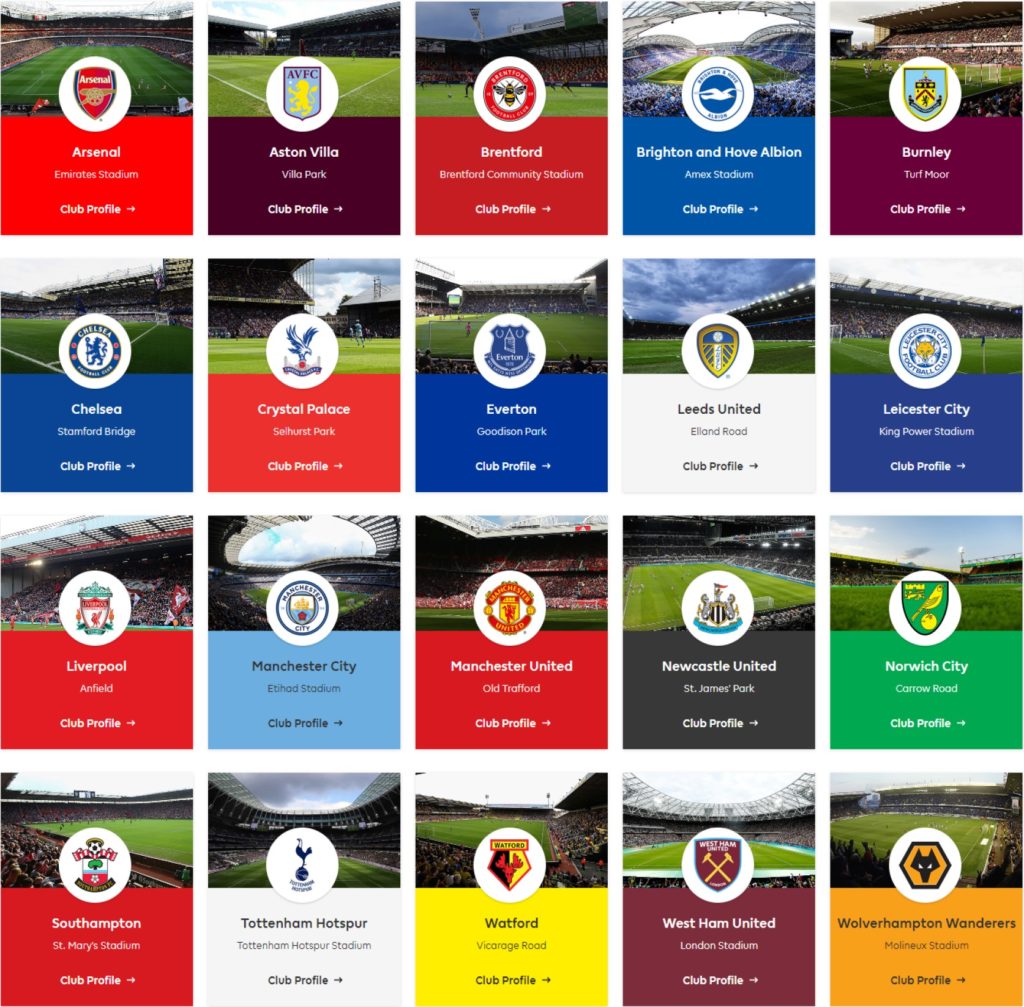 Table system format
The EPL season starts typically in August and ends in May the following year. Teams play a total of 38 games in a typical season, 19 times at their home stadium and 19 times away.
As such, a table system format has been set up to calculate the points accumulated by the teams throughout the season.
Teams get 3 points for a win, 1 point each for a draw, and 0 if they lose the game.
The table consists of certain statistics, such as the number of games played, wins, draws, losses, goals scored (GF), goals conceded (GA), goal difference (GD) and the number of points each team have.
Here is what a EPL table looks like at the end of a typical season.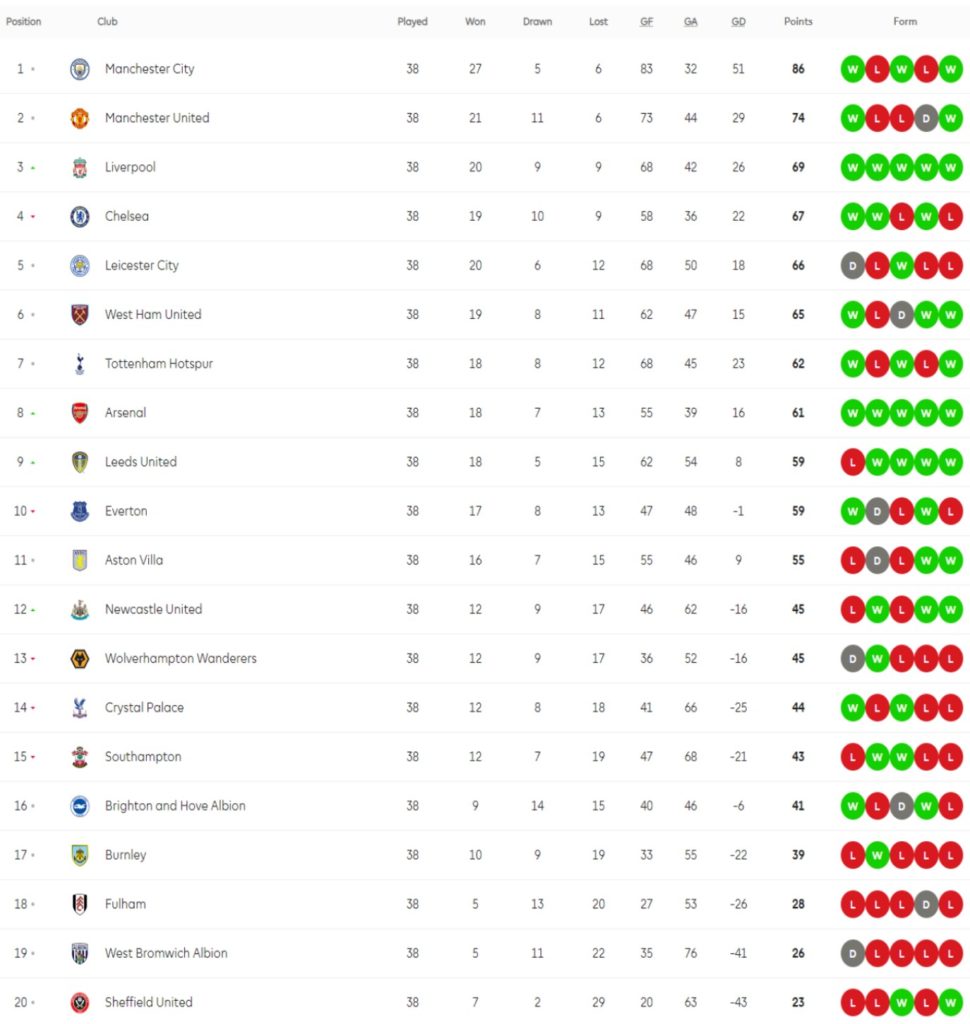 EPL match fixtures & results
Teams usually play once a week, typically on the weekends and sometimes on weekdays based on the scheduling and fixtures that some teams have to play in other competitions.
Matches throughout the season sometimes get postponed or delayed due to unforeseen circumstances.
For the most accurate timings on matches, you can check out the fixtures list that can be found on the Premier League website.
Results can also be found in the Premier League website.
Transfer Market
In the EPL, clubs get to buy, sell, trade and release players. Yes that's right, players are like current assets of the club in business terms.
The transfer market opens twice a season, lasting for about 12 weeks or three months for the summer transfer window and about four weeks for the second transfer window.
The first opening will usually be a few weeks before the start of the season to a few weeks after the start of the season.
The second opening will usually be about mid way through the season and lasts about four weeks.
Players are bought and sold at exorbitant prices, with some going as high as 100 million GBP.
Here are the top ten record transfer fees the EPL has ever seen.
Jack Grealish, 100 million GBP to Manchester City
Paul Pogba, 93.25 million GBP to Manchester United
Romelu Lukaku, 90 million GBP to Manchester United
Harry Maguire, 80 million GBP to Manchester United
Kai Havertz, 75.8 million GBP to Chelsea
Virgil Van Dijk, 75 million GBP to Liverpool
Jadon Sancho, 73 million GBP to Manchester United
Nicolas Pepe, 72 million GBP to Arsenal
Kepa Arrizabalaga, 71.6 million GBP to Chelsea
Alvaro Morato, 70 million GBP to Chelsea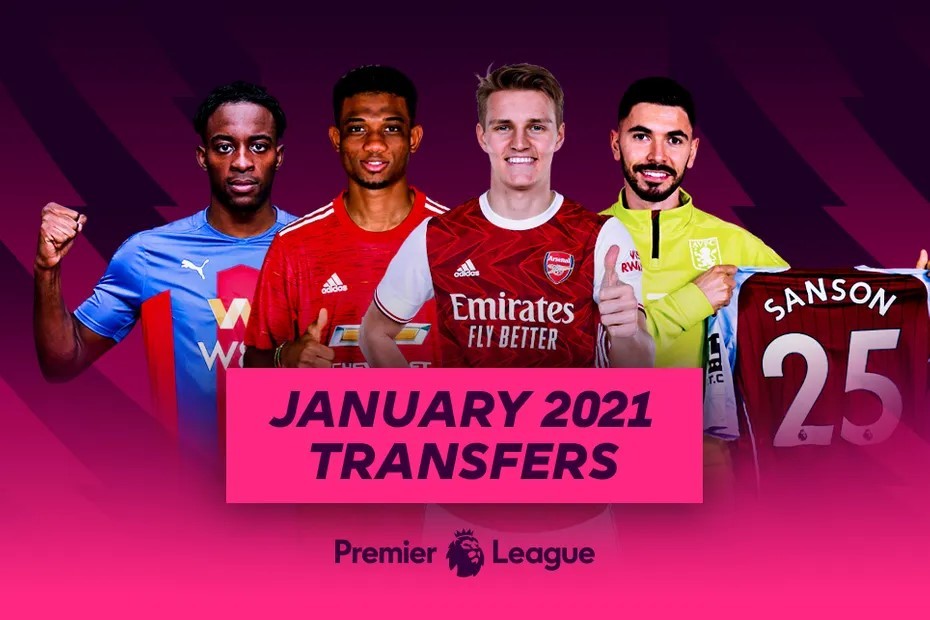 Top teams to watch this season
While the EPL has been graced by many teams in its history, there are some teams who have been consistently performing at the top level season in and season out.
The top three teams that we recommend to watch this season are Chelsea, Manchester City and Liverpool.
Currently at the top three of the EPL table, these clubs have a strong line-up to boast and have displayed outstanding performances.
All three of them have scored 20 or more goals at the time of writing, with Chelsea and Manchester City having lost only once and Liverpool none.
If you are not a football fan and want to find a team to watch for exciting football, we strongly recommend the three of them.
Most supported EPL clubs in Singapore
With the many football clubs there are in England, there are bound to be a few with a stronger fan base.
You may find people donning the football jerseys of their beloved EPL teams all around Singapore.
Some clubs have a strong enough fan base here that there is an official supporters club in Singapore set up by their supporters for them.
These fan clubs used to organise get togethers at an "official" meeting place to catch the game together and some fan clubs even organise annual trips up to England to catch their beloved teams live at the stadium.
Here are a few clubs that have a stronger fan base in Singapore, not in any order.
Links to the fan clubs have been included.
TV streaming rights for EPL games
Singtel is the official broadcaster of the EPL in Singapore, and there are a few ways where you can catch the games live legally in Singapore.
You can get subscription to all 380 EPL games on your Singtel TV box or if you would like to watch it with a box free option, you can watch it on Singtel Cast.
The Singtel TV box options comes in a few plans, along with other channels in the different packages offered. Its prices range from S$69.90 to S$72.90 per month.
The Singtel cast option would be cheaper and more flexible, as you can watch it on your devices wherever you are. It comes with a few plans which are more cost friendly and you can choose to either the contract or no contract option.
Singapore Pools favourite teams to win
With football games available all year round, you can also try your luck to make some money from these games via the only legal avenue for gambling in Singapore, Singapore Pools.
At the time of writing, the current favourite to win the season as seen by the odds given by Singapore Pools are Manchester City, at odds of 3.20, followed by Chelsea and Liverpool both tied at the odds of 5.00.
Disclaimer: The information provided in this section is only for informative purposes, at Singapore Uncensored, we do not encourage our readers to gamble.
Exclusive shared by a fan on trip to Old Trafford, Manchester
A fan who wants to remain anonymous has kindly shared with us a trip to Old Trafford, Manchester to catch the EPL game between Manchester United and Liverpool back in the 2019 season.
The fan who shared this with us is however a Liverpool fan, but did not have a chance to go to Liverpool because the timing that he was in the UK coincided with the game at Manchester and he had to leave back to Singapore a few days after the game.
Here is the whole process from buying of tickets to watching the game at Old Trafford, as shared by the fan.
The experience
Hi, thank you for inviting me to share about my trip to watch an EPL game for your article.
So basically as a first timer, I did not have any experience on how to book tickets for a game, and everyone whom I have asked did not know how to go about doing so.
I basically googled everything by myself.
Tickets to EPL games like Manchester United vs Liverpool are usually hard to get, and I could not risk only getting the tickets at the box office at the stadium because I did not know if I could get it.
So I began searching for them online, and I chanced upon a scalper website called Stubhub, which sells tickets to sporting and other events.
Stubhub works in a way where they allow season ticket holders to these EPL games to offer their tickets up to fans who want to go but could not manage to get a ticket.
The tickets are of course pricier than the original by many times, but the service provided by Stubhub included sending the tickets from the seller to your place of accommodation in the UK.
The only issue I faced was choosing if I choose buy tickets in the home section of the stadium or the away section.
The home section had more available tickets on the website and therefore much cheaper, but I was an away fan so I was caught up onto whether I should pay lesser to shut up if my team scores or pay more to enjoy myself.
After some deliberation, I chose to get the away section tickets.
I bought the tickets on my flight to London, and got the physical EPL tickets two days later at the concierge of my hotel.
I paid a total close to S$1800 for two tickets, and found out that the original owner of the tickets only paid 30 GBP per ticket when I got it LOL.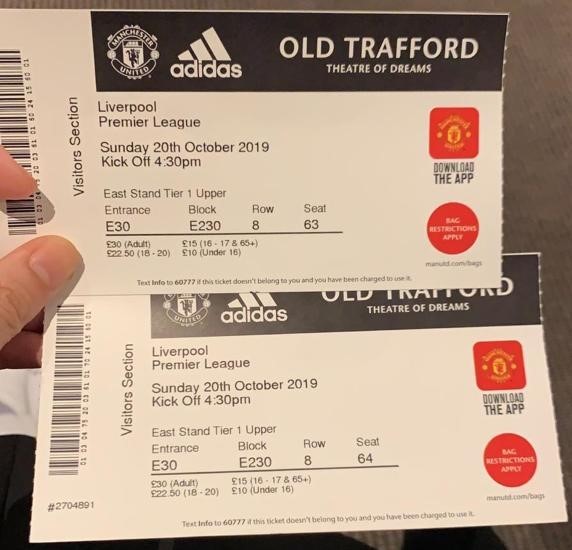 We headed to Manchester from London on the day of the EPL match, via train.
You can book a train ticket online with train operator, Virgin Trains, who runs train services from London Euston station to Manchester Piccadilly station.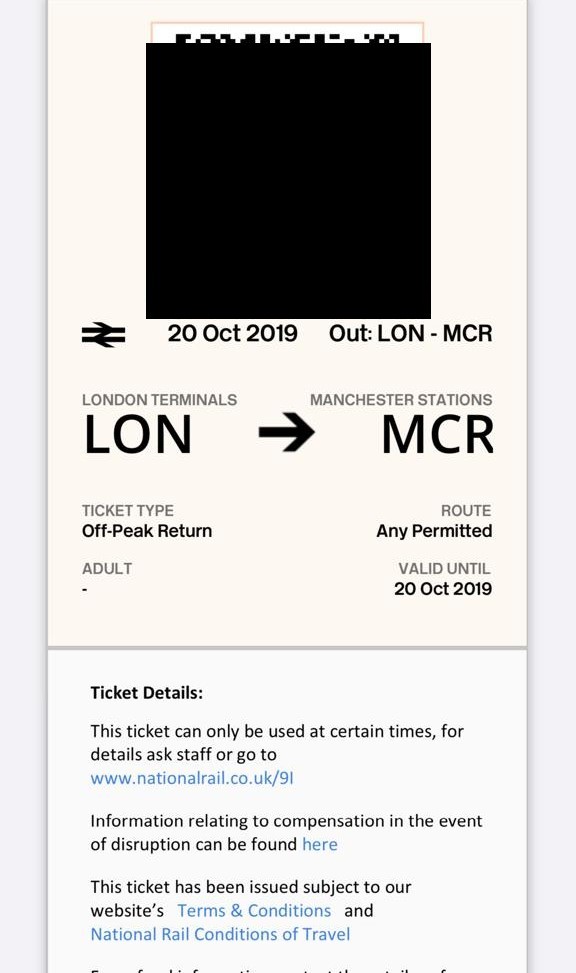 I cannot really remember the price of the tickets but it was not very cheap as well hahaha.
From the train station in Manchester, there are bus services to Old Trafford.
We reached the stadium about 1 hour prior to the EPL game, and there was so much people and excitement around the area so we snapped a quick photo outside the stadium before heading in.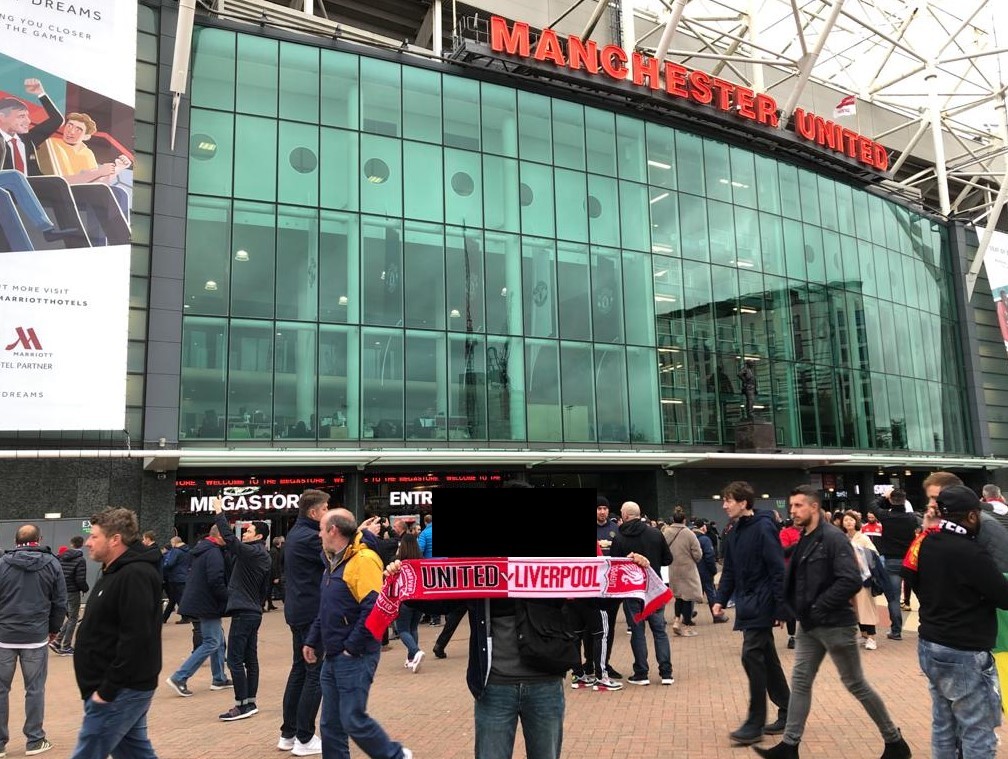 We joined the Liverpool fans for drinks and some cheering inside the stadium just before going up to the terraces, do note that bringing drinks up to the terraces is strictly prohibited for all EPL games.
Just look at how crowded it already is at the food stalls.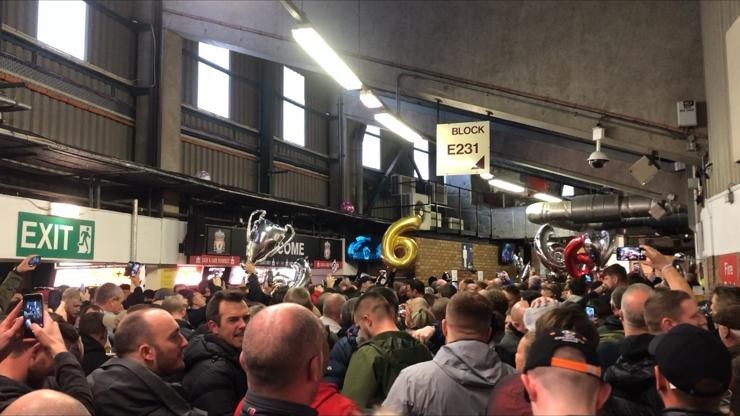 We headed in after drinks and using the restroom, to catch the players warming up before the start of the EPL game.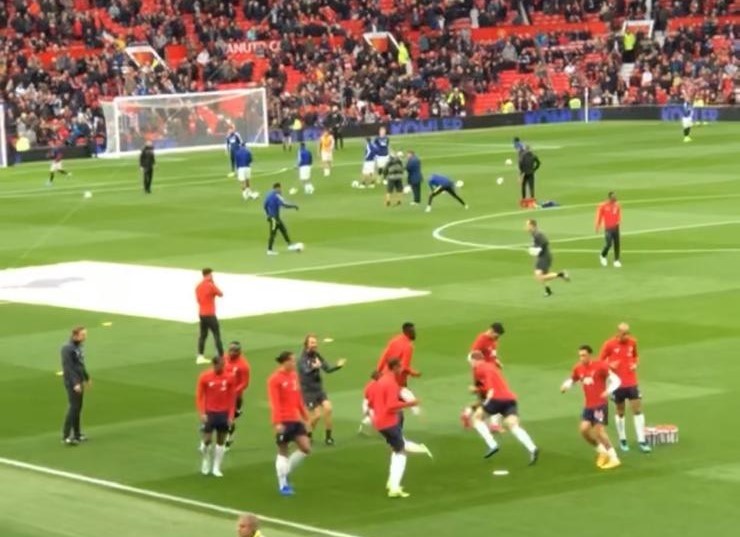 With EPL games comes rivalries, what more is the fact that these two clubs have one of the longest rivalries in EPL history.
Fans at our section were seen jeering at the home fans at the sector next to us, just because we can.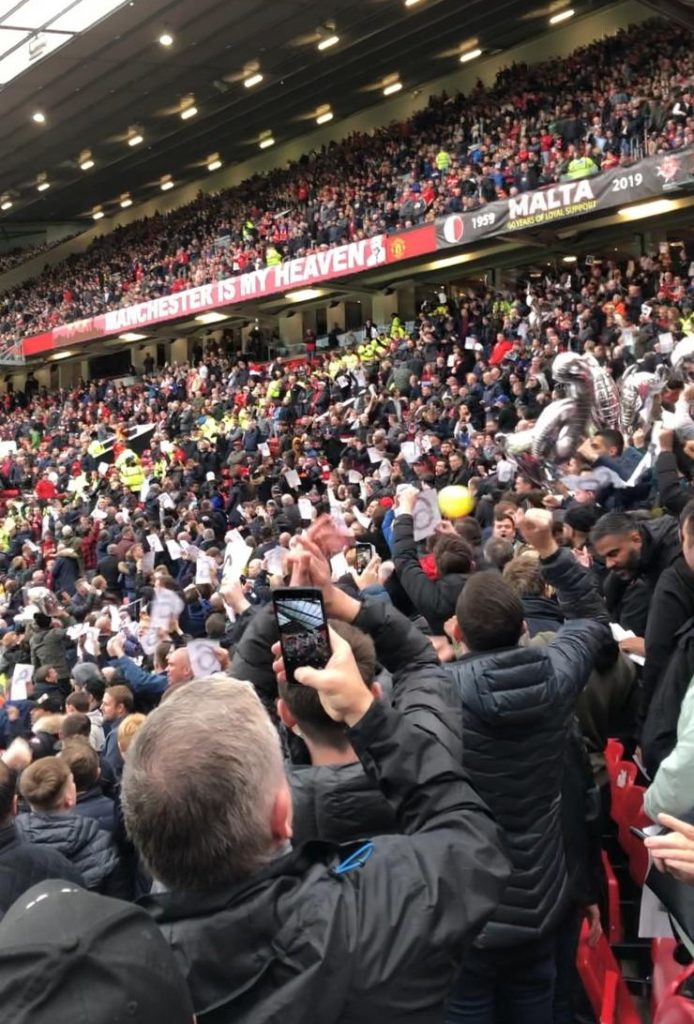 The EPL game soon started after all the pre-match warm up, and I managed to catch a few shots of the players in action.
The match was quite heated, and there were some contentious decisions made by the referee.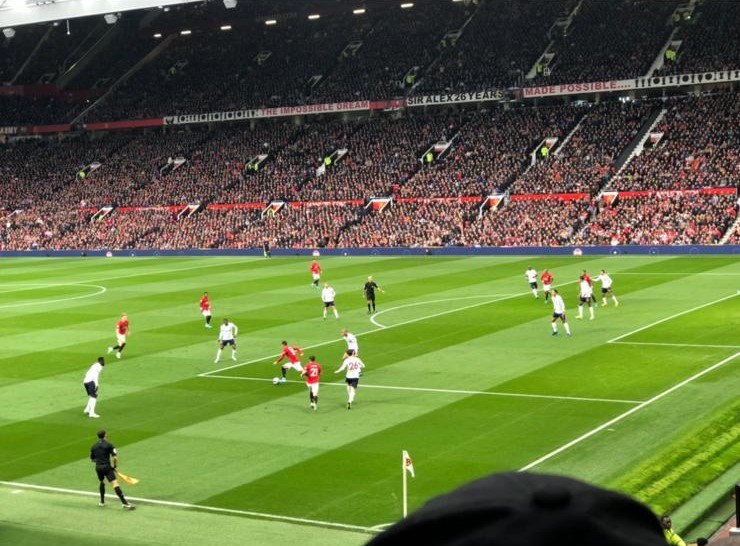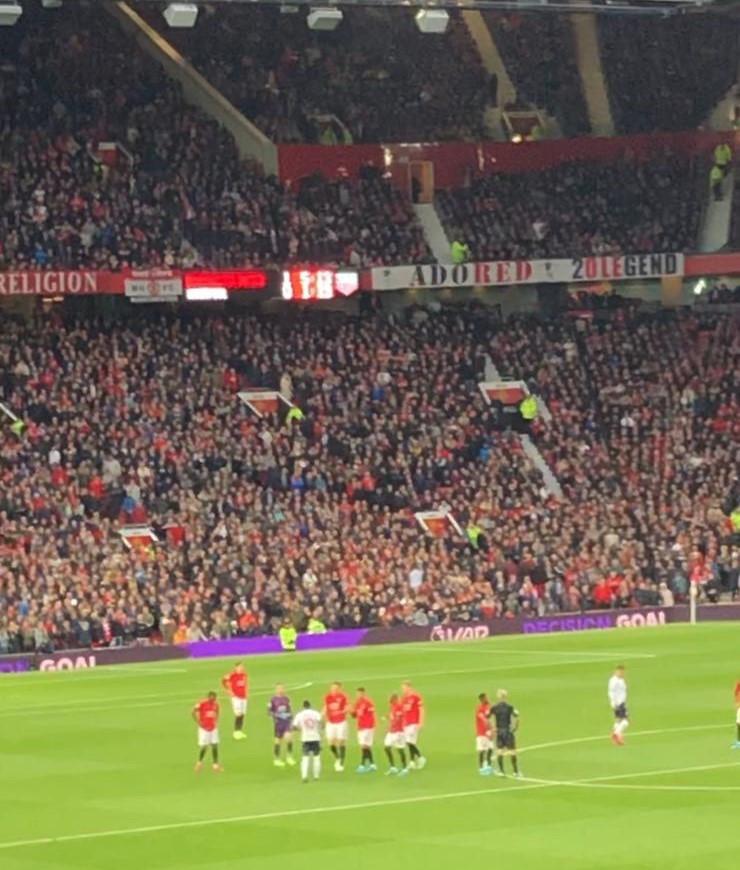 The EPL between Manchester United and Liverpool ended with the score tied at 1-1, filled with controversy.
Was a good first time experience though, and I hope to be able to go to Liverpool's home stadium, Anfield, one day.
Took another shot in the stands after the game was over.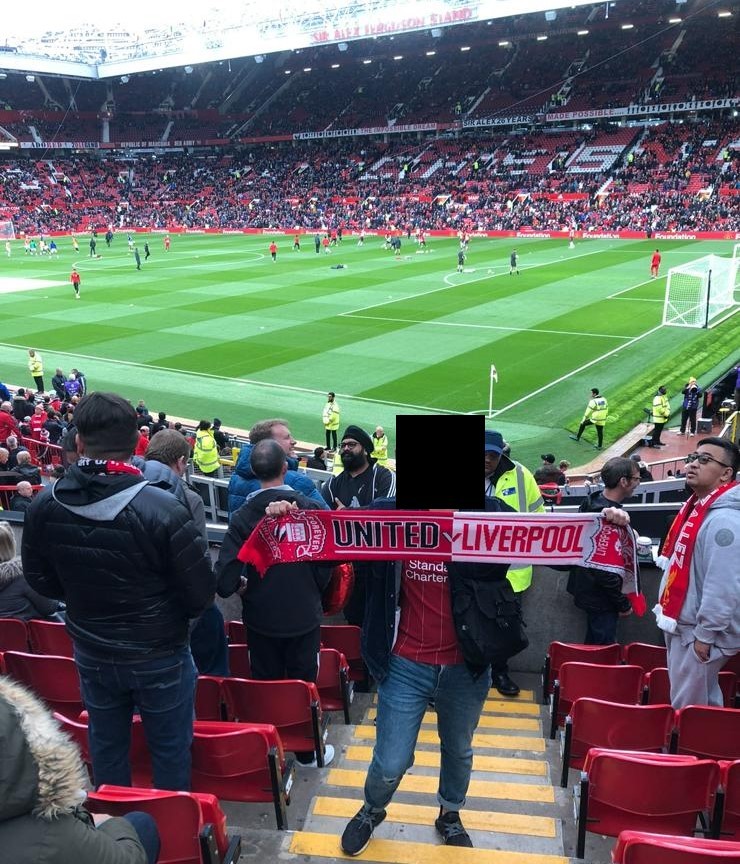 We headed back to London for dinner after the game, as the restaurants and shops in Manchester was mostly closed after the game.
All in all, we spent about S$2000 for two tickets including the train tickets.
Image source: PremierLeague.com/home, Facebook Fan Club pages of Liverpool, Manchester United, Arsenal, Chelsea, Manchester City, Tottenham and Anonymous Liverpool fan