On Friday (21 Jan), a fire the size of a football field involving premises inside an industrial area which mostly contained drums of flammable liquid and industrial chemicals broke out at Gul Lane.
It was so big that it took the Singapore Civil Defence Force (SCDF) the strength of 20 emergency vehicles and 70 firefighters to put down the flames.
Workers self evacuated
SCDF said that about 40 workers had evacuated the premises before they arrived and they were alerted to the incident at about 2:50pm.
At the time of their arrival, the fire was raging intensely and there was a chance where it could spread to the drain surrounding the industrial premises at the scene.
Firefighters fought the fire
Firefighters fought hard to stop the spread of the flames to the other industrial drums and premises nearby in their firefighting equipment.
At the climax of the operation, an Unmanned Fighting Machine (UFM) as well as seven water jets were used to fight the fire.
Firefighters also used foam to block the surface of the flammable liquids as it was more effective in this situation of fire fighting.
The fire was put out at about 3:30pm.
Man taken to hospital
A man who suffered burn injuries to his forearm was brought to Ng Teng Fong Hospital and there were no other injuries reported.
The SCDF continued operations to damp down the fire on Friday evening by applying water to wet burnt surfaces as this would prevent the fire from starting again from the hot burnt surfaces.
SCDF also said that investigations on the cause of the fire are in progress.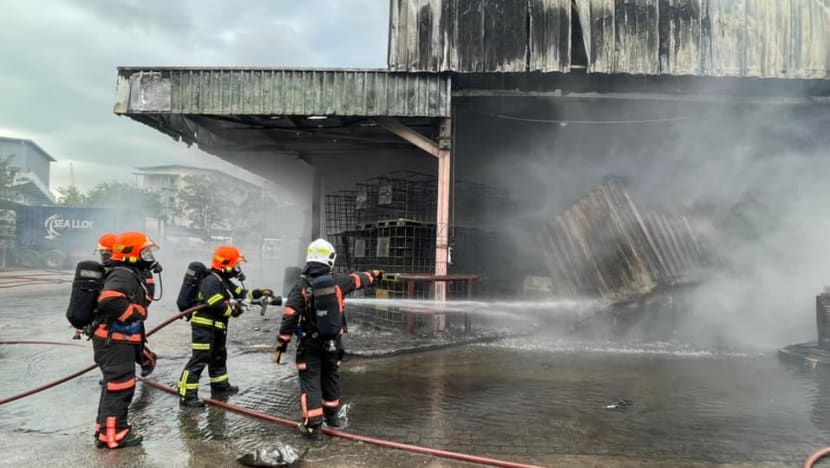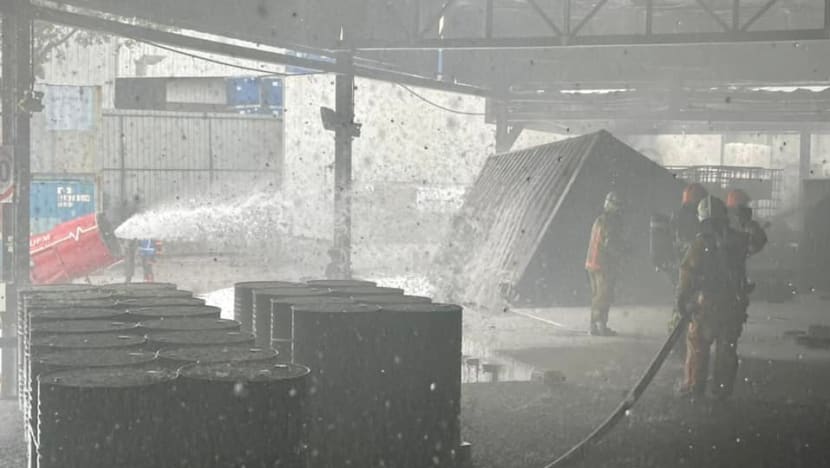 Image source: SCDF/Facebook