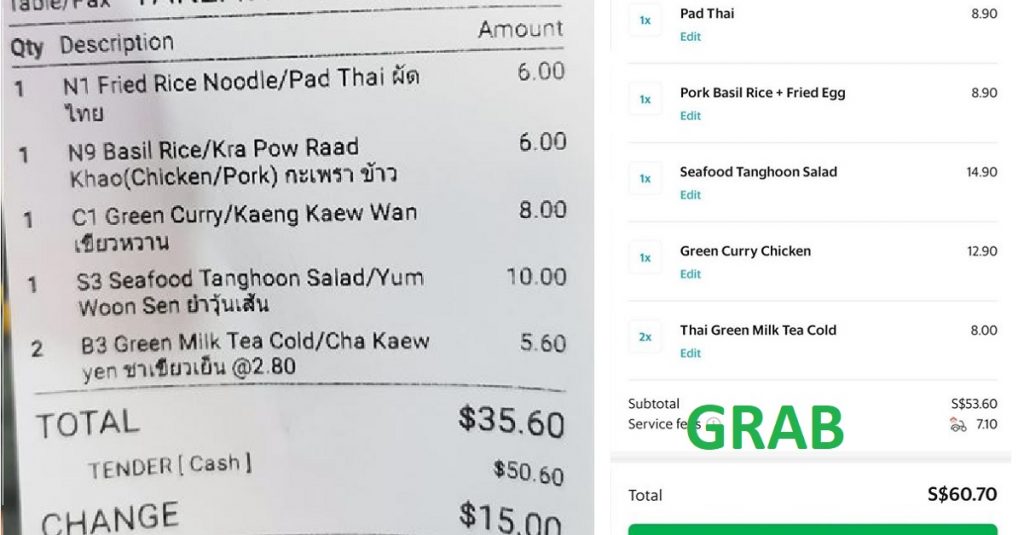 Due to the COVID-19 pandemic, the Singapore Government had introduced circuit breaker as part of the preventive measures to help to reduce the increasing number of COVID-19 cases in Singapore.
Lesser people are seen outdoors, many of us turned to food delivery services to settle our three meals. However, these meals were charged at a higher price.
According to a post shared by Kakis' Club, a netizen shared their experience with Grab Food delivery on social media. Apparently, the pricing of the food was markup. The receipt from the stall as compared to the receipt shown in the grab app is absolutely shocking. A normal meal from costing $35.60 will cost you a whooping $60.70 in grab with a $7.10 service charge included.
IN KAKIS' CLUB POST:
"All you CB hungry ghosts kena bluff by GrabFood for how long already? Wake up your ideas and support local for real please!
Difference between buying at the physical stall and ordering through Grabfood? Lollll. FYI, I've yet to order any online delivery since the start of CB. 😂 Pretty surprise a lot of ppl didn't know online ordering of dishes are generally more expensive. But during this CB they are even steeper, so. "