A netizen shared how she was initially happy to be back in Singapore after a lengthy flight of 19 hours, and wanted to book a Grab ride home.
However, her Grab driver soon arrived in an SUV but refused to pick her and her companion up, cancelling their booking because they had 4 luggage with them.
The netizen pointed out that the driver was driving an SUV and there were only two passengers including her, and that there were more than enough space for everything.
She added that the Grab driver allegedly told her to "book a 6 seater then I'll come back".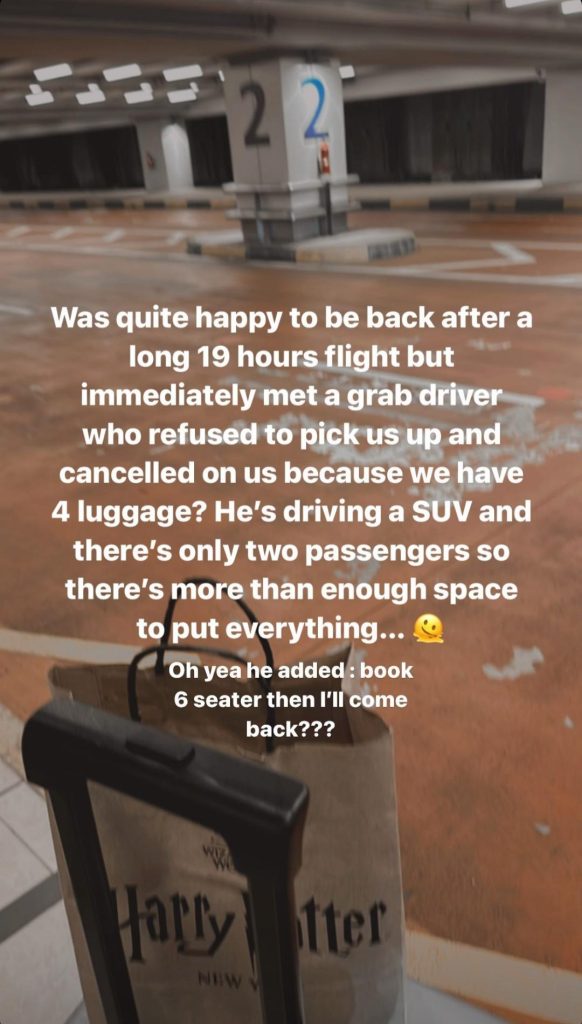 Netizens' share their own similar experiences
What's up with PHV drivers and refusal to take passengers with many items?
Never thought it could happen to me (since I usually go public) but I just had a similar incident today! Pretty much the same how it was experienced. I had 3 relatively large plastic bags kinda like ikea sized bags but slightly smaller. They were filled with new clothes and bags. Plastic bags were new and clean.
Gojek Driver in Honda Vezel (SUV) arrived. Stepped out to help load one of the bags and then promptly changed his mind and told me he cannot take me because I need to book a 6-seater.
Mind you, I'm the only passenger. There's plenty of space inside and at the back. Even if there isn't, my items can be squeezed to fit.
The driver also mentioned that I need to book a 6-seater if I'm carrying many items with me. I told him that was nonsense especially when my items are not bulky. Never had issues when I had bulky items from with me.
He drove away and canceled my ride after 5 mins. I was charged $4 by GoJek for him cancelling on me.
I ended up booking a cab that came in a prius. My 3 bags fits just fine with some space available for the cab driver's items.
So what, are we not allowed to carry anything heavy when we book a 4-seater grab or gojek now?
Did something change that triggered such behaviour among PHV drivers? Or am I just unlucky to such a driver? Perhaps the latter.
I book Grab6 rides for a crew of 2 with 1 trolley full of production equipment and one separate roller bag quite often. We load this configuration into a Toyota Noah just fine.
Two weeks later, I booked a regular Tada for a crew of 3 with the roller bag and just 1 camera bag. A Toyota Noah came and the driver refused to let us board, saying we need to book a 6-seater and that his car is for "humans". I can fit that in a Vios so I don't see why a Noah can't.
Brief exchange of unpleasantries later, told him to cancel if he doesn't want to take the job. Of course I filed a complaint and I only got a generic "we will look into it" reply.
My guess is they are probably organising some sort of protest in their WhatsApp or Tele chat groups against people who have bulky items but book the regular service.
And honestly I don't see a problem with booking a regular priced ride if you know whatever items you're carrying can surely fit in the boot. I don't ask for a discount for 3pax if I'm riding solo do I.