A Grab driver going by the alias of Sirajuddin Sathar on Facebook shared a nasty experience which happened to him while driving Grab today morning.
Fetched a PRC woman who only spoke Mandarin and she got physical on him
He said that he had fetched a PRC woman around 40 plus years of age who only could speak Mandarin and as he could not understand her, he continued to drive to her intended drop off destination according to the route provided by the GPS.
When reaching her destination, he said that the PRC woman something at him which he did not understand but presumed to be blaming him for taking the longer route and causing her to be late.
He replied her in English while she continue to speak in Mandarin to him like one chicken and one duck talking to each other.
Out of the blue, she started to hit him on his shoulders which caused him to jam brake abruptly.
All this while, he said that he could not understand what she was saying and when he reached her destination, she started to hit him again and he closed the door immediately and drove off.
He then realised that his arms had scratches and had some blood which he said was probably caused by her finger nails.
He then proceeded to the Police station to make a Police report and will be going to see a doctor afterwards.
He mentioned that this is the first time he got treated this way and he had already reported the incident to Grab though they have not responded to his report yet.
He also wishes all Grab drivers good luck and also to drive safe.
Here is what he said (English rewritten)
"Today 930am, I picked a trip from AMK to Toa Payoh Central, a prc woman around 40+ boarded my Grab car and spoke in Chinese something that I couldn't understand.
So I drove according to my Gps route:
Amk ave 6 – Marymount – Toa Payoh rise – Toa Payoh ave 2 and then Toa Payoh Central.
When reaching she began to talk an shouted at me something that I do not understand but I think she's saying I took longer route and she's late.
I replied in English while she continue speaking in Chinese, just like a chicken and duck communicating when suddenly she started beating my shoulder which caused me to have to jam brake and stop.
I still could not understand what she was saying so I kept driving to drop her off and when I opened the door she started to beat me again.
I immediately closed the door and drove off and later realised that my arms had blood probably caused by her finger nails so now I'm at the police station making a report and going to see a doctor afterwards.
First time got physically treated this way, I had already reported to Grab but no response yet good luck to all safe driving."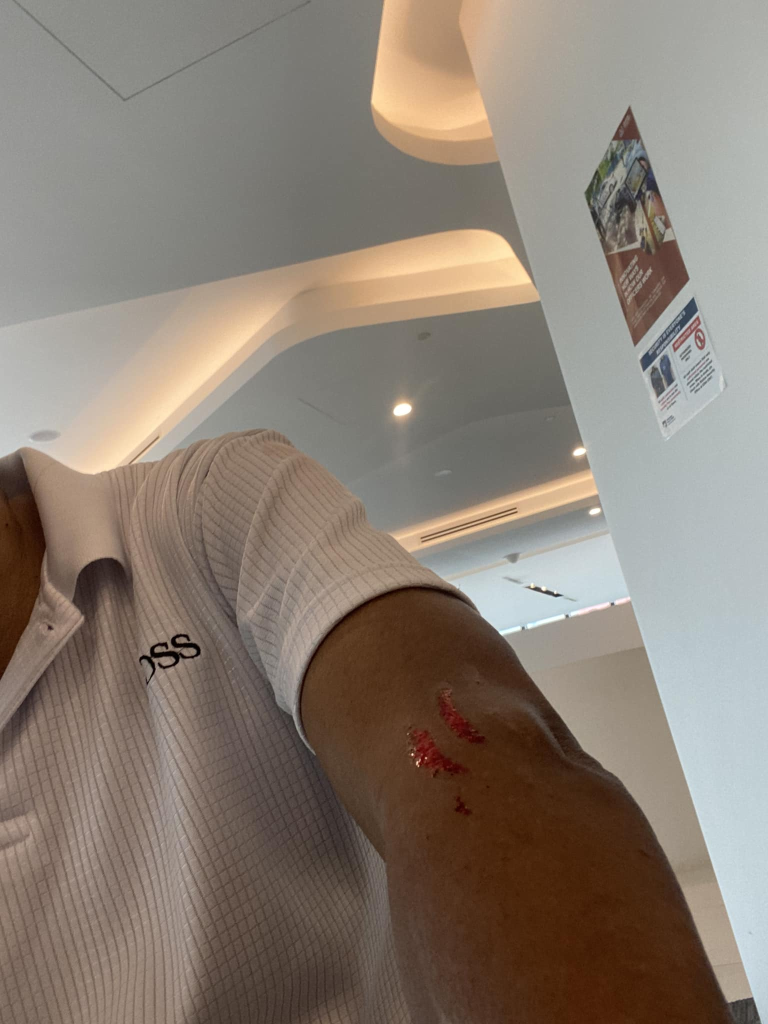 Image source: Sirajuddin Sathar/Facebook