Thai discos are one of the most infamous night joints that are popular among men of all ages. Most male customers who are there are often touted by "flower girls: who often say: "You want hang flower mai". Most will support a bit or leave. But not this particular customer in Johor Bahru.
Hang RM300,000 flower – Alleviating poverty in Thailand one flower at a time
Can money buy love? Oh yes, you can if you're the ultimate carrot cake of the year. It's time to find an award and give this man a one-year free food pass at all carrot cake food outlets around the island.
The incident took place in Johor Bahru's club Route 66, The joint shares a name with the famous Bangkok club located along Royal Clubbing Avenue. It is common that many such clubs replicate the names of famous joints in Thailand and open in parts of Malaysia and Singapore.
A video of the incident was shared on the Siam Bu's Facebook profile
Look at how proud and happy she is after receiving a disgusting amount of tips, It's as if she is receiving an Oscar or Emmy award.
Oh Yeah, of course, an Emmy or Oscar for her excellent skills in casting as "Siam Bu GF, Love You Nong time, GF Effect".
RM300,000 is not enough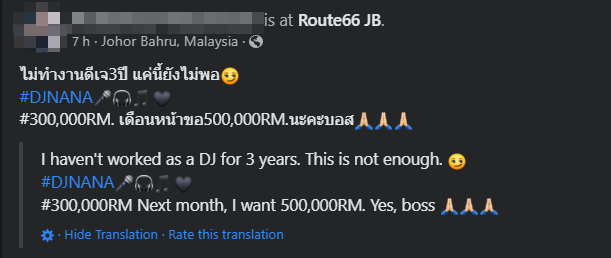 In the siam bu Facebook post she said: "I haven't worked as a DJ for 3 years. This is not enough, Next Month I want 500,000RM