LinkedIn user Louie Lui shared how he and his wife wanted to place an order via GrabFood for the same stall at the same time on their respective Grab apps.
He said that he was a monthly subscriber of Grab where he gets a $4 coupon off delivery while his wife isn't subscribed.
However, he compared their delivery charges and found out that he was charged more than his wife for the delivery fee, at $7 and $3.50 respectively.
Here is what he said
Scummy or smart move from Grab?
My wife was going to order some food, and I thought – hey I should do it instead, because I am a monthly subscriber of Grab where I get a coupon for $4 off delivery (there's a minimum spend).
So I keyed in the exact same food from the same stall, and note this:
Same stall
Same distance
Same time
Huge difference in delivery fee.
Me, a subscriber, is shown a delivery fee of $7
My wife, a non subscriber, is being shown a delivery fee of $3.50
Now that's a 100% inflation in delivery fee.
I refreshed the app on both phones, did everything I could. Still the same. It wasn't a surge pricing, it was a price catered to me, the subscriber with a $4 voucher.
I get that algorithms are useful, and that Grab is a for-profit company.
But I don't know what to make of this situation now that it's discovered.
What do you think? Are they smart, or just scummy?
P.S. I ordered the food anyway. Happy wife, happy life.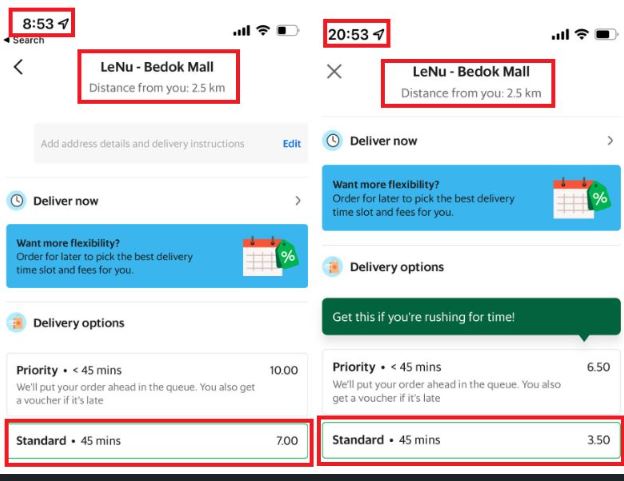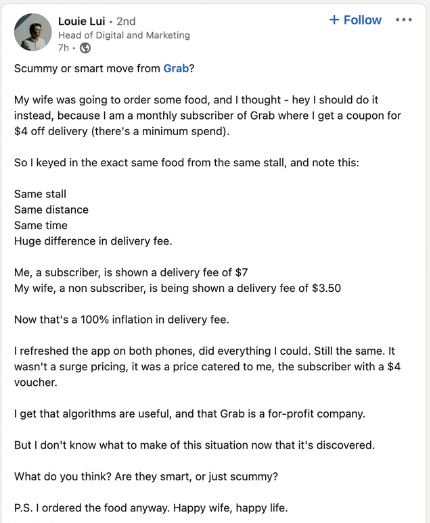 Source: Louie Lui on LinkedIn