Facebook user Vaciiy Foo shared how she bought some pastry from a local pastry shop that she described as being "famous".
She said that the pastry tasted weird and smelled bad, and she later realised that the pastry was mouldy after splitting it in half.
Here is what she said
It's unbelievable that a famous local pastry shop would selling a mouldy pastry to their customers.
The Bun was purchased on 27th Jul 2022 6:09pm, and would like to consume at 10:30pm on the same day.
However, it taste weird on the first bite, just realized the pastry is mouldy and smell bad after we split it into half.
We were so shocked as this is the first time we got a mouldy pastry in Singapore. Hence, we believe it was an overnight pastry which to save cost and selling them to their customers
We hv total lost of confidence with Tong Heng. Now we are thinking some of the pastries are all left over and overnight. Think twice before you get their pastries. Stay healthy.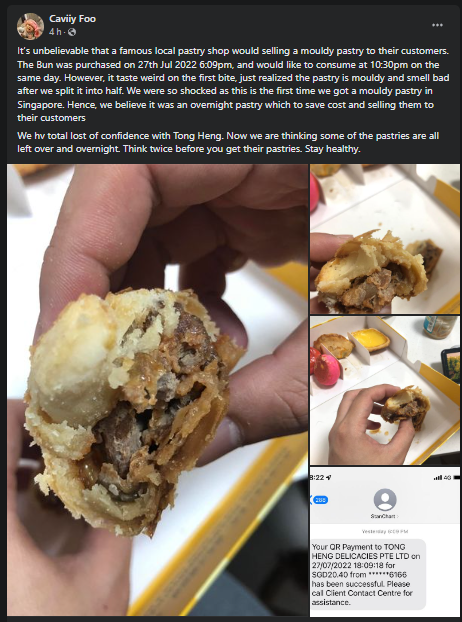 Source: Caviiy Foo