It was previously reported yesterday that a guy was seen pulling down his shorts and humping a man's cat outside a housing unit at Bukit Panjang.
The guy has since been arrested by the Singapore Police Force yesterday (11 April), according to Channel NewsAsia.
The police said that they had received a police report about the alleged case of an obscene act that took place on 11 April at about 12.10 am at Senja Road, and a male teenager had been arrested.
At the time of writing, police investigations into the incident are ongoing.
SPCA's response
Following the virality of the CCTV footage of the guy in the act, the Singapore Cat Welfare Society and the Society for the Prevention of Cruelty to Animals Singapore (SPCA) have both issued statements responding to the incident.
Speaking to Mothership, the executive director for SPCA, Aarthi Sankar, said that the incident has been reported to the authorities, and the SPCA has also reached out to the owner of the cat to provide support.
They said that the guy's actions are "deeply distressing" and that it "raise(s) concerns" about the increasing number of cases of animals being mistreated recently, including cases that involved minors.
In his statement, he also appealed to parents and educators to teach children the importance of treating animals as beings who are sentient and aware.
They also issued an appeal for information about the guy who humped the cat in the video, saying: "We are appealing to anyone who has credible information about the identity of the person in the video to come forward and contact our 24-hour hotline at 6287 5355 Ext. 9."
"We assure you that all information will be handled with the utmost confidentiality. Together, we can work towards creating a safer and more compassionate society for animals."
Cat Welfare Society's response
The Cat Welfare Society also issued a statement on Facebook, saying that they are aware of the incident and that they expect the authorities to swiftly investigate the incident, citing the availability of the video footage for investigation(s).
They added in their statement that the onus is on the owner(s) to take responsibility for their pet's safety by keeping them indoors.
They said that they hope the cat's owners will act responsibly by keeping their cat safely indoors, before adding that they are working on an "education programme" to teach responsible pet ownership.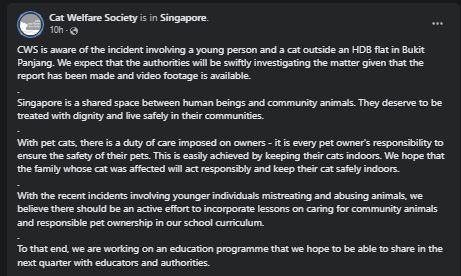 Recap