A guy was caught on CCTV footage assaulting a HDB resident's cat at a housing unit in Bukit Panjang on 8 April at about 1.51 am in the middle of the night, according to a report by Mothership.
The owner of the cat, Ismul, posted a video of the disturbing incident on 10 April on his Instagram page in order to seek justice for his cat and take action against the guy.
The guy was seen in the CCTV footage getting down on his knees and pulling down his pants, before humping the cat from behind, unaware that his actions were being recorded by a CCTV camera that was right above him.
The cat tried to flee but the guy picked up the little feline and continued humping the animal while looking around his surroundings to see if there was anybody around.
The cat's owner said that the CCTV footage was forwarded to him by his neighbour.
In his Instagram post, he captioned it: "What do you feel when some sick b*** does this to your cat? Tried making a police report but there's nothing that could be done as of this moment."
"Therefore I'm putting it out here and in hopes that this goes viral, so relevant parties can take action against this guy. Please help share this post."
He then tagged a number of Instagram pages on the post, including the Singapore Police Force, the Society for the Prevention of Cruelty to Animals Singapore (SPCA) and the Cat Welfare Society.
Ismul also said that his cat is traumatised and displayed signs of trauma after the incident.
You can watch the video here (Warning: Viewer discretion is advised)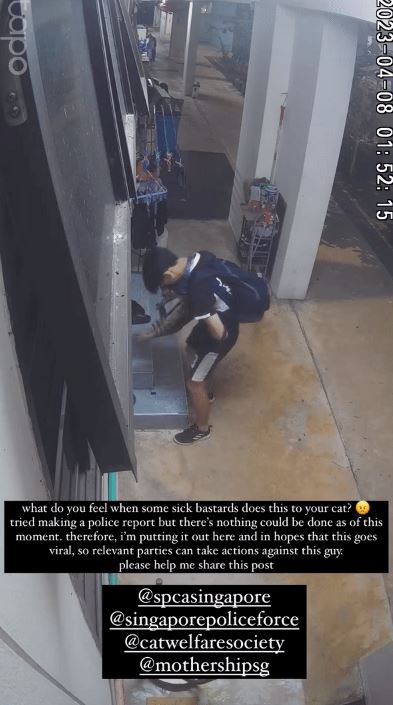 Potential penalties
Persons who are found guilty of animal cruelty in Singapore face a fine of up to $15,000, and/or imprisonment for up to 18 months.
Repeat offenders face a fine of up to $30,000 and/or imprisonment of up to 3 years.