A netizen shared a photo of correspondence with a company that is hiring, but refuses to disclose the salary that they are offering.
The company said that they are looking for an employee who is passionate about the work, but is not in it for the money.
Here is what the company said
Hi
We do not disclose salary ranges until we've had an opportunity to fully assess your qualifications.
We are looking for individuals excited to join our team and play an important role in making applications more accessible. We expect it to be a passion of every employee and every applicant. If you truly love what you're doing, and helping people in the process, financial compensation is just a bonus.
I can schedule an interview as soon as Tuesday, March 14th at 2:30 PT! Let me know if you're ready to enrich the lives of those with visual impairments. If you're the type of person who works just to get paid, that's fine too, though they're not the type of people we've built this company culture and mission around.
Sincerely, Jeffrey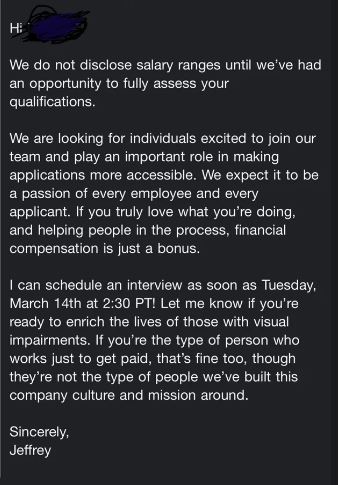 Netizens' comments
"financial compensation is just a bonus"
The bulls-t some people peddle, my goodness.
sorry my bank won't accept "passion" as payment for my mortgage
A company that doesn't disclose a salary range is a company that is embarrassed about their salary range. They want to get you to spend time with them, to get you excited about the opportunity and more likely to accept the low ball offer they will make.
I have more than 25 years of work behind me. Believe me, when they bullsh*t you about "passion" "family" "true experience"… it's BS. Pure BS. The passion (who said exposure ?) will never pay the bills. Run for your life. Or, if you can't because you need this job, do. the. bare. MINIMUM. They'll never pay you enough.
Hey Jeff,
Glad to hear you're interested in passionate employees, I think that's reasonable and most people would be. However, I don't believe that has anything to do with the discussion of compensation. For example, I am very passionate about my time and value. I am very passionate about my field of education. I am very passionate about my dog <dog name>. Sometimes, I am very passionate about Double McSpicy meal. However, to fund all these passions, I have to to be employed. You see, nothing in this world is free, and everyone has to make some form of compensation to keep the bills paid. If you think so little of my time (that I should remind you I am very passionate about) you cannot provide me with a salary range before I invest even more time into your company, please consider my resume passionately withdrawn.
Wish you best of luck with the very passionate commission you make from every candidate you passionately recruit.