Infamous scandal-ridden Cathay busker Jeff Ng, is set to proceed with his plans to perform at a concert after hinting at it on a radio show.
The 32-year-old previously declared back in June that he would be having a "real concert" this month (August), but was hit by scandal after scandal following his declaration.
Speaking during a show on Capital 958's livestream on Friday, Ng said that he has a "surprise" for everyone in September.
He said it is considered something "personal" but that the tickets to his concert will go on sale this month, adding that "it's easy to figure out what (he) is referring to".
Ng added that he will also be performing at Gardens By The Bay on National Day, as well as at the Tampines West Community Club on 13 August.
He is also set to perform at "private events" for National Day.
Recap on scandals
Facebook user, Candy Mei Cui, who is apparently the admin of Cathay busker Jeff Ng's fan club (FC), shared in a lengthy Facebook post about how she got "pulled down" because she supports other singers that he hates.
Ng allegedly told her that "if you really supporting me, then stop supporting other singers," he added "your Instagram stories only can post my things".
Here is what she said
So sorry if this post super long .
As you all know there are alot of news on Jeff Ng this few days… I am here to voice out what a person is he…
I don't care if his friends or supporters are in my account…
I have been supporting him for few years already. I was his admin of his FC. I put in so much effort into his FC and ended up got pull down coz I go support other singers he hate. When I ask him the reason, he still can tell me if you really supporting me then stop supporting other singers. Your IG stories only can post my things. I was like it's my IG account, I want post what is my problem why must you care so much. Coz of this matter he unfriend me on Facebook so I unfollow him on IG.
Another incident… I still remember he tells me why your friend keeps supporting L. He is still young and have a bright future. I was like my friend want to support who is her freedom. Why must you care so much.
Still remember when he is singing at pubs or cafes… He always asks people stop requesting songs he don't know how to sing. He wants customers to hear him sing and you MUST clap for him after he done singing. If you don't do it, he will show his black face and he will be his anger on his keyboard. After performance, he will just stomp off.
After saying all this… I am super regret knowing him in my life. If he does not change, no pubs or cafes will hire it. Anyway, his life not mine. See how long he can perform at the Cathay. I guess it won't last long.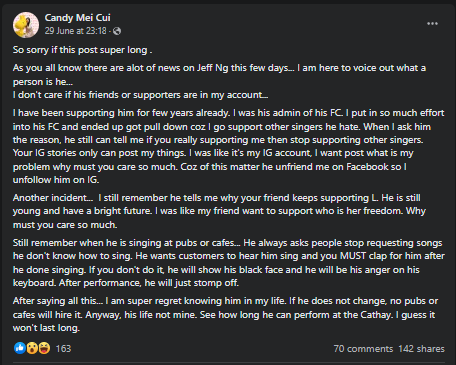 Confronted fan for unfollowing him on IG
A netizen shared a conversation he/she had with the maligned busker, with the latter confronting the netizen for unfollowing him.
Ng asked the netizen why did he unfollow him, and asked him to "tell me the truth".
Ng then went to the netizen's Instagram profile and cited his bio, saying that he "hates liars too" and asked the netizen "are you a liar?".
The netizen then told him that he unfollowed him because he wants to, and added that 'personally I don't even know you?"
To which Ng then replied "then why you follow me at first?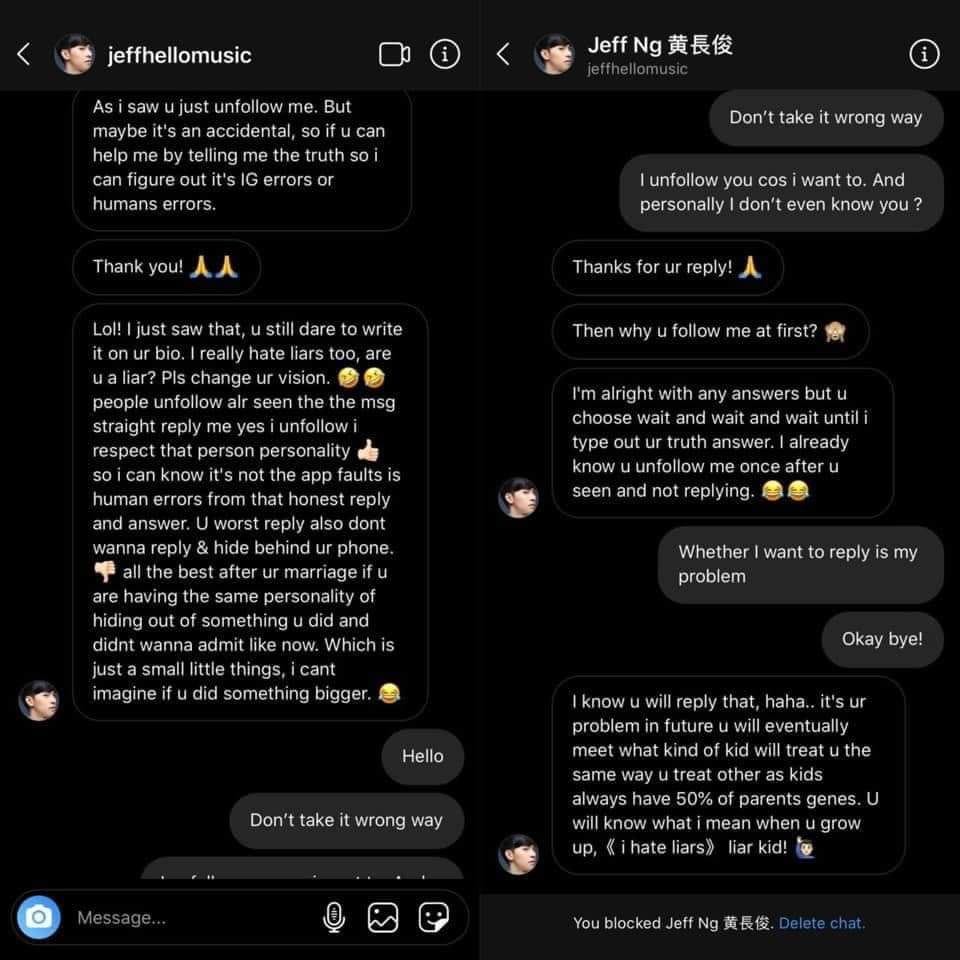 Called out for being "entitled"
A Facebook post by a local musician, Khim Ng, emerged online, exposing Cathay busker Jeff Ng for allegedly being "entitled", according to AsiaOne.
Here is what the musician said
Disclaimer alert : My post stands here as an opinion of mine. You can agree to disagree. Also, I did not post in any TIKTOK OR FORUM. Just in case , cos some tiktok fella linked me Imao.
This Jeff Ng thing is so perplexing . Especially for people in the industry.
I sincerely wanna feel happy for him for getting his " Respected Moment" n quick fame from busking. ( Gotta credit him for his hardwork in his craft, not to the extend of self proclaimed 0 but good enough to survive and do well.)
But then again all of us that "knows him" also can't stand his DIVA and entitled attitude in the music and live bar gigs industry. Talent is 1 thing, but work Ethics , self awareness and attitude to ANYONE AND EVERYONE is EVERYTHING to survive.
If he succeeds as an artiste, GOOD for him.
But 1 thing for sure, no major LIVE BAR outlets will dare to hire him. Because up till now, he still doesn't understand that, people go the bars with livemusic to ENJOY and PARTY with your music and their company of friends, not to WATCH UR CONCERT QUIETLY. They paid to enjoy.
Apparently he still SCOLDS patrons for "making noise" during his sets. ( evidently) I mean, there's no entitlement for any of us that's been in the scene LONGER than him to behave this way. So why should he be?
Bar owners will understand, as entertainers, our customer's fun and pleasure is our priority. Maybe the Busking scene does suits him cos its not a bar setting and no one is intoxicated with alcohol to "misbehave". And he deserves that love received with the right setting he is comfortable in. Kudos to that.
Will he succeed? If he does, good for him. If he doesn't, he brought it upon himself. No matter how he and his "fans" wanna help him delete n report negative comments(which are NOT UNTRUE), his bad behaviour be it in the past or now will come back and bite him again n again if he doesn't change or apologise.
Well….. what a guy… And all the best.
Allegedly sabotaged friends' flight tickets, left them stranded in Taiwan
Another local musican, Ariane Goh, shared about how she was with 2 of her friends in Taiwan verifying their check in details at the airport for their flight back to Singapore, when they were told that their return flight dates were changed, and authorised by another passenger under the same itinerary.
The itinerary had 4 passengers listed on it, with 3 of them being present at the airport, and the 4th being a man named "Jeff Ng" who cancelled his trip with them due to personal reasons.
The tickets under the group's name were changed except for Jeff's, and his ex-girlfriend then told them that he had changed all of their return flights by "accident" while making changes to his own return flight.
The netizen then questioned his motives, asking "Why would you change your return ticket when you did not even depart in the first place?" Seemingly insinuating an attempt at sabotage.
Some netizens have claimed that the Jeff Ng from this incident is the Cathay busker, who was earlier exposed by his ex-girlfriend for being the "worst person" she has ever met.
Here is the netizen's post
To those who are concerned, I have touched down safely in Singapore at 1am after what is possibly the worst that can happen to anyone of us. Thank you to all who has raised your concerns and to friends who even came down to pick us up at the airport. I speak on behalf 2 of my friends who were on flight with me.
As we were verifying our check in details at the counter enroute for our flight back to Singapore on 29/8, we were told by the counter staff that our return flight dates were changed from 29/8 to 24/8, 2 days after our departure flight date, authorized by a passenger under the same itinerary.
The itinerary had 4 passengers listed, with 3 of us present at Taoyuan International Airport. The other passenger was Jeff Ng, who chose to cancel his trip with us due to personal reasons. We then found out through a phone conversation with the Jetstar customer reprentative from Singapore that a transaction of SGD200 was even made for the above change and changes were made on our day of departure, 22/8 while we were on the flight to Taipei, with no wifi access on board.
We were told that only tickets under our names, excluding Jeff Ng's were changed. Mistake? Coincidence? I really doubt so.
We were left stranded and panicking for a good amount of time at the airport under tremendous emotional stress before deciding to purchase return flight tickets on the same flight at a hefty sum.
I was then told by his ex girlfriend who confronted Jeff Ng that he made changes to all of our return flights by accident while making changes to his own return flight. Question: Why would you change your return ticket when you did not even depart in the first place? Then again, you did not even make any changes to your flight, did you?
Thanks to this girl, our money was reimbursed by Jeff Ng almost immediately upon touch down. Then again, SGD1800 is nothing as compared to the pain and the emotional rollercoaster that we had to face in the last 6.5hours, rushing from counter to counter and from gate to gate.
As much as I am trying to keep this post as 'a matter of fact' post, I have to say that I am utterly ashamed that I was once kind and patient to someone like that. Getting back at me this way for helping your ex girlfriend move on from you is definitely creative.
Dear Jeff, 你真的很厲害。
UPDATE (30/8, 7.50pm): We called Jetstar this afternoon to try to retrieve the transaction history. According to another Jetstar customer representative, it was certain that Jeff Ng made the change of all of our return flights, including his, on our departure flight date on 22/8 at 6am. Our departure flight was scheduled at 7am, where he had no intentions to fly that morning as his final decision was made known to his ex girlfriend through a phone conversation at 6.14am.
Though we have some clearing to do with Jetstar as to why their information provided from the same branch can be vastly different, we still question the motive behind the change of return flight dates to 2 days after the departure flight date made by Jeff Ng 15 minutes before check in closes, especially when he does not have the intention to fly.
I really would like to believe that it was an accident that 3 of our return flights were changed along with his, but logic tells me that it is not possible with all the supporting proof we have from reliable sources.
Unhappy with fans chatting in his stream, threatened to leave
Ng was apparently not happy with fans for chatting during his online performance, and threatened to leave the stream if they don't leave.
Want to chat? Can, but wait until my broadcast ends.
He told the fans who were chatting, "it's okay if you don't want to leave, I'll leave. After this song I will leave in one minute. I can rest also, very good."
"I can forego my income from this, slowly, take your time (to chat), really, I'm okay with it."
"But Niu Niu (one of the girls chatting) I'm not doing this on purpose, it's just that just nice she (the other netizen chatting) is talking to you."
"I know you usually come to listen to songs, listening to songs is okay but try not to chat during my songs."
"If you want to chat? can. wait until my broadcast ends, then you can do whatever you want. It's up to you, your choice."
"I'm okay with it, I have no problem, I can just leave and forego the money from this stream. You can chat all you want but you are only sabo-ing others who want to listen to the songs."
kthxbye
Ng then abruptly leaves the stream, saying that he won't be taking money for the month, before telling his fans "bye bye".
FULL VIDEO LOADING…
Other allegations emerged
Ng also purportedly wrote a lengthy Facebook post, blasting the sound crew following a performance at the Esplanade Concourse.
He described the sound crew as the "worst" and said that it will be his last time performing there "even if I make it big one day", before adding "unless they can guarantee they tour me around and give me the best sound".