Jason David Frank, more well-known as Tommy Oliver, White Ranger or Green Ranger has unfortunately moved on from this world.
One of Frank's agents said that the rumours of his passing were 'regrettably true'.
Mike Bronzoulis, his trainer and close friend, posted a photo of the two on Facebook with the caption:
'RIP my brother from another mother Jason David Frank 🙏 I'm still in shock💔 I'm feeling terrible he called left me a message and I took too long 😢
'Jason was a good friend to me and I will miss him. Love n prayers for his wife Tammy and their kids, I pray that God gets yall through this difficult time.'
Google posted an official update when searching Jason David Frank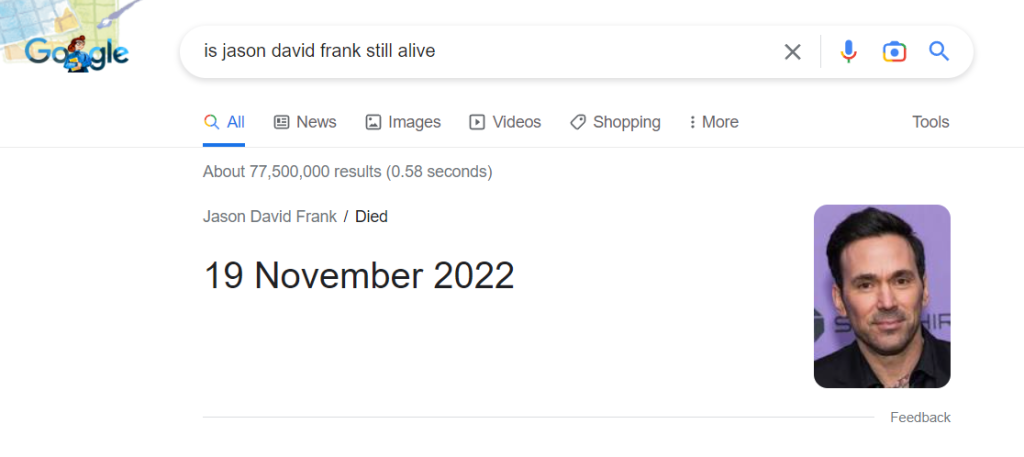 He starred as Tommy Oliver / Green Ranger / White Ranger in "Mighty Morphin Power Rangers" from 1993 to 1996.
Fans have been 'destroyed' since the news as he was a hero of many.
An acquaintance of Frank's posted this on Facebook:
Jason David Frank has reportedly died by s*icide according to close sources. Someone I know and trust confirmed this news, unfortunately.
Jason David Frank was most known as the original WHITE/GREEN Ranger from the hit 90's Show "Mighty Morphin Power Rangers".
He was going through a divorce. If anyone you know may be depressed please check on them. It's better safe than sorry. Jason David Frank was 49 years old.