PUB posted a post on Facebook warning customers not to enter their credit card information on a scam website that is impersonating them.
They have at least received two feedbacks from customers who have encountered the scam.
PUB posted on Facebook:
We have received feedback that there are two fraudulent phishing websites impersonating PUB requesting credit card information to process refunds to customers. These websites are NOT genuine and not by PUB.
PUB will never contact customers by SMS, WhatsApp or phone calls about payment or refund, or ask for personal or financial information via such channels. If you receive any communication through these channels saying it's from PUB, it is a scam.
Alert us of any suspicious emails, text messages or phone calls that claim to be from PUB via PUB 24-hour Call Centre at 1800-2255-782 (Toll-Free Line) or email us at [email protected]
For more information on scams, you can also visit www.scamalert.sg or call the Anti-Scam Hotline at 1800-722-6688
Here is what the scam website looks like: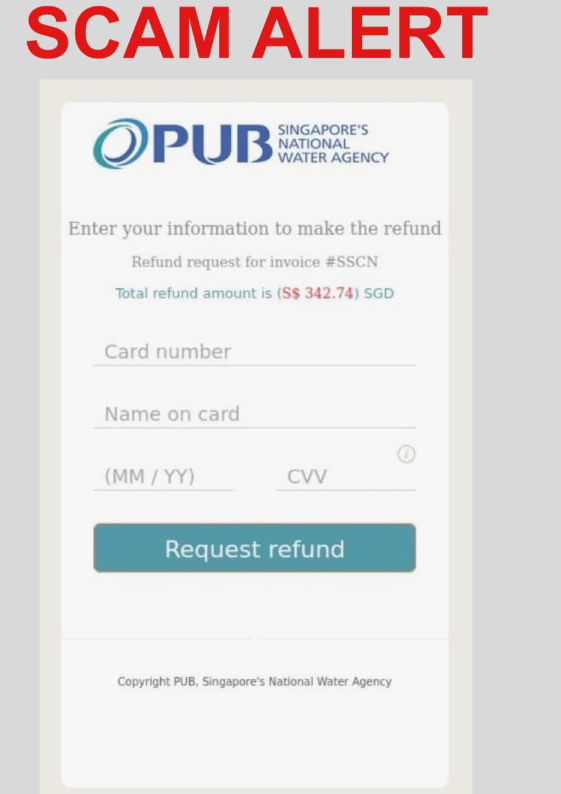 Here are how some netizens respond:
Yes we have receive lots pof emails on that
Not only from this agency, LTA too
Phishing scams severely widespread !!
Been receiving for the past 2 days
Stay vigilant and stay safe by finding out more information about scams