Fans of Jay Chou were up in arms regarding the subpar quality of his latest concert in Singapore on 17 and 18 December.
Fans complained about Chou not singing his own songs and getting other guest singers to sing his songs, while others complained about the mediocre vocal quality of the performances.
A number of fans complained about the lightsticks that were distributed during the concert, highlighting how the lightsticks were dirty and peeling off, and that they didn't work as they were running out of battery.
The organiser of the concert, G.H.Y Culture and Media, then issued a statement apologising for the lightsticks that didn't meet the audience's expectations.
Here is what they said
Dear Fans,
We thank you for the wonderful support during the Jay Chou Carnival Singapore Concert!
We hear your feedback regarding the complimentary lightsticks that were given out at the concert and we are sorry that these lightsticks did not come up to your expectations.
These lightsticks have not been recycled from the last concert in 2020 and "20" reflected in the Carnival emblem refers to Jay's 20 over years of making music culminating in the Carnival themed concert world tour for his fans.
As this is also Jay's first concert after nearly 3 years, there were repeated rehearsals involving the lightsticks and unfortunately, batteries in some of the lightsticks failed during the first show and we did our best to rectify in time for the second show. Fans can still keep these lightsticks by replacing its batteries.
We are sorry for the imperfections and strive to do better.
Netizens' comments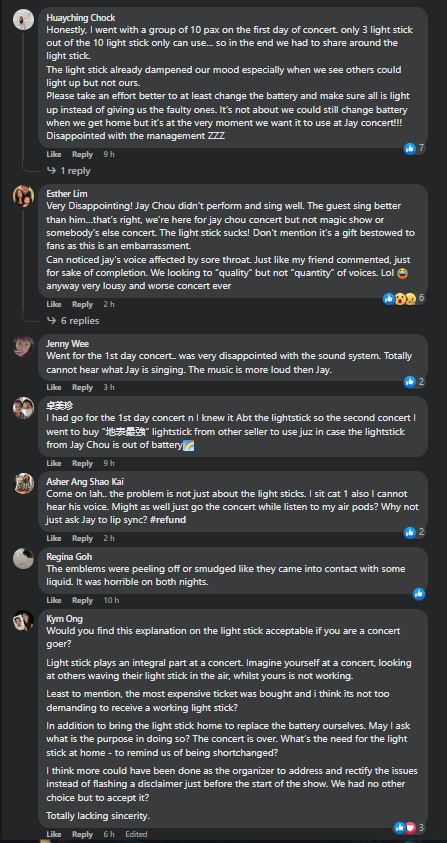 Images source: @noonafans29 on Twitter and @shiningasia on Instagram