When there's something strange in the neighbourhood. Who do you call? call the Police…
A man was spotted at Geylang trying to open the Police door and later walking around with weird body motions.
Two police officers were on the scene with the man.
Shortly after he returned from the roadside and started lying down on the pavement and putting his palms together and performing the praying motion.
Trying to open the Police door
The man was spotted approaching the Police car and tried to open the door.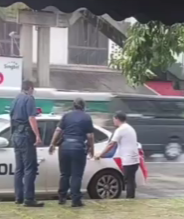 He later walked back to the pavement and started a praying motion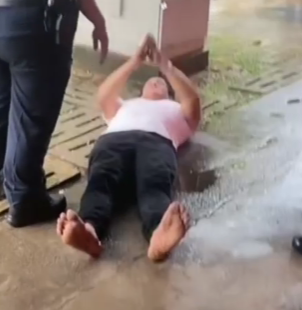 Uncle not wearing shoes
Reduce phone volume
It is unclear why the man is doing this but netizens suspect the man was either drunk or on some substances.
Psychedelic drugs are a class of drugs that are known to cause altered states of consciousness, often resulting in hallucinations, changes in perception, and distorted thinking. They can also cause significant mental health problems. 
The offence of public nuisance under Section 290(b) of the Penal Code carries an imprisonment term of up to three months, or with a fine of up to $2,000, or both.