In the vibrant world of Singaporean cuisine, few dishes hold a special place in the hearts of locals quite like Bak Kut Teh. This savory, herbal soup, enriched with tender pork ribs, is a culinary gem that has delighted the palates of countless Singaporeans. For many, a trip across the border to Johor Bahru in Malaysia became a cherished pilgrimage, solely to savor the authentic flavors of Bak Kut Teh. Now, the culinary landscape of Singapore has a delightful surprise in store. Soon Huat JB Bak Kut Teh, a beloved name from across the straits, has opened its first branch in Singapore.
The Allure of Bak Kut Teh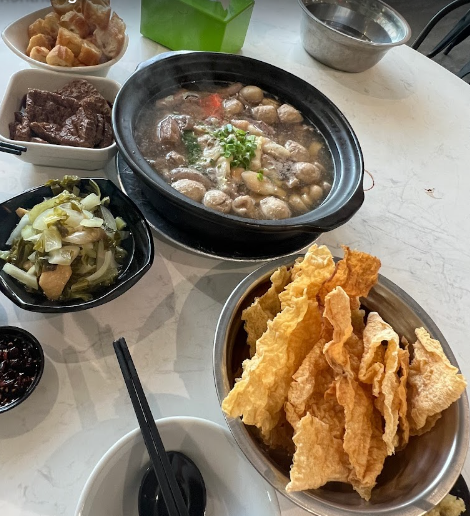 Bak Kut Teh is more than just a dish; it's an experience. Its name translates to "meat bone tea," and this flavorful concoction is a blend of Chinese herbs, spices, and tender pork ribs. The result is a clear, savory-sweet broth with herbal undertones that are both comforting and invigorating. It's no surprise that this dish has a devoted following in Singapore.
Soon Huat JB Bak Kut Teh's Arrival in Singapore
The anticipation surrounding Soon Huat JB Bak Kut Teh's arrival in Singapore is palpable. The new outlet is nestled in Mediapolis, conveniently located near the one-north MRT station, offering easy access for locals and food enthusiasts. It's essential to note that this establishment is distinct from Soon Huat Bak Kut Teh or New Soon Huat in Singapore, bringing its unique identity and culinary traditions to the forefront.
A Glimpse into the History
Soon Huat JB Bak Kut Teh has a rich heritage that dates back to 1975 when it was founded on Jalan Sutera Satu in Johor Bahru. Over the years, it has evolved into one of the most renowned Malaysian-style Bak Kut Teh brands in the region. With over 20 branches across Johor Bahru, it's a testament to the family's dedication to preserving the authenticity of their recipes. The good news is that you don't need to travel to Johor Bahru to relish their culinary treasures anymore. You can now experience their signature dishes right here in Singapore.
Signature Dishes Worth Savoring
One cannot mention Soon Huat JB Bak Kut Teh without discussing their signature dishes. The star of the show is their Bak Kut Teh, starting at $8+. It's cherished for its clear, salty-sweet taste and the enticing herbal aroma that wafts from the steaming bowl. Other favorites on the menu include Braised Pork Trotters (starting at $8.50+), Sesame Oil Chicken ($10+), and Ginger Wine Chicken ($12+). Each dish offers a unique flavor profile, ensuring there's something to please every palate.
Operating Hours and Location
For those eager to savor the flavors of Soon Huat JB Bak Kut Teh, the restaurant opens its doors at 8 am. However, it's important to note that their Bak Kut Teh is exclusively served from 10:30 am. The restaurant is conveniently located at 29 Media Circle, #01-01, North Tower, Alice@Mediapolis, Singapore 138565. Operating hours are from Monday to Friday, 8 am to 6 pm, and on Sundays from 8:30 am to 6 pm. You can also reach them at 6539 9282 for any inquiries.