Lionel Messi just can't stop breaking records.
Following his historic World Cup triumph, the Argentine's Instagram post of himself hoisting the famous trophy aloft is now the most liked photo on the platform, with 68.8 million likes.
The record was previously held by @world_record_egg with 57.7 million likes, who posted a photo back in 2019 in an attempt to beat the previous world record held by (then) Kylie Jenner's post with 18 million likes.
In third place is Lionel Messi again, with a photo of himself sleeping in bed with the World Cup trophy, with 47.4 million likes.
Messi's posts make up 5 of the top 10 most-liked photos on the platform.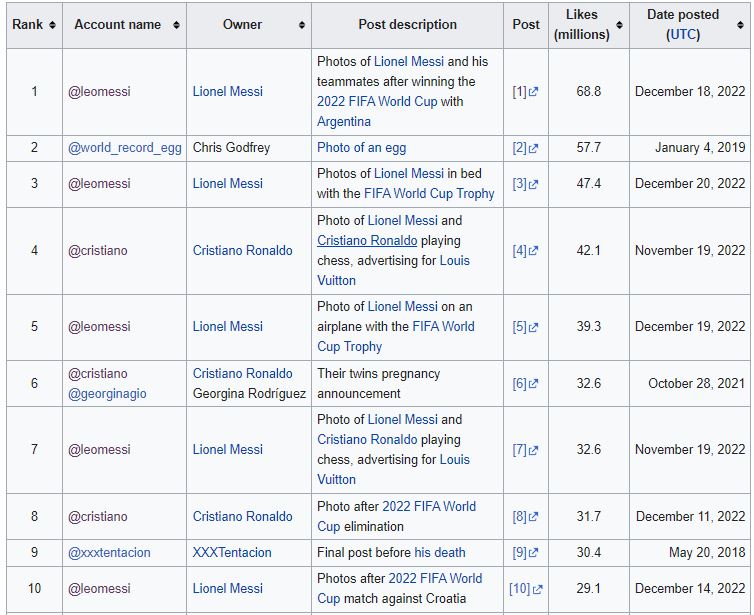 Here is his post
(Translated)
CHAMPIONS OF THE WORLD!!!!!!! 🌎🏆 So many times I dreamed it, so much I wanted it that I still don't fall, I can't believe it…… Thank you so much to my family, to all who support me and also to all who believed in us. We prove once again that Argentinians when we fight together and united we are able to achieve what we aim. The merit is of this group, which is above individuals, is the strength of all fighting for the same dream that was also the one of all Argentinians… We did it!!! LET'S GO ARGENTINA DAMN!!!!! 🙌🏻🙌🏻 We're seeing each other very soon…