Facebook user May Ccus said in a post on 4 August that about 2 years ago, she rescued a puppy and was trying to find a home for the little dog.
This was in the midst of Malaysia's MCO, which lasted from March 2020 to November 2021.
She then eventually met a certain Mr Lee, who runs a soya bean stall in Taman Connaught, Cheras; a town in Kuala Lumpur.
The man said that he would love to have the puppy, and May then gave the dog to him to adopt as she thought that he loves animals.
May then recently caught up with Mr Lee and asked him how the dog was doing, and Lee then shockingly told her that the dog had been killed and cooked into a stew.
She then asked him why didn't he return the dog to her, to which the man then told her "you gave me the dog, what I do with it is my business."
He even told her that the dog's meat was tender, and that his family comes from Guangxi, China, and that they are dog meat lovers.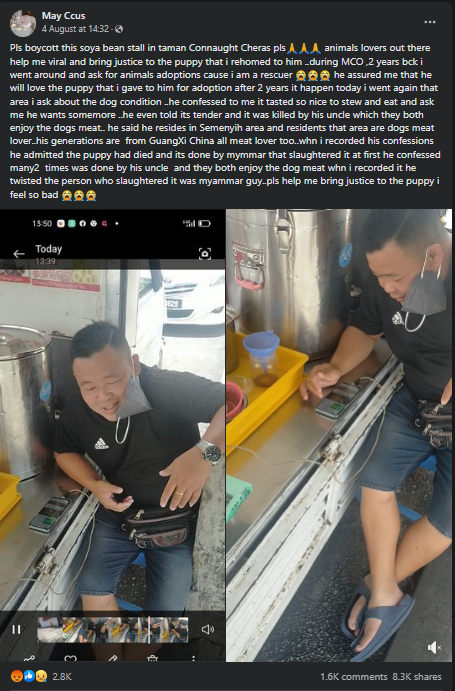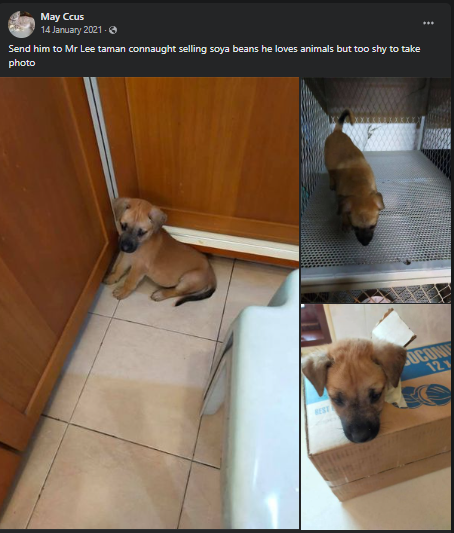 FULL VIDEO LOADING…