A netizen going by the alias of Cho Garfield on Facebook recently voiced out his concern on his social media page about safety on the roads.
According to the netizen, he was on board bus service 62 on 10 Feb 2023 at around 3.38pm when he saw an off duty staff standing right beside the bus driver's seat and talking to the bus driver non stop.
He feels that this action is unnecessary as it causes unnecessary distraction to the bus driver's driving capabilities.
Here is what he said
"Photo was taken on 10/02/23 at 15.38pm
Service 62 was on board
To avoid sources of distraction, can those off duty BC stop chitchat with the driver??"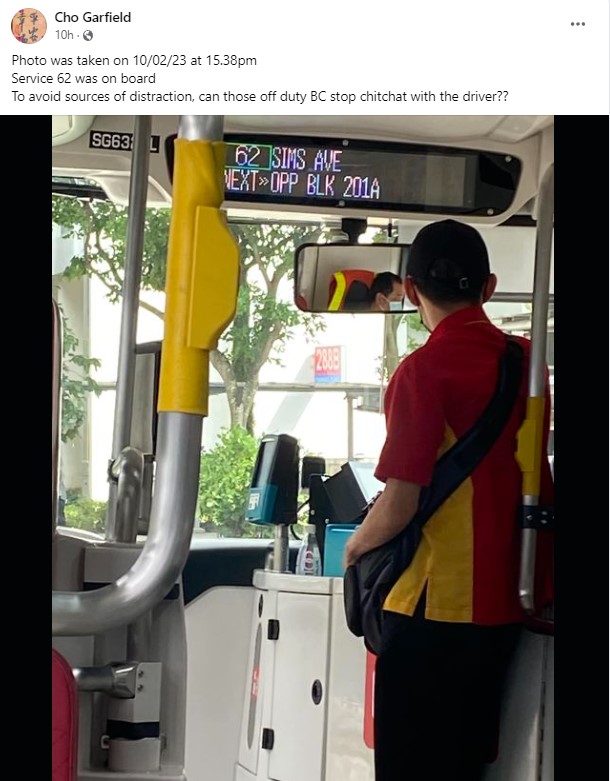 Here are what netizens think
Yes is a distraction to driver for focusing the road. This BC should be more considerate who is talking. And it may cause accident to all passengers The company should take action against the talking BC and forfite his incentive.
This is what I don't like most when they talk and the bus also driving slower then my grandma
Number of time… I saw n happen to me…. When bus stop at after drive pick all the passengers… N the drive wanted to turn the focusing left side… N driver saw passengers run for the bus… They just go… Sim they didn't see….. N not bother… But now drive can talk with friend…… Without focusing on the road telling very long story……..
You make the captain not to focus on the road it's dangerous
This is a common sight. Can easily lead to accidents!
They always stand there chit chat non stop, got once I took almost an hour long journey on the bus the off duty bus driver just stand there talk for 1 hour non stop with the on duty driver
Image source: Cho Garfield/Facebook