A netizen going by the alias of Dan Lee on Facebook recently posted that he had bought a Quarter Pounder burger from MacDonalds and said that it look like 'crap' in reality as compared to what was advertised by MacDonalds.
MacDonalds had recently relaunched the Quarter Pounder burger back into their restaurant's menu and it has drawn a lot of its fans back to purchase it (including me) LOL.
Here is what the netizen said
"How come the mcdonalds quarter pounder look good in ad but when I order the burger look like sht"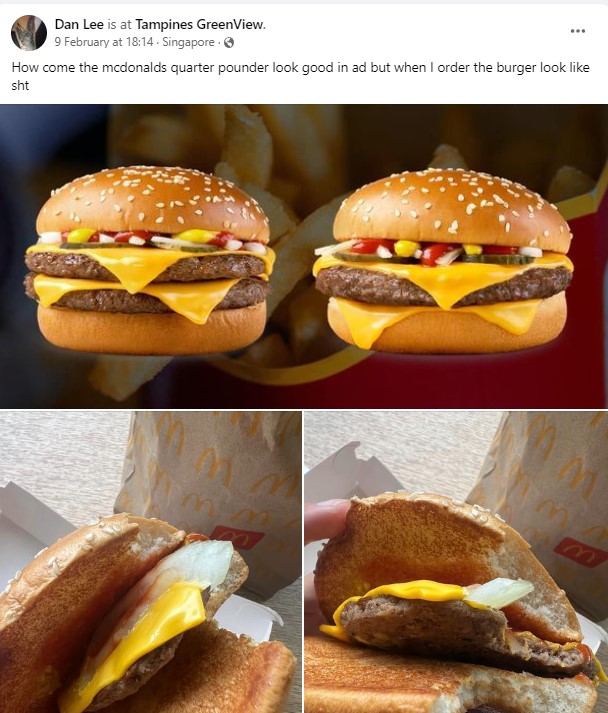 Here are what netizens think
Most of the comments in the comments section were disappointed with how the Quarter Pounder burger turned out.
Some of them shared their experience when they bought the Quarter Pounder burger while some simply commented on how the Quarter Pounder burger looked like.
Here are some of the comments seen in the comments section.
i receive the bottom of the bun soggy.
Meat patty looks thin
U have to bring it back to the restaurant u brought it
I think they put the wrong patty
Wrong patty, suppose to be bigger than bun
It look like an ordinary thin patty burger with onion and cheese.
Maybe its just the particular outlet you bought from, I had it twice and both times it looks okay.
Go back and show the restaurant manager, they would probably give you a refund or offer you another burger as a replacement
Image source: Dan Lee/Facebook