Facebook user Manmeet Singh shared how he lodged a police report following a dispute and argument with a woman at an eatery.
He was apparently unhappy at the woman for "choping" a table with a packet of tissue paper.
Here is what he said
'DOWN WITH TISSUE CHOP TABLE!!!'
(The first mistake this lady did was to eavesdrop on me and my friend's conversation. Then she ignorantly left her queue to place her Tissue on the table.
Secondly, yes there were empty tables but the queue was long and mostly elderly sick and weak folks that she cared less.
Third, if I were to carry my weight around, then I would have taken her queue but no she jumped in and started to react to my conversation with my friend. Is that wrong.
Fourth, after all the bad attitude towards me and my gf I don't see why I shouldn't react.
Fifth, after repeating to her to stop provoking me I burst and she saw and felt embarrassed with the stares she was receiving and calm down pats I was receiving she shamelessly called the police.
The police ask me if I wanted to pursue and I said no.
Officer then advised me to make a report for record purposes.
Don't forget that I was with my lady friend too.. who kept her cool)
Attached are snapshots of the police report, for record purposes, on an embarrassing situation that took place in Tan Tock Seng Hospital, Bread Toast during breakfast.
Read and please be wise with your comments please add to what/ who is right of way and what could have been done to have avoided this embarrassing issue, in the first place.
could have been done to avoid this ugly scene
'DOWN WITH TISSUE CHOP TABLE!!!'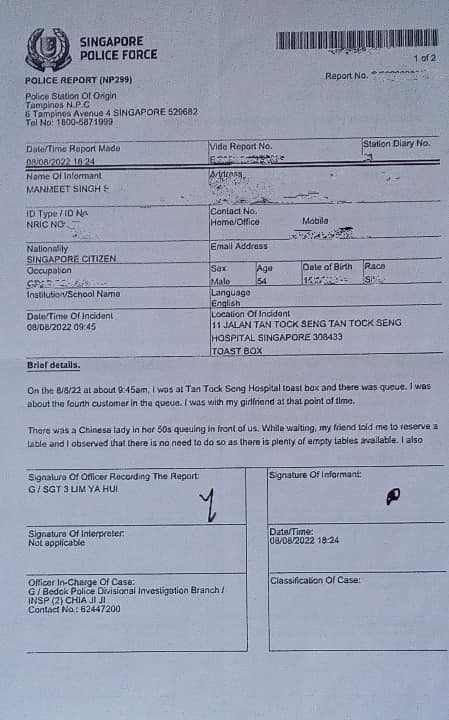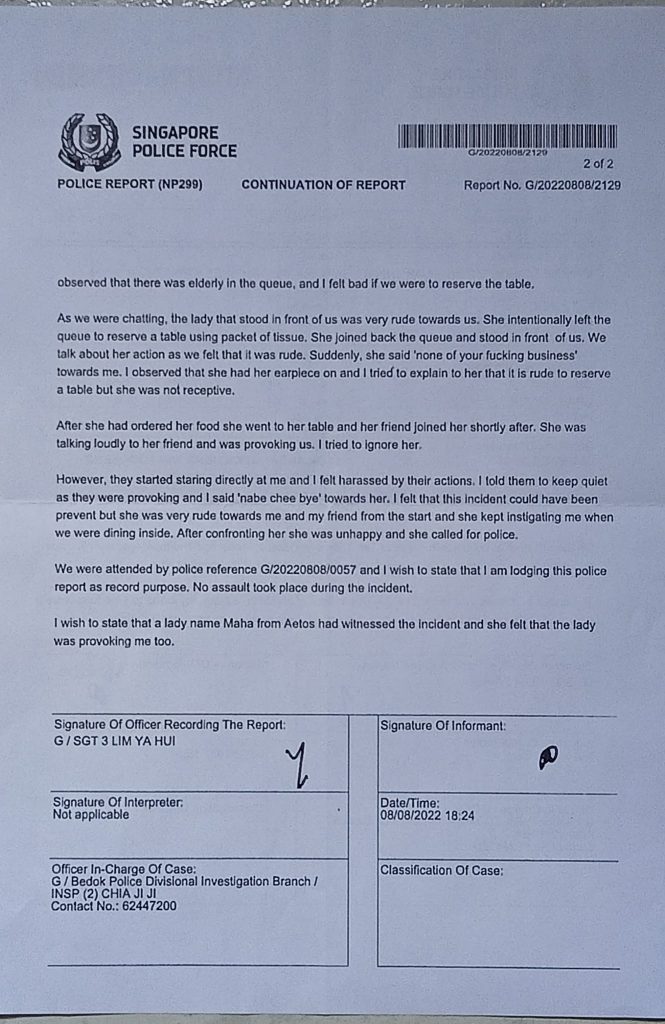 Netizens' comments
Welll…frankly speaking.. I think you are in the wrong? Firstly, Like why you do Need to comment on her whether she want to Chope the table?? Like I don't get it?? Yes, in the post you stated that there are sick and elderly person but as you know the place you visited is ttsh so basically there will be crowded and I don't think it is wrong of her to Chope the place?
Secondly, Then you stated that she scolded you in vulgarity but you also scolded her back in vulgarity. So you also in wrong? If you keep your cool like your gf maybe you are on the winning side??
Thirdly, you can avoid all this drama if you keep silent and everything with what police report won't be happening.
To be honest all this things is just a small trivial things if you have keep your cool. Maybe you have run out of patience due to long queuing on the toastbox or whatever but always remember once you lose your cool, you lose
I don't know if Sgt Lim from Tampines NPC should be laughing or fuming. I really must take my hats off to you Mr Singh for really making a mountain out of a molehill. If you really have so much time, please volunteer to do more charity for the unfortunate.