Use Nippon Paint Singapore service to paint my house for the 2nd time for my 5 room HDB for $3,000. Their painters delivered stale 20 litres can of sealer and stale Matex from their previous projects. One of the opened Sealer can has Sengkang written in it (where my unit is at the NorthWest), and there was even a roller paint brush inside the used sealer. Their painter also used old paint brushes and rollers.
They used largely thin transparent drop sheet to cover my floor, and did not secure the drop sheet with sufficient masking tape, thus having the paint splatter onto my floor tiles. My whole house was very dusty and messy with loose drop sheet everywhere. Yeah right, no different from other non Nippon paint's contractor, except that Nippon Paint charge a premium for the same shit!
Their painter did a shady painting job in coating the sealer, with all corners unpainted with sealer. Their painters still left with almost half can of the 20Litres sealer after painted my 122 sq metre unit. Yeah that's right, Nippon painting's painters are sure good at saving paint and keeping costs low!
Nippon paint's painters did not even plaster nor touch up uneven surfaces or cracks on the wall. They just paint over the uneven surfaces and the end result was sucks! Nippon paint's painters even paint the 2nd coat of paint onto the 1st coating before the it is dry. As a result, the paint on the wall cracked. Their painter even missed out (or deliberately) painting certain parts of the wall.
Joey Ng is the project manager, and she was not at site on the first and second day of the painting.
Don't trust Nippon Painting Services gimmicks that they use fresh paint and premium protection. It's all bull-shit. It's all depends on your luck whether you are assigned to a responsible and qualified subcontractor of Nippon Paint. Seriously, for the amount of money that they are charging and we, the consumer, have to depends on luck that we will get a qualified painter! If consumers have to depend on luck, then why do we still choose Nippon Painting service that charges so much more than other local contractors? It's like we are paying for an expensive branded bag, but the sale persons pack the branded bag in a plastic bag!
Totally disappointed with Nippon Painting Service! I've just got scammed by them.
Nippon paint has deleted my above post in the FB. Guess they will only allow good reviews to be posted!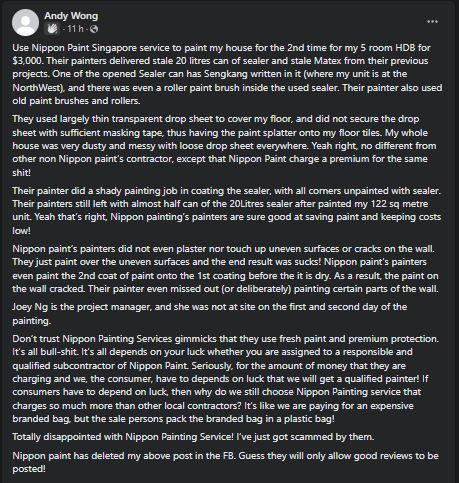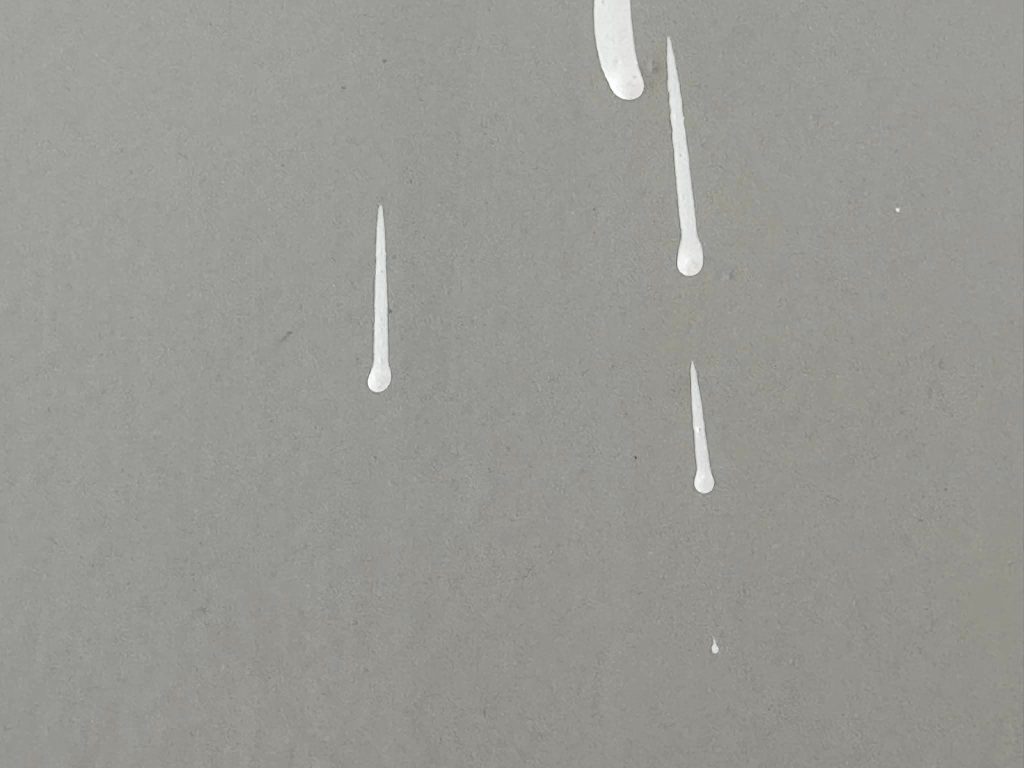 FULL VIDEO LOADING…