It was previously reported that a woman had accidentally paid $4,450 for her order of $44.50 without realising it, leaving the hawker in disbelief.
As it turns out, a man in Singapore who read about the story, Mr Xie, went to place a 4D bet on the number "4450" and ended up winning $1,000, according to Shin Min Daily News via Mothership.
The man had read about the news on Shin Min Daily News and placed a bet on the number, and it ended up winning the starter prize for the draw on 9 April.
The prize money for every $1 bet is a payout of $250, meaning that man had presumably placed a bet of $4.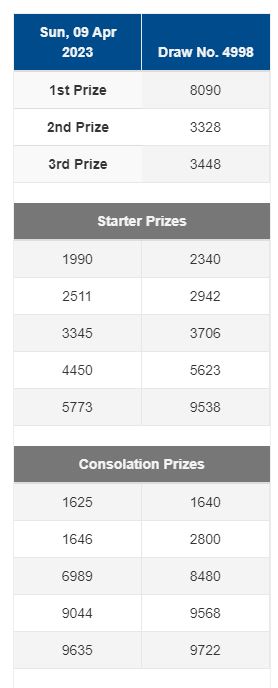 Recap
A customer at a coffee shop had accidentally paid 100 times more than the amount she was charged at a kopitiam stall without realising it and left shortly after.
She had made payment via PayNow transfer and paid more than $4,000 for her $44 order, leaving the stallholder in disbelief and confused at first.
The hawker had to check her phone several times to make sure that she wasn't seeing things, because she had received $4,450 by mistake.
Shin Min Daily News reported that the incident happened on Thursday (6 April) at about 6.36 am at a coffee shop located at Block 201 Tampines Street 21.
The owners of the stall, Mr Chen and Madam Zhang. said that they had only recently opened their stall about a month ago and never expected something like this to happen to them.
They shared that a woman who looked like she was in her 40s, patronised their stall and placed several orders of porridge and green bean soup, with the total amount for her orders coming up to $44.50.
The woman then made payment via Paynow and then left the stall.
Madam Zhang was running the stall by herself at the time and only went to check her phone a while later to see if the transaction went through, and what she saw shocked her.
She saw that there was a payment of $4,450 being transferred to their account and had to check her phone several times to make sure that she was seeing it right.
She then wanted to look for the customer but couldn't do so because she was alone at the time and there would be nobody to look after her stall.
Money returned
The customer later realised she had made an erroneous transfer and returned to the stall about 2 hours later to request the stall for a refund.
Madam Zhang then processed the refund and returned the excess amount of thousands of dollars back to the woman, who was using PayNow as a payment method for the first time.