A netizen was told to pay for extra baggage after having to rebook his flight after his original flight was cancelled.
Certain "full flight" airlines don't provide check-in luggage, the man had to pay RM1410 just for luggage alone.
Here is the story: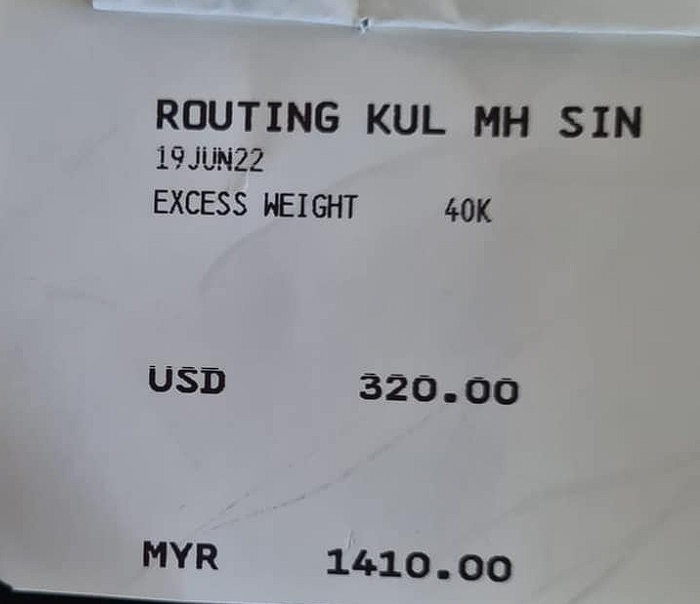 Just want to share a financially painful lesson taking Malaysian Airline.
Our original Etihad flight from Paris to Singapore with stop over in KL was cancelled as MAS changed the schedule. Etihad does not have direct flight from Abu Dhabi to Spore on Sunday so need to fly from KL to Spore via MAS. Etihad gave us an option to cancel entire trip and be refunded or end trip in KL.
So we decided to end our flight in KL and booked a flight back to Spore from KL via MAS and paid the most expensive ticket for the day. Imagine the horror when we were told at the check in counter that MAS no longer offers free check in luggage just like any other budget airline.
The mistake of not reading the terms and conditions, thinking that MAS, being a full fledged airline hence the standard 25kg-30kg free luggage check in, we ended up paying RM1410 after negotiation. MAS had initially wanted to charge us RM1800 for 2 check in bags.
Moral of the story: never be complacent and whenever possible choose other airlines or pay for baggage with MAS.
Here are what netizens think:
It may be expensive on your date of travel, but did you happen to accidentally book an 'Economy Lite' fare?
True..don't ever book any code sharing service flights with MAS. For this case, I would have ask etihad to fully refund the whole sector flight ticket, and get Etihad to accommodate me in a hotel in paris until I get the next available flight out to sin. After all, I think Etihad will claim against MAS for the flight cancellation on the last sector flight.
Worst part I have experienced before Etihad & MAS . I'm sorry No more these 2 airlines . Now only prefer SIA
Don't book code sharing with any airline. It happened to us in dec when we booked our flight to MUC with SQ and code shared flight with Lufthansa. Lufthansa cancelled out departure leg SIN-MUC and told us to rebook in a short notice. We end up have to top up $11k in total on top of $30k of the initial tickets we already paid. Lesson learned no code sharing flight irregardless of which airline you book with.
Etihad's options were unreasonable. Considering that they are contractually obligated to fly you from Paris-Sin, when you bought the ticket, but the t&c doesnt guarantee the time taken to reach Sin. Postponing the flight till Monday could have been an option, just explain why you arent coming back as rostered. Enjoy the extra day in Paris, otlr Abu Dhabi. Considering that they gave you the option to cancel the entire trip, probably meant you had time to make other arrangements. But these arrangementd were probably more expensive than the ticket you paid for.There are many flight options for Paris-sin, esp out of CDG airport, either direct, via europe or mideast.Considering your predicament, on arrival in KL, you were already prepared to pay for a KUL-SIN flight. It would probably be more convenient if you considered the routing above, as short flight legs often cost more per mile than longer ones, for passengers.Or..You could have taken the bus instead. No baggage limits there.