HUMBLE HUSTLE EPIC FAIL
… to what appeared to us as Carousell Pay Protection
Being parents of 5 kids (with one special needs daughter, Husna), my wife Purpley Qim and I are frugal… thus, we are avid CarouSell users.
(… to get good deals on pre-loved items and to liquidate some cash. Yeah.. you get my drift~)
So wifey decided to sell an unused money box for $15. (Cheap² lelong²!!)
After posting it in the morning, she got a message from keen buyer (justniezam) at 6.19pm. So, as usual, she engaged in the conversation in hopes to close the deal ASAP.
(… well it's just $15.. why waste time right?)
Everything seemed normal.. AND THEN….
user justniezam asked:
"I WANT TO ARRANGE CAROUSELL PROTECTION, IF YOU DON'T MIND, I'LL PAY FIRST!"
Wifey was like, Carousell Pay Protection? That's new. Our payment terms were usually PayNow or Cash on Delivery. But Carousell Pay Protection? For a $15 item? Wow! This person is a very cautious buyer. Perhaps he was conned before. Kesian…
(… yes, wifey is a pure-hearted angel. Always husnuzhon. Love you, Wifey.)
Well, you know, our experiences with past buyers & sellers had been really good and hassle-free. We have been dealing with honest and reasonable people. Super easy to deal with kind. Everyone was very "sikit-lebih-kurang" ("very reasonable" in Malay). We were complacent this time. We assumed that it'll all be the same…
… and then it happened…
Justniezam told wifey that he already made payment and in order for her to receive the money, all she has to do is to click on the email link. She gave him my email address so she texted me asking to check if I received it.
(… I was driving with the kiddos at that time ).
When I reached home, wifey told me what happened and so I checked my email. And yes, the email was indeed in my junk mail.
And I, this one big goondoo… DIDN'T VALIDATE AND VERIFY THE EMAIL!!!
(… like how I usually do at work and I'll never forgive myself for this grave mistake ).
I immediately clicked on the link.
A page appears. It says, something like, "to receive your payment, login to your bank account." And so I clicked it without thinking.
(… it didn't occur to me to screenshot that page so I can't show you guys).
The usual login page of DBS iBanking appeared (so it seemed) and I just logged in.
Next thing, the loading page appears saying
"WAIT. WE ARE WAITING FOR AN ANSWER FROM THE BANK…"
I was like… it's 7pm, and a Friday evening.. are bankers still working at this hour??
Azan Maghrib was kumandang-ing on our phones… So we didn't think much of it, put our phones on the table and just went to take ablution and prepared ourselves for evening prayers.
(FYI, my wife was communicating with justniezam on CarouSell message on her phone and I'm on my phone trying to login to the bank.)
Next moment, a chat box appeared on my phone whilst the page was "loading", it told me to change account.
Told Wifey so Wifey logged in to her account.
OTP page came out on my phone. Wifey said out the number and I punched in those six-digit numbers.
I got irritated with the "latency" and so I told my wife to just put the phone down and to just start praying.
After completing prayers and being spiritually charged, Wifey checked on the bank transaction immediately.
Then….
WIFEY'S FACE CHANGED.
I SENSED HEIGHTENED TENSION IN THE AIR.
My wife said to me in a shaky voice…
"Abanggg… kita dah tak ada duit!! DUIT HUSNA SEMUA HILANGGG!!!"
(Dear… we don't have any more money! Husna's savings are gone!!!)
I told my wife to immediately check the transaction.
There, we saw it. We swallowed the bitter reality. We saw the funds were remitted to a lady in Thai Baht currency.
Wifey called DBS bank immediately.
After long verifications and conversations and investigations…
.. the DBS officer finally said those words on loudspeaker:
"MA'AM, WE BELIEVE THAT WAS A SCAM."
I stopped breathing momentarily and I felt like a huge slap on my face.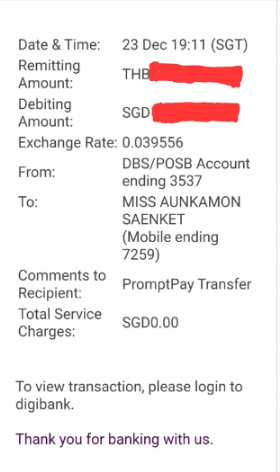 Wifey controlled her emotions, tears and voice and followed the instructions given by the DBS officer til the end.
Accounts are frozen.
She took down the officer's email address.
Went back to Carousell message and called on the scammers bluff.
The final words were:
"What goes around, comes around.
Let God deal with you."
Scammer's final words:
"sps."
Sps? Wth is sps?? At this point, we couldn't care less what it meant.
And then the account got suspended.
Then a police report was lodged.
……..
We know that the chances of getting our money back is really slim. We're not counting on it, in fact.
But all those funds… crucial, essential funds… for our special little girl… gone. Just like that. Due to my carelessness. None to blame, but my own.
Lesson learnt.
(… painfully.)
Thank you for reading til this point.
(… and also for doa-ing for all of us).
This post is meant to create awareness on sc4ms.
Carousell Pay Protection (I believe) is suppose to mitigate these risks… but I guess… sc4mmers are just too free and they are constanly few steps ahead of the curve to prey on oblivious ones like me.
NOONE IS SUPPOSED TO BE SC4MMED. PERIOD.
Then again…
There are sheeps. There are wolves. These are reality of life.
If you find this post good enough to promote the awareness, please do share it around.
I truly appreciate it.
Heads up!
Stay safe y'alls.
Wak Yan,
Signing out.
Peace!