55-year-old Phoon Chiu Yoke, otherwise more famously known as the MBS Badge Lady, was handed new charged on 7 September for failing to wear a mask when it was still required.
She was charged for two counts of failing to wear a mask, as well as one more charge of not complying with an officer during investigations.
She is being accused of failing to wear a mask over her nose and mouth while strolling along the Mandarin Gallery at Orchard Road on 6 March at about 3pm.
She is also being accused of failing to wear a mask outside Victoria's Secret at Orchard Road on the same day, about half an hour after her first sighting.
She was seen without her face mask on by Xiaxue on that day, who was filming a video when she spotted the Badge Lady.
The Badge Lady is also charged with failing to attended an STB investigation for not wearing a mask, and she told the court that she plans to submit a plea with "mitigation factors" and is set to return to court on 14 October for a pre trial conference.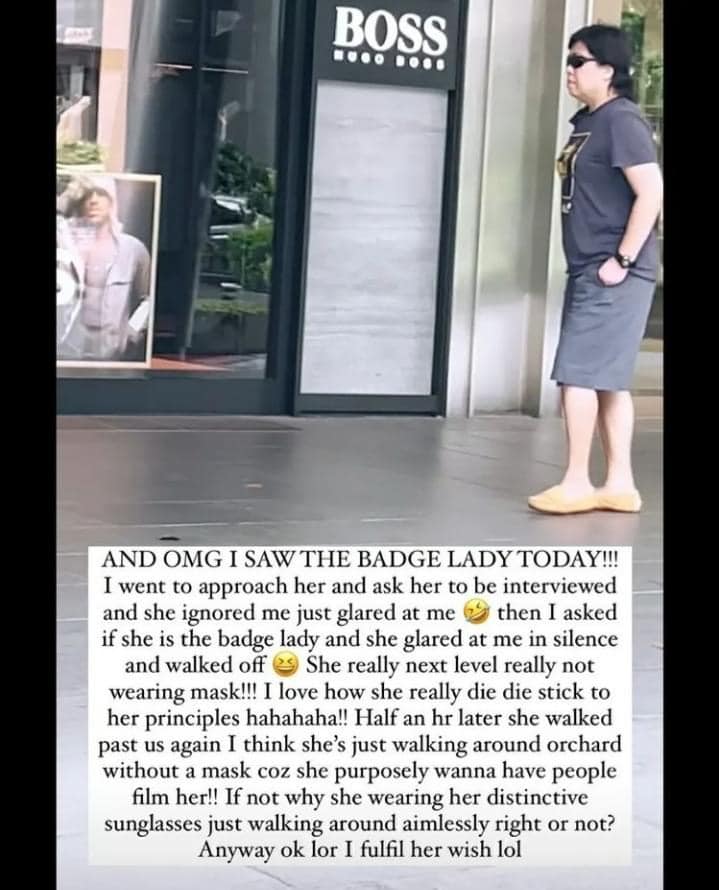 Never learned her lesson
She was previously sentenced to 16 weeks imprisonment in September 2021 after pleading guilty to 9 charges of Covid-19 regulations breaches, with 13 other charges taken into consideration during her sentencing.
She has since been spotted by members of the public for failing to put on a mask after her jail sentence, at a time when wearing a mask was still required under the law.