When it comes to enjoying a hearty plate of mixed vegetable rice, we often expect a budget-friendly meal with vegetables priced lower than meat. However, a recent visit to Lao Ban Niang @ Nex Food Junction has left many diners perplexed. It seems that the standard pricing conventions have taken an unusual twist here. In this article, we will delve into the intriguing story of how broccoli became meat and fish cake transformed into actual fish at this particular food stall.
Here is what the netizen said:
Lunch at Lao Ban Niang @ Nex Food Junction. What you see is what I get. Broccoli  is a meat as claimed by the cashier. Also fishcake is a fish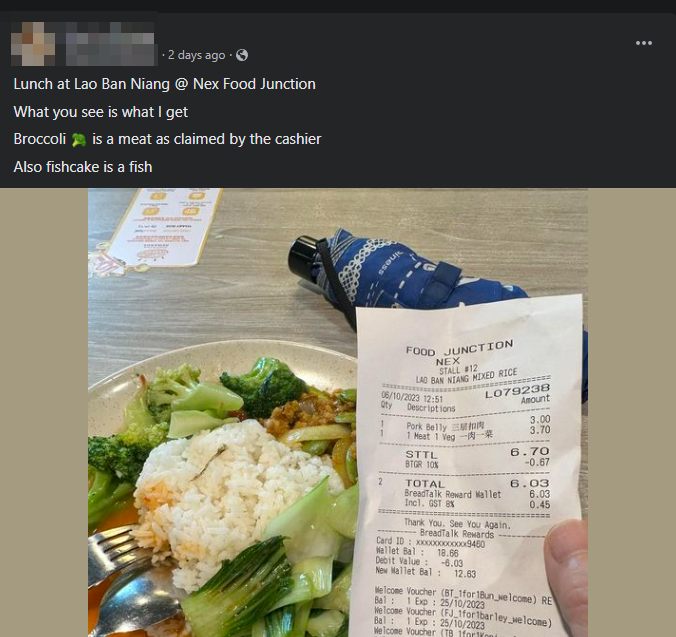 Broccoli as Meat?
One couldn't help but raise eyebrows at this peculiar assertion. Broccoli, a green and healthy vegetable, being considered on par with meat was something no one had encountered before. The customer questioned the logic behind this pricing strategy, but the cashier remained adamant, charging her for the green goodness as if it were a juicy cut of meat.
The Costly Fish Cake
This left us wondering how a simple fish cake, often considered a budget-friendly option, could be placed in the same league as real fish. The pricing strategy adopted by Lao Ban Niang @ Nex Food Junction raised eyebrows and questions about fairness and transparency in food pricing.
Here are what netizens think:
Omg. If Broccoli is considered "meat", which "animal" does it get the "flesh" from?
Crazy prices being charged by hawkers and F&B shops. They even charge for takeaway containers.
Honestly, skip eating at any food court makan places unless really no choice. Their rental is super high.
Ask for the prices first when in doubt. Friends who are working in food court also say they cannot take it much longer if the rental and food cost continues to go up.
Walk away next time don't pay cos will show price before u pay. Say, so expensive, don't want, just walk away
Any kind of vegetable fry with even very little minced meat, they considered the dish as "meat" price. Nowadays, even simple mixed veg rice is very expensive especially in food court